Basil and balsamic vinegar might sound more like savoury flavours but these light and creamy basil scented panna cottas with balsamic strawberries make an unusual and fabulous summer dessert. And like most of the recipes on Recipes Made Easy they really are very easy to make.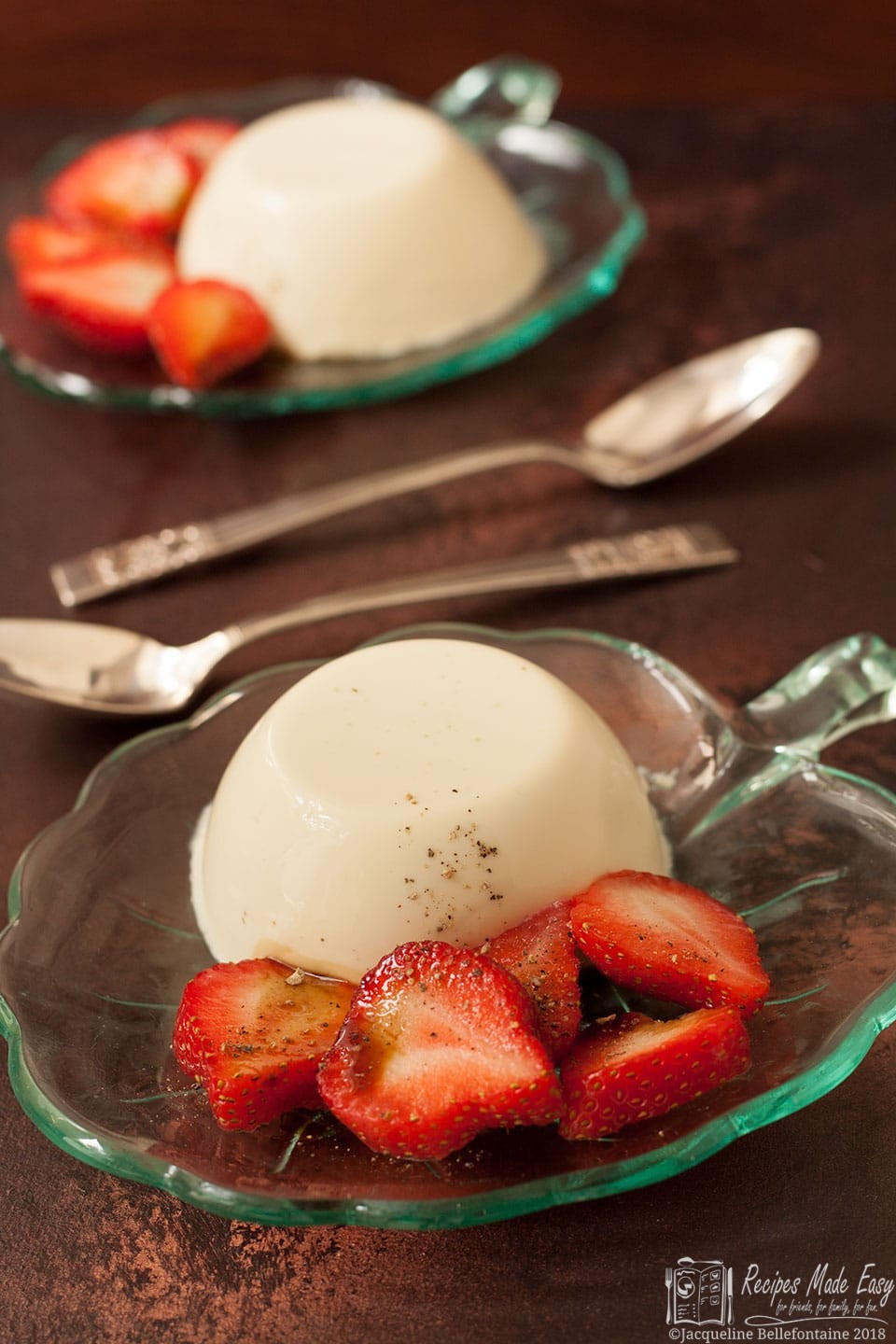 Basil Panna Cotta with Balsamic Strawberries
Basil has to be one of, if not my favourite herbs. Even in the depths of winter it cheers dishes up with its summer favours reminiscent of delicious meals flavoured with basil eaten on holiday. A salad of fresh ripe tomatoes, mozzarella cheese and basil drizzled with olive oil and vinegar is a joy to eat and couldn't be easier. Basil torn and scattered on a pasta dish lifts it to the next level. I just love the stuff.
More recently I have started to come across basil in sweet dishes and it really works, which is not really surprising since it has an almost floral flavour. I am obviously not the only one who thinks it works well in desserts, as I have started to see it appear on pub and restaurant menus more and more often. The first sweet basil dish I tried was a basil flavoured ice cream. I liked it so much that a few days later I was in the kitchen experimenting to make my own so I could share it on my blog. My Basil ice cream was an instant hit. So when a few weeks ago I came across basil panna cotta in a pub I was kicking myself for not having thought of it myself. It worked in creamy ice cream so of course it would work in a panna cotta, another dessert I love.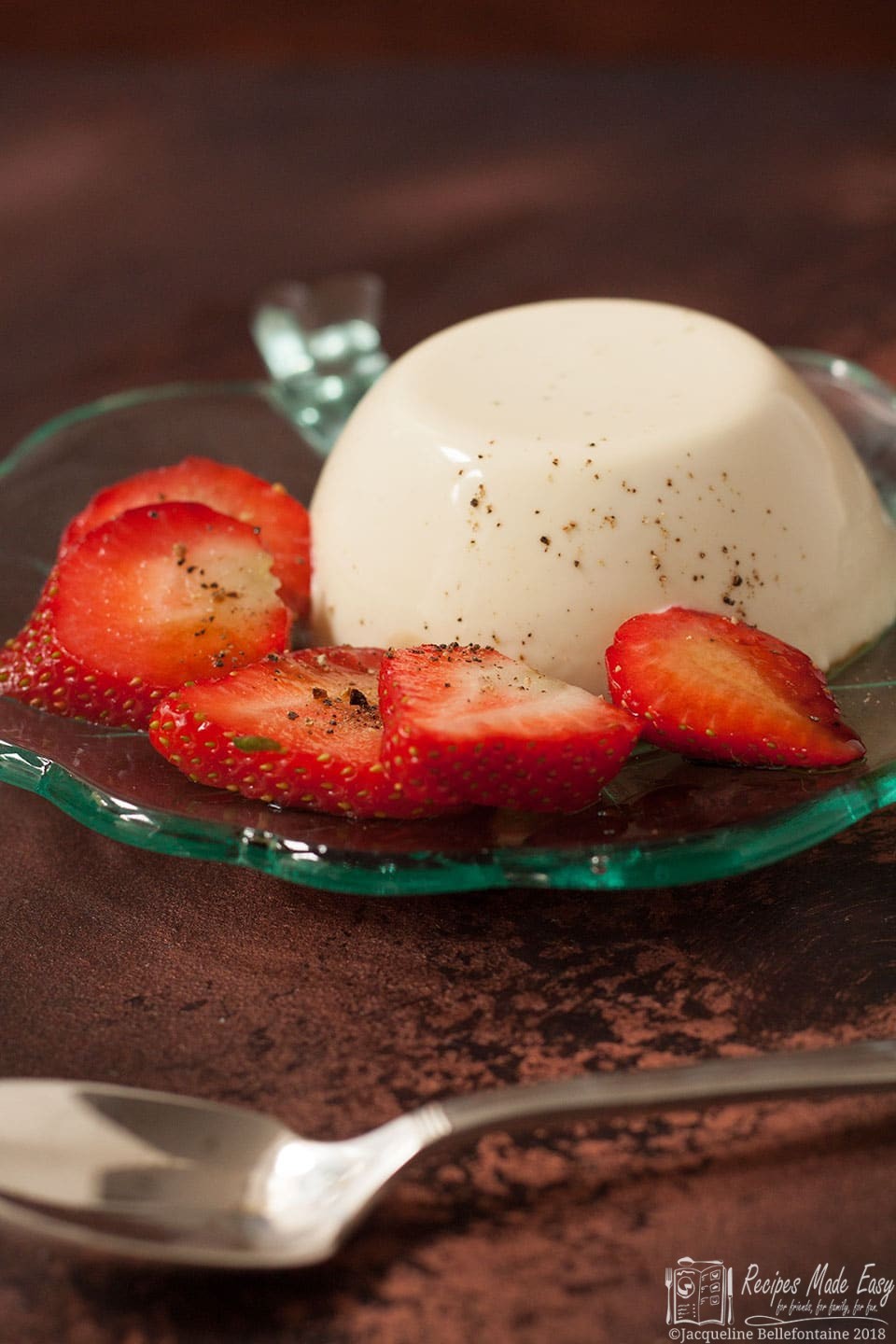 So here it is my recipe for Basil Panna Cotta. I often serve panna cotta when entertaining as it is a very simple dessert to make and can be made in advance and serve it with a fruit compote of some kind. I knew that basil would work well with strawberries and the simplest way to serve strawberries (apart from on their own with cream) has to be sliced with just a little sprinkling of balsamic vinegar and black pepper. The two somehow really seem to accentuate the strawberry flavour. So when I first made these basil panna cottas for the dessert at our local dinner party club dinner balsamic strawberries seemed to be the perfect answer. Luckily the other diners thought so too.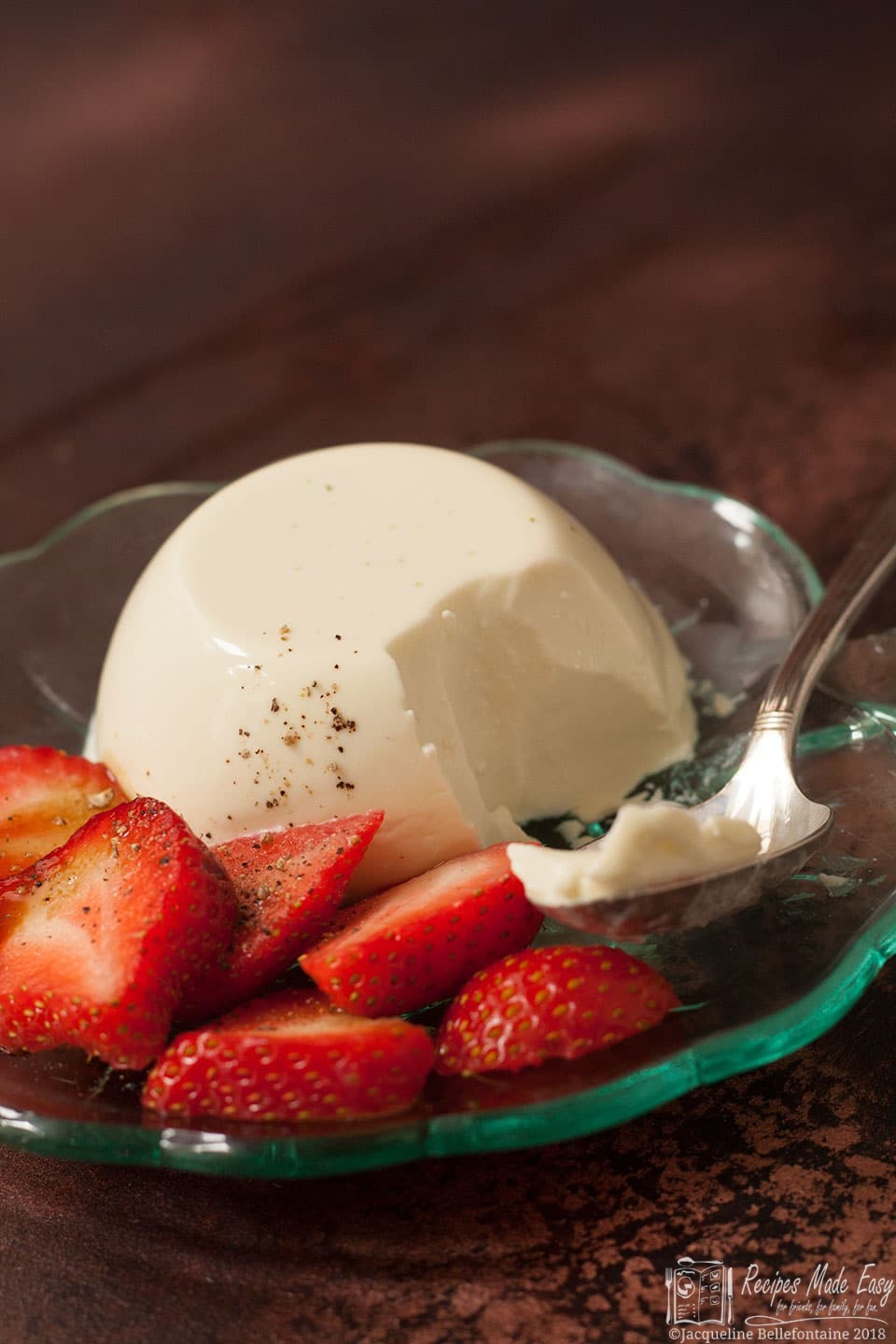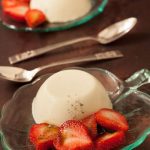 Basil Panna Cotta with Balsamic Strawberries
Print Recipe
Pin Recipe
Save Recipe
Saved!
Light creamy panna cotta, flavoured with basil and served with balsamic strawberries and black pepper. This unusual and easy dessert makes an elegant and sophisticated dessert end to a meal.
Ingredients
for the panna cotta
250

ml

milk

250

ml

double cream

15

g

basil leaves

25

g

caster sugar

3

leaves

gelatine
for the balsamic strawberries
400

g

strawberries

1

tablespoon

light muscovado sugar

2

teaspoon

balsamic vinegar

freshly ground black pepper
Instructions
To make the Basil Panna Cotta
Place the milk, cream and sugar in a small saucepan and heat gently, stirring until the sugar has dissolved. Bring to a simmer and remove from the heat.

Shred the basil and stir into the hot cream. Allow to stand for 1-2 hours.

Soak the gelatine in a little cold water until soft.

Strain the the cream mixture through a fine sieve. Return to a clean sauce pan and gently reheat until just simmering.

Squeeze the water out of the soaked gelatine and stir into the pan, stir until the gelatine has dissolved then remove from the heat. Divide between 4 ramekins or small bowls. Chill for at least 2 hours or until set.
To serve
Just before serving, slice or halve the strawberries and sprinkle with the sugar and vinegar.

Turn the panna cottas out onto small serving plates and spoon the strawberries around the edge. Sprinkle the panna cotta and strawberries with a little black pepper.
Nutrition
Calories:
327
kcal
|
Carbohydrates:
22
g
|
Protein:
4
g
|
Fat:
25
g
|
Saturated Fat:
15
g
|
Cholesterol:
91
mg
|
Sodium:
54
mg
|
Potassium:
293
mg
|
Fiber:
2
g
|
Sugar:
17
g
|
Vitamin A:
1220
IU
|
Vitamin C:
59.8
mg
|
Calcium:
134
mg
|
Iron:
0.5
mg
Hint's tips and variations
Traditionally panna Cotta is made in small molds and turned out to serve. I used some little metal pudding basins but you could use ramekin dishes, or even coffee or tea cups.
To turn out, loosen the edges, then very briefly dip the cup or bowl into hot water. Invert onto a plate and give it a good shake to release the panna cotta.
If you don't like the idea of turning them out you can serve them in the bowl you made them in. I used mini kilner type jars for my coconut panna cotta with spiced pineapple but any small dishes will do.
Use the best balsamic vinegar you can find. The acidity can vary greatly, add a little extra sugar if needed.
If you don't fancy the strawberries why not serve with some nectarines or peaches instead.
More Summer Berry Desserts Made Easy