GREAT BLOGGERS BAKE OFF 2016 – WEEK 9 – Patisserie
Contrary to last week, when the Bake Off left me with little inspiration. The latest Bake Off left me much more excited about the challenges. It was a difficult decision which one to use as the inspiration for my Bloggers Bake Off Bake. Firstly, there was the signature challenge - savoury Palmiers. I make those quite regularly as they make easy pre dinner or party nibbles, so that would be easy enough. But then came the technical challenge - a Savarin - which really sold it to me. Not only has it been absolute ages since I made one, I also have a surplus of home-grown apples at the moment, so an Apple Savarin was the obvious choice.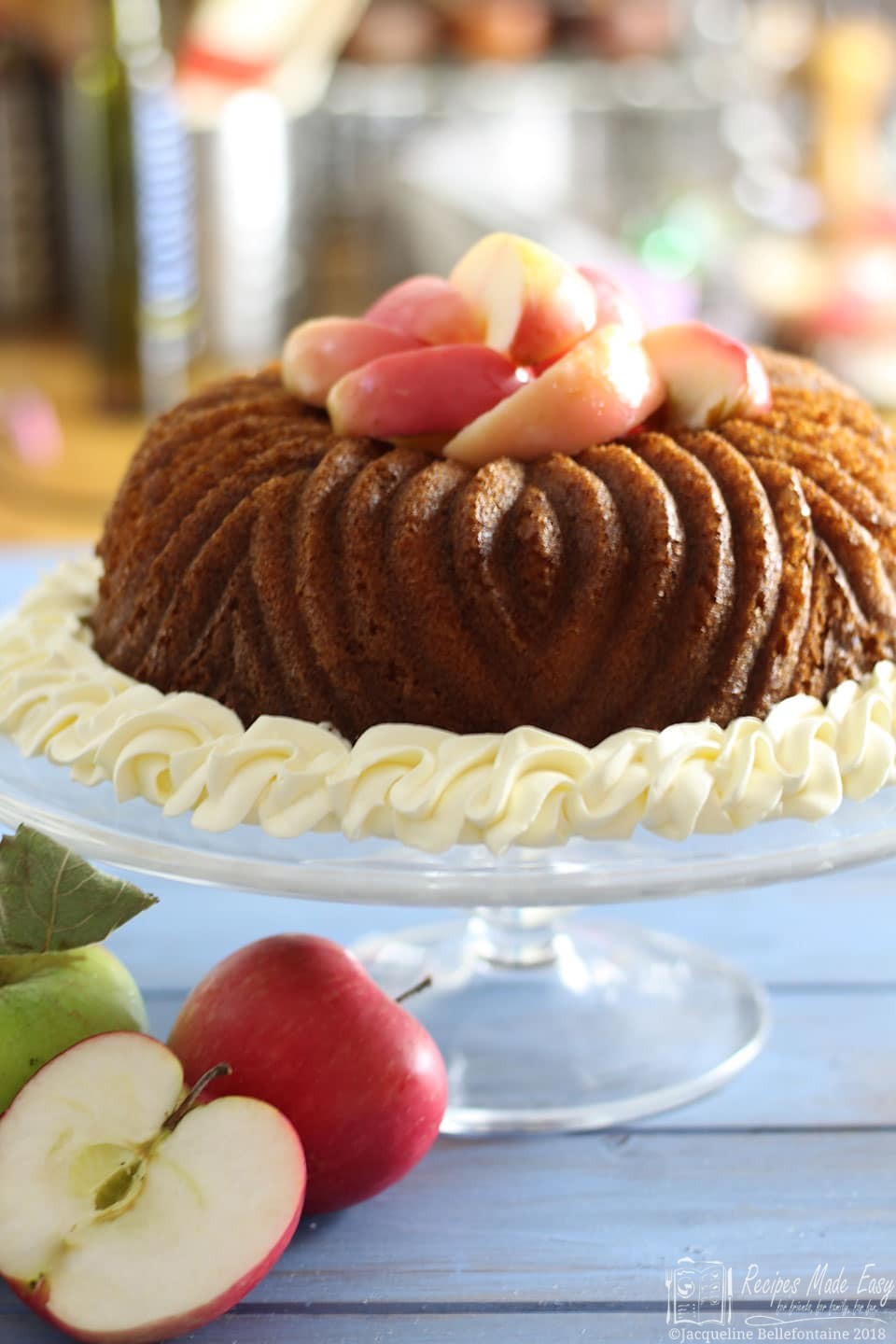 Apple Savarin
The Savarin was one the the classic dishes I learnt to make at college. I remembered really liking it and making it severeal times at home and I'm pretty sure I made one for dessert for my 21st birthday party. Apart from that I can't remember when I last made one. It's funny how, over time, we can forget about making dishes we previously used to enjoy. If this wasn't a reason to make it again what would be! Besides the final challenge was fondant fancies and although I have made those before, they are fiddly and mine never look that great.
In our garden in Suffolk we have three apple trees: Discovery, which is an early sweet dessert apple which is now over; a Bramley cooking Apple tree; and another one which we call the October apple because it ripens in October and we have no idea what variety it is, beyond that it is a cross between an eating and cooking apple. Needless to say, with three mature trees we have a lot of apples this time of the year and, as a result, I am constantly looking for ways to use them. I've used the October apples for this recipe as I wanted the apples to keep their shape when poached. You could use any desert apple, but red skinned one adds a lovely rosy tinge which I think looks so pretty.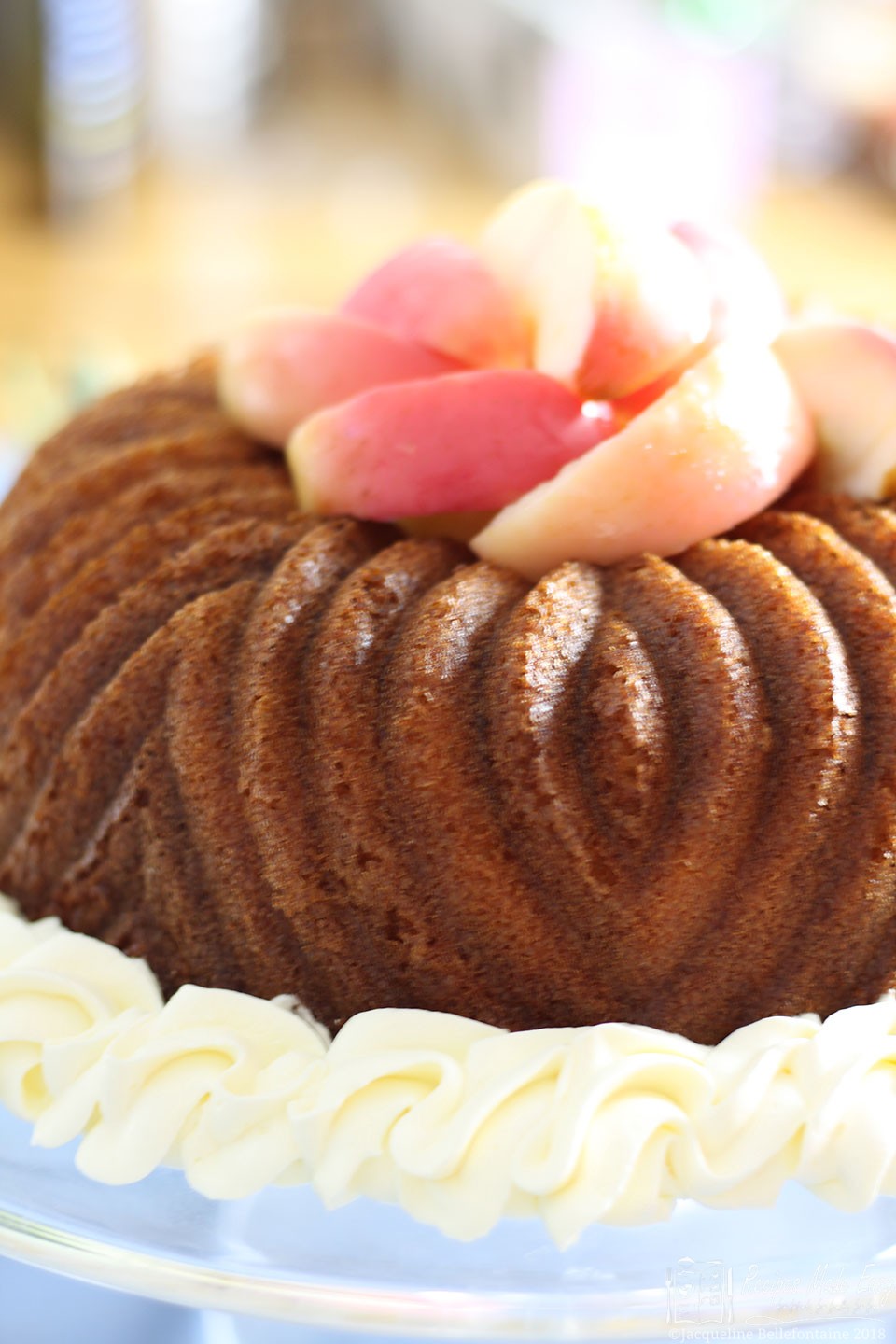 The Bake Off contestants had to fill the centre of the Savarin with cream and fresh fruit and decorate it with caramel shards and a chocolate plaque with the word Savarin piped on to it. I have skipped the caramel shards as we didn't do that at college. In retrospect though they might have been nice with the apple filling. I also dropped the chocolate plaque. The recipe for the Savarin itself was taken from an old Good Housekeeping Book (with no pictures) a book which I was awarded for "showing particular merit in her work in cookery related to nutrition" while at college and which I often turn to for classic recipes when I need them. I updated the recipe to use easy-blend yeast and changed the syrup.
Instead of using a plain sugar syrup, I poached the apples in a wine sweetened with sugar and flavoured with a few cardamon pods and a couple of sprigs of thyme. The fruit is then removed from the poaching liquor and this is used to soak the cooked Savarin. I piled some of the apples into the centre and served the rest separately. A ring of cream around the base of the Apple Savarin completes the dish.
I served it after Sunday roast this weekend and everyone enjoyed it as much as I did.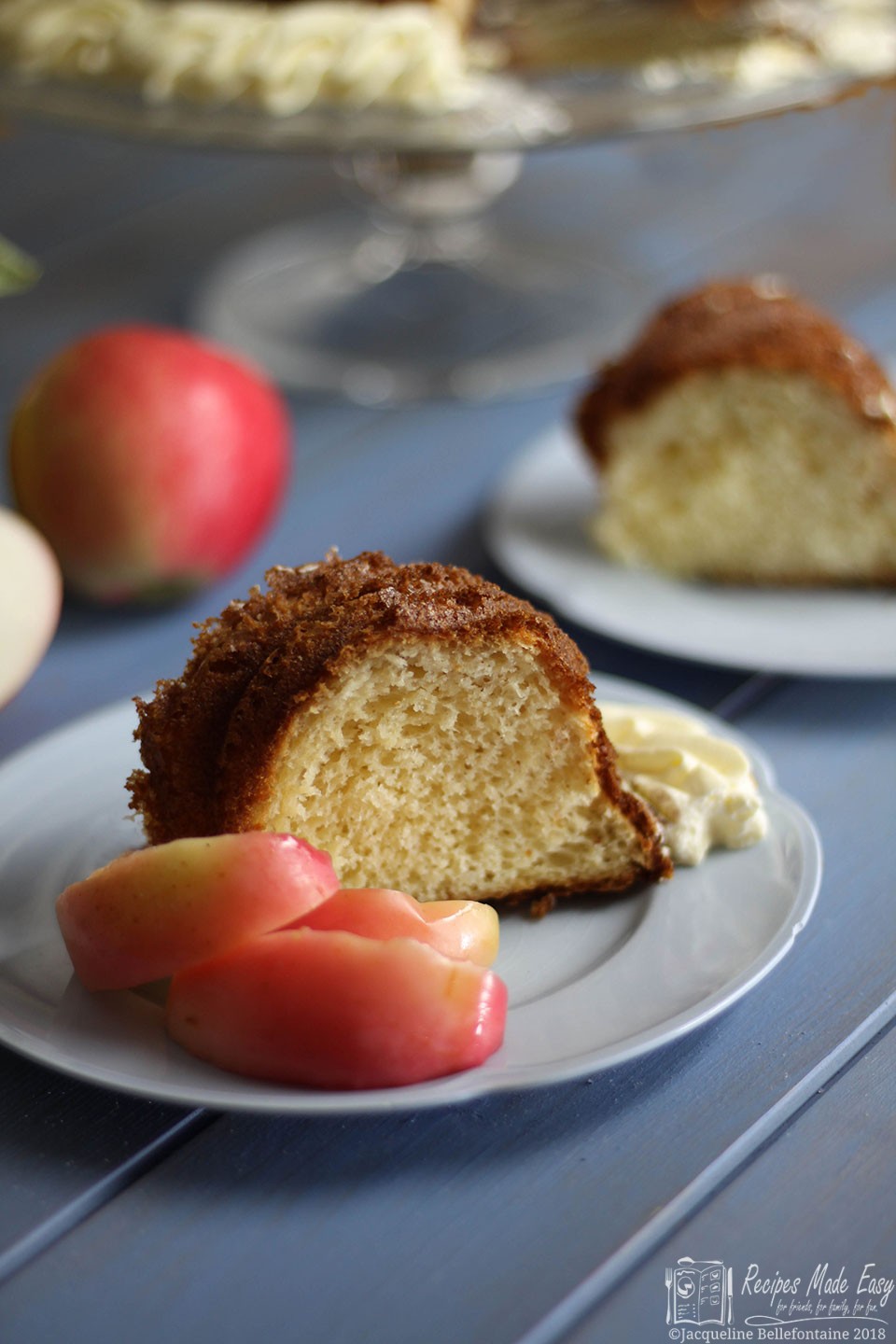 Step by step Apple Savarin

Apple Savarin
Print Recipe
Pin Recipe
Save Recipe
Saved!
A light and airy yeasted cake which is soaked in a white wine flavoured syrup and served with apple wedges and cream. This classic French cake is easy to make and is less sweet then many cakes. Remember to allow plenty of time for the cake to rise.
Ingredients
for the savarin
100

g

butter

softened, plus extra to grease

225

g

strong plain flour

10

g

sachet easy blend yeast

2

tablespoon

caster sugar

½

teaspoon

salt

4

eggs

beaten

90

ml

luke warm milk
for the apples
400

ml

white wine

150

g

caster sugar

5

cardamon pods

3

sprigs of thyme
to complete
200

ml

double cream

whipped
Instructions
Grease a deep 2 litre ring mould well with butter. Place the flour in a mixing bowl and stir in the yeast, sugar and salt. Make a well in the centre.

Add the eggs and softened butter. Beat well for about 3–4 minutes until smooth. You will find it easier to use a stand mixer if you have one.

Pour the mixture into the prepared tin cover and leave in a warm place. Allow to rise until the tin is almost ¾ full or about 1 hour depending on the ambient temperature.

Preheat the oven to 200℃ /180℃ fan/gas mark 6. Bake for about 40 minutes or until golden and beginning to shrink away from the sides of the tin.

While the Savarin is cooking, poach the apples. Core and cut the apple into wedges. Place the wine, sugar, cardamon and thyme in a large saucepan and heat stirring until the sugar has dissolved. Bring to the boil, then a dd the apple wedges.

Reduce the heat, cover and cook for 5 minutes until the apples are just tender. Remove with a slotted spoon and set aside. Strain the syrup to remove the cardamon pods and thyme.

When the Savarin is baked, allow to cool in the tin for a few minutes. Prick the base a few times with a skewer and spoon over some of the syrup.

Then turn out onto a wire rack placed over a tray and spoon the syrup over the Savarin allowing it to soak in. Any that drips on the tray can be re-spooned over. Allow to cool.

To complete pile some of the apples wedges into the centre and serve the rest separately. Decorate with whipped cream.
Notes
Savarin is traditional baked in a decorative ring mould but you could also bake it in a deep round cake. The mixture should fill it by about a quarter before rising.
I'm linking this recipe up to The Great Bloggers Bake Off hosted at Mummy Mishaps

As for the Palmiers. I could not resist making those as well and will be blogging them next:)