Is there anything more comforting on a cold winter's day than a steaming cup of hot chocolate. My ultimate hot chocolate is made with real dark plain chocolate and topped with marshmallows.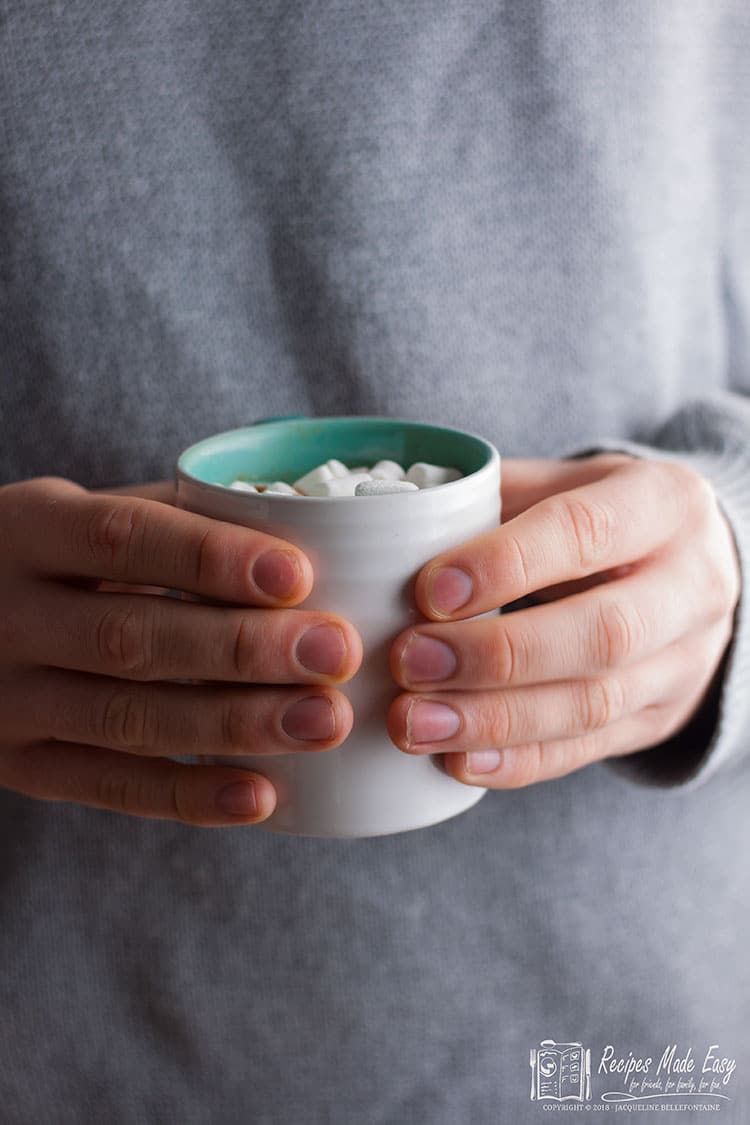 I rarely use the words "The best " or "The Ultimate" in front of my recipe titles because it's so subjective and if used too often becomes meaningless. For example, how can all The best Chocolate Chip Cookie recipes out there (and there are a lot) really be the best recipe? Says who? So when I do use the words in front of a recipe then its because I really believe that they are the best or at least one of the best.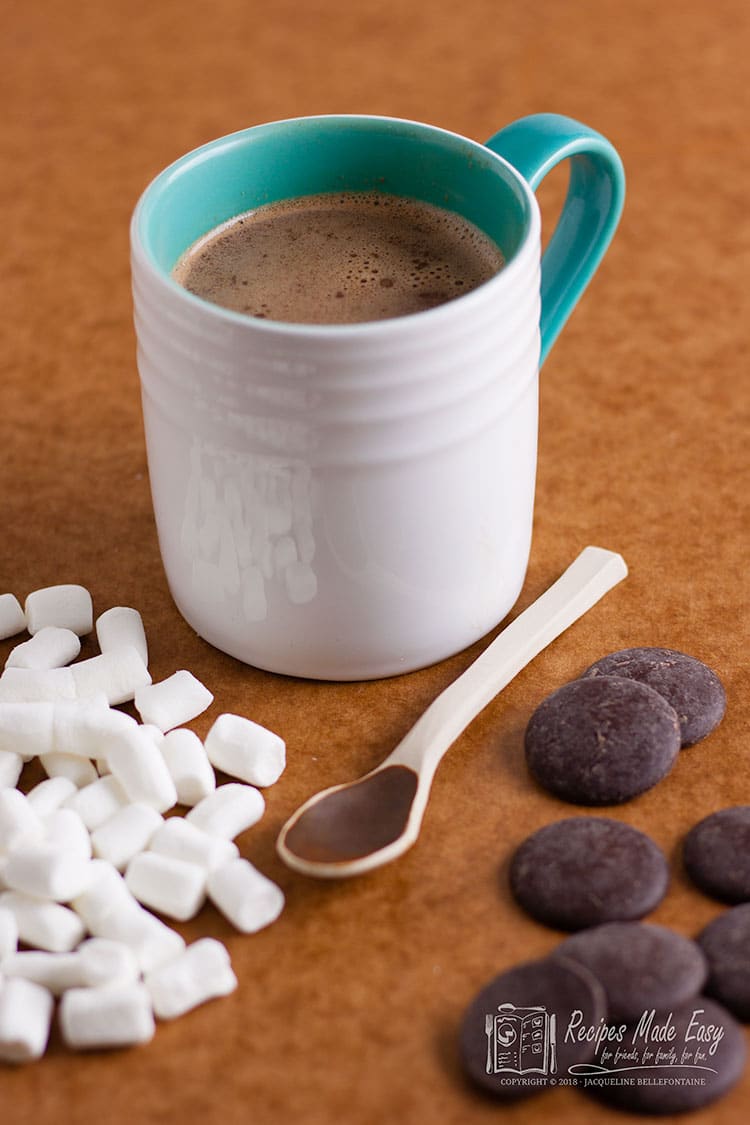 This is the recipe for my Ultimate Hot Chocolate. I don't drink hot chocolate too often. Partly because as someone who has always had to watch my weight it would not be advisable to see it as more than the occasional treat. So when I do it I want it to be good. Not too sweet, hot and very chocolaty, drinking this on a cold day is on par with a having a great big hug.
I don't like my hot chocolate overly sweet and so do not add any sugar to it. The marshmallows on top add just enough sweetness for me. I consider myself to have a sweet tooth so try it without any sugar first, you may be surprised, but add a little if you really want. This is all about being your ultimate hot chocolate too.
To make it even more indulgent I like to add a little brandy, even though I don't like the taste of brandy on its own as a drink. You could also try it with a dash of rum but it is perfectly good without either.
So go on next time you have a mug of hot chocolate, make it the ultimate hot chocolate!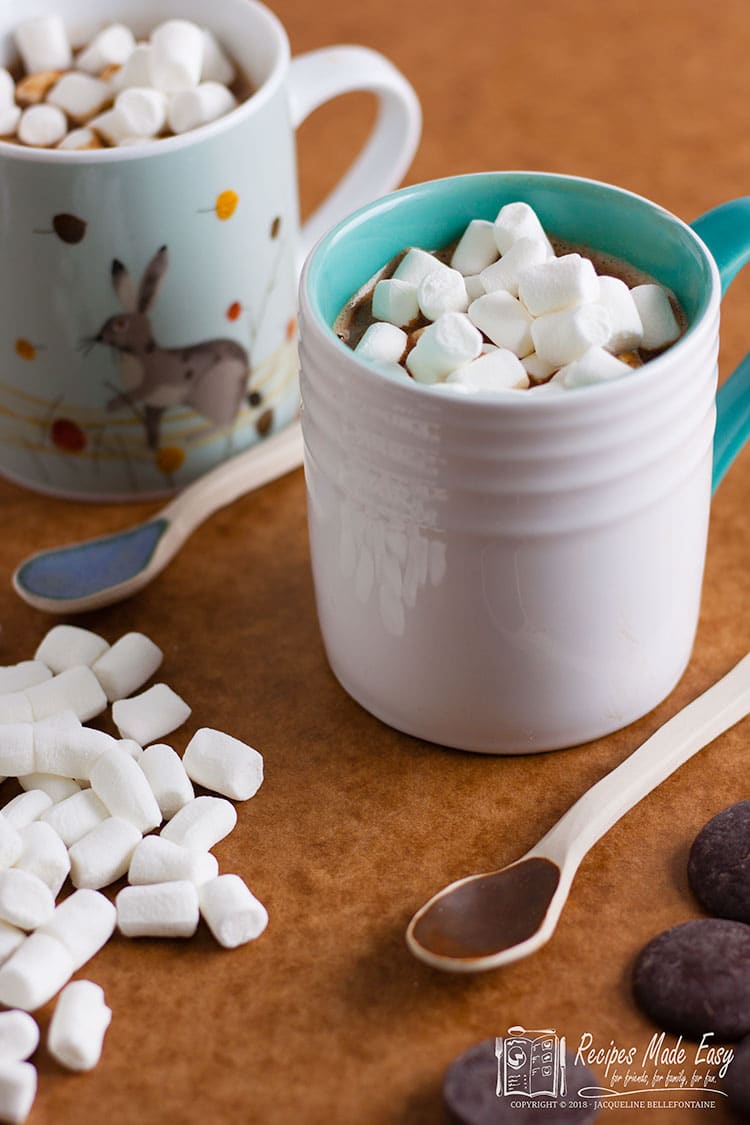 The Ultimate Hot Chocolate
Print Recipe
Pin Recipe
Save Recipe
Saved!
A cup of steaming hot chocolate is perfect for on chilly winter day and you can not beat the real thing.
This recipe is enough to serve two large mugs or 3 cups of hot chocolate.

Ingredients
100

g

plain chocolate

preferably with 70% cocoa solids

600

ml

whole milk

sugar to taste

2 to 3

tablespoon

brandy

(optional)

a few

mini marshmallows
Instructions
Chop the chocolate into small pieces.

Place the milk in a small pan and heat gently until bubbles appear around the edge of the pan.

Add the chocolate and continue to heat stirring constantly until the chocolate has melted and is blended with the milk.

Add the brandy if using. Pour into mugs and sweeten to taste. Serve topped with a few marshmallows.
Notes
You will find chocolate with a high cocoa solid contents with the baking ingredients in most supermarkets. Regular plain chocolate does not have such an intense flavour and is sweeter.
Nutrition information is calculated using an online nutrition database - is approximate and is meant as a guideline only. Sugar not included
Nutrition
Calories:
354
kcal
|
Carbohydrates:
31
g
|
Protein:
8
g
|
Fat:
19
g
|
Saturated Fat:
11
g
|
Cholesterol:
22
mg
|
Sodium:
93
mg
|
Potassium:
453
mg
|
Fiber:
2
g
|
Sugar:
25
g
|
Vitamin A:
325
IU
|
Calcium:
247
mg
|
Iron:
2.1
mg
The Ultimate Hot Chocolate Step by Step