Simnel Cake is fruit cake decorated with marzipan and with a layer of marzipan baked in the middle. This classic cake was originally made by girls in service to give to their mothers on the 4th Sunday in lent which later became known as mothering Sunday.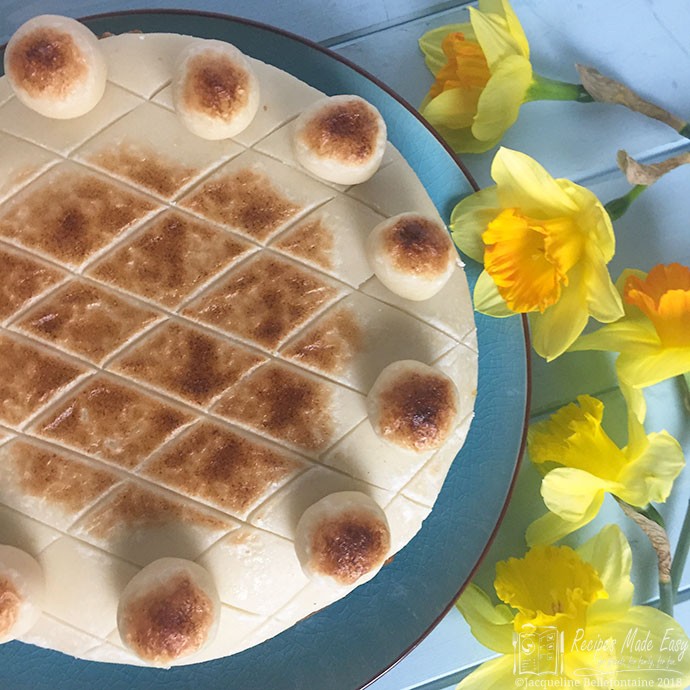 Baking For Easter
When I was in my early teens I knew I wanted to work with food though at the time I was not sure doing what exactly, my dad was a baker but I didn't see myself taking over his footsteps. When I discovered that there was a job writing recipes and making the food for the photographs in magazines, my mind was instantly made up; that was what I wanted to do. Until then I hadn't really thought how they got there.
So I did my research and studied Home Economics to start me off in my chosen career. Fast forward a few years and by way of a few stepping stone jobs I joined Woman's Realm magazine as a Home Economist. My very first feature written for them was Bake Ahead for Easter, which included several baked cakes, biscuits, pies and tarts and including a recipe for Simnel Cake.

Simnel Cake
-A Recipe that has Stood the Test Of Time
That was pre blogging and even pre internet, in fact I wrote the feature on a portable type writer but a classic recipe is a classic recipe and so I thought I would share that recipe in time for Mother's day this year. Back then the marzipan you got in the shops was a rather nasty bright yellow imitation of the real thing and so I made my own marzipan in the original recipe. Now that you can buy pretty decent marzipan I have used ready made marzipan instead but the recipe for the cake itself is the same.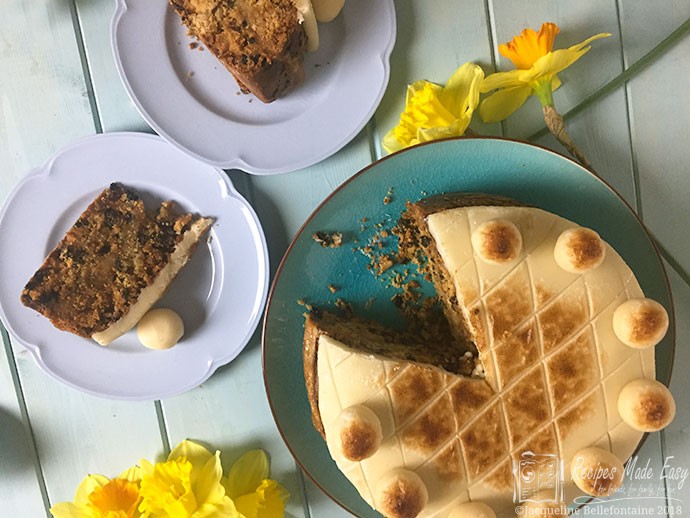 Simnel Cake
Print Recipe
Pin Recipe
Save Recipe
Saved!
The name of this seasonal British cake comes from the Latin word "Simila" which means finest wheat flour. Traditionally it is decorated with 11 almond paste balls symbolising Christ's 11 faithful disciples Traditionally it was the cake that was given by girls in service to their mothers on the fourth Sunday of Lent - which later became know as mothering Sunday - as proof of their cooking skills. The cake keeps well and would be eaten at Easter, at the end of the Lenten fast.
Ingredients
225

g

butter

175

g

caster sugar

4

eggs

275

g

plain flour

1½

teaspoon

ground mixed spice

(pumpkin spice)

finely grated zest and juice of 1 lemon

500

g

mixed dried fruit

50

g

glacé cherries

quartered

1

kg

marzipan

a little apricot jam
Instructions
Grease and line a 20cm/8in deep cake tin. Preheat the oven to 150℃ (130℃ fan)300°F /gas mark 2.

Beat the butter and sugar together until light and fluffy. Then beat in the eggs one at a time. Add the flour and mixed spice and fold in. Next add the lemon zest, juice, dried fruit and cherries and mix well.

Roll out half the marzipan to a circle the same size as the cake tin. Scoop half the cake mixture into the tin and level the surface. Carefully put the marzipan circle on top and press down gently.

Now scoop the remaining cake mixture on top of the marzipan and spread level. Bake in the centre of the oven for

2½ – 3 hours

. To test if the cake is cooked, insert a skewer in the centre. It will come out clean when the cake is cooked.

Allow the cake to cool in the tin for at least 1 hour then turn out onto a wire rack to cool completely.

Roll out ¾ of the remaining marzipan to a circle the same size as the cake. Brush the top of the cake with apricot jam and place the marzipan on top.

Using a dinner knife score the surface of the marzipan with a diamond pattern. Divide the remaining marzipan into 11 pieces and roll into balls. Arrange the balls on top of the cake, securing with a dab of apricot jam.

Place the cake under a preheated grill and grill until lightly browned. Watch carefully to avoid it burning.
Notes
Simnel cake will keep for up to 1 month if stored in an airtight container in a cool place.
Nutrition
Serving:
1
slice
|
Calories:
630
kcal
|
Carbohydrates:
83
g
|
Protein:
10
g
|
Fat:
29
g
|
Saturated Fat:
8
g
|
Cholesterol:
71
mg
|
Sodium:
167
mg
|
Potassium:
223
mg
|
Fiber:
2
g
|
Sugar:
62
g
|
Vitamin A:
425
IU
|
Calcium:
56
mg
|
Iron:
2.3
mg