It's really hard to beat a good Sunday roast with all the trimmings. Roast pork with crispy crackling is probably the most economical of roasts and is easy to make if you know how.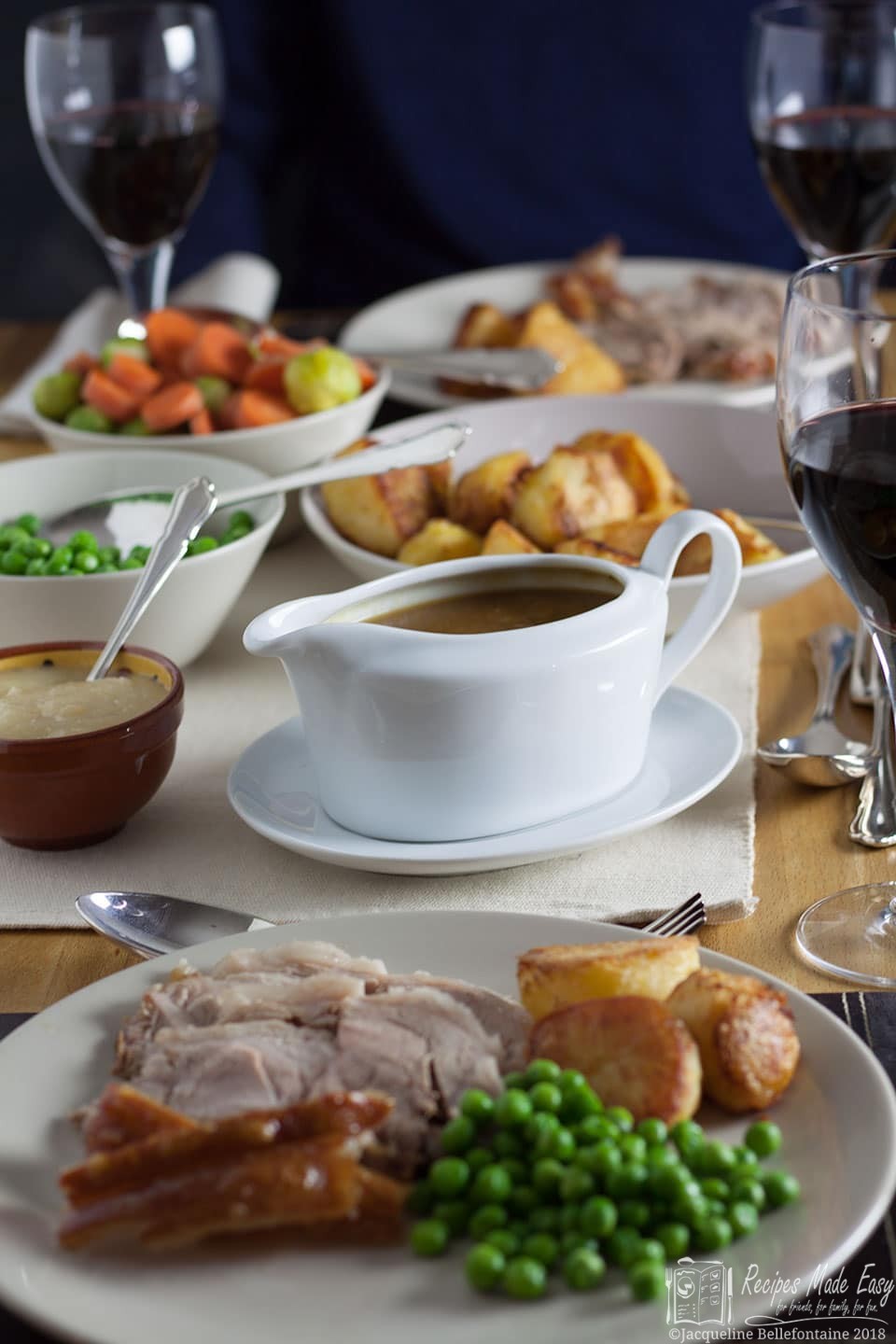 Is there anything nicer than sitting around the table enjoying a meal with your family? Now my family has grown up and started to go their own way, when we are together at the weekends, we like nothing better than a family roast dinner. Roast pork with crispy crackling is a firm favourite.
I don't think my boys would turn their nose up at any roast. We all love roast beef with Yorkshire puddings. Roast lamb with mint sauce is perhaps my favourite but the meat we most often have is roast pork.
That is probably because we have an excellent butchers in the Suffolk village where we spend a lot of our weekends and Suffolk is known for its pork production. So we often buy pork when we are there.
It's said that there are more pigs in Suffolk than people I'm not sure if that is true or not but it is a peaceful part of the country and the local pigs many of which are outdoor reared do certainly make very tasty pork.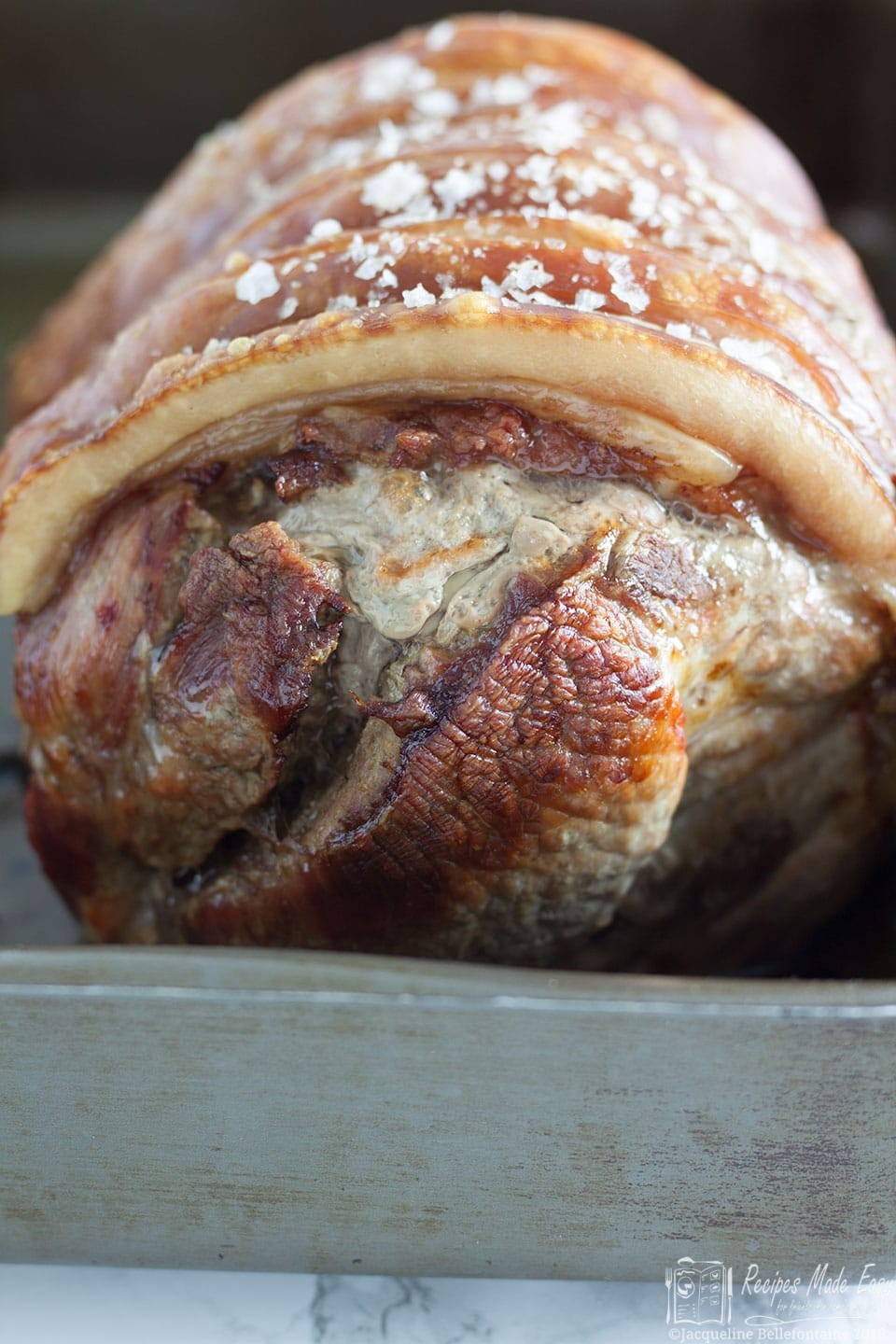 Roast dinner tips
I have been making roast dinner, not perhaps every week but certainly regularly for more years than I care to remember. So they really don't hold any fear with me. But it was not always like that and like most people I had to learn to make even the most basic dishes once.
Many people are a little intimidated by cooking a roast. I can understand why! It's not that they are difficult per se but timing is important.
There is also always a bit of juggling at the end as the meat needs carving just as the gravy needs to be made and the last of the veggies go on. The easiest thing to do is make yourself a quick time table (and of course enlist the help of the other family members for the last few minutes). If you do that it's hard to go wrong.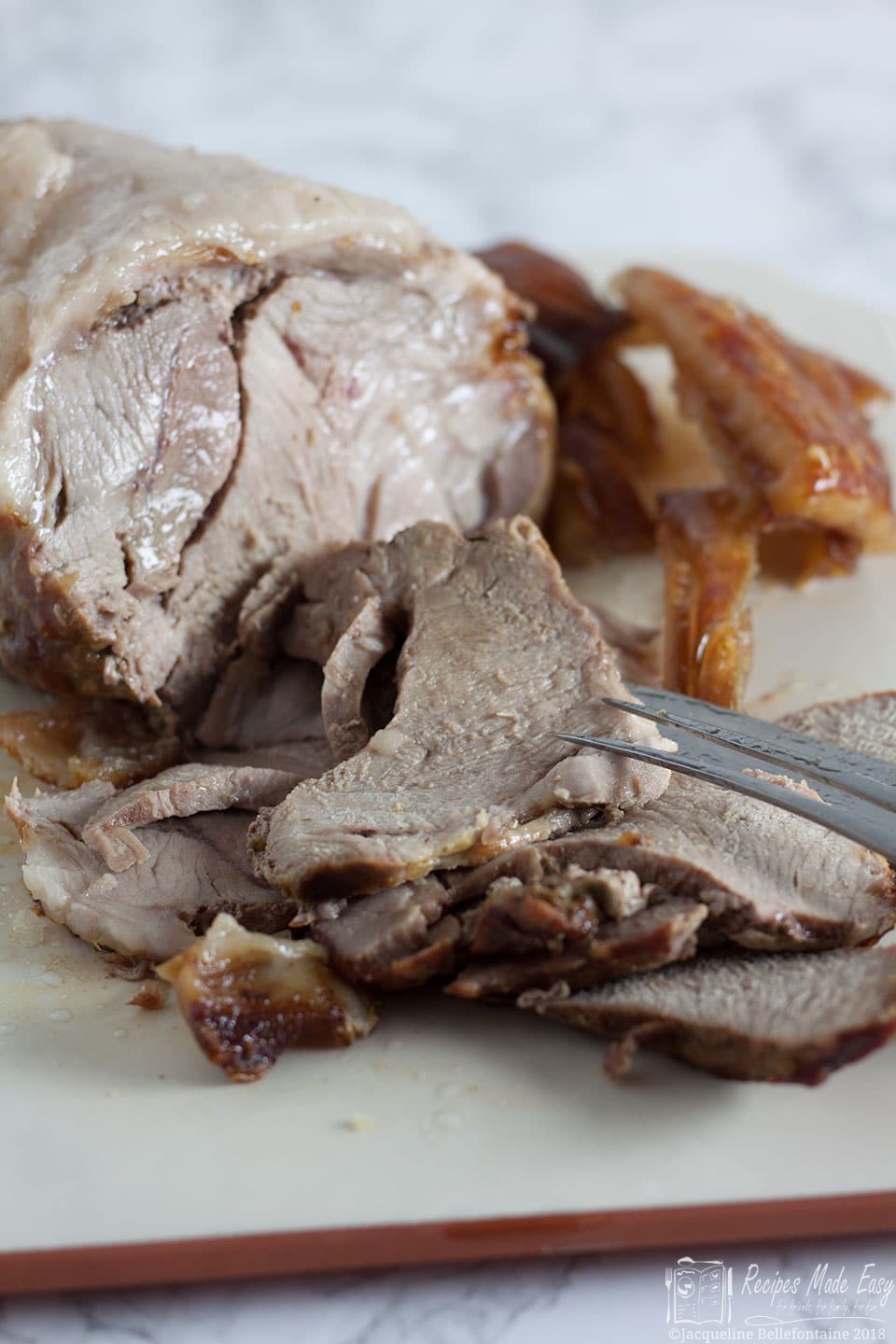 The Secret to crispy crackling
The pork does need a good layer of fat under the skin to produce a good crackling. Sometimes with supermarket joints this is trimmed away. I never get as good a result with the pork I buy from the supermarket as I do with Pork I buy from the butchers.
The skin of the pork must be dry and well scored before you begin cooking. When you get it home unwrap the pork and pat dry with kitchen paper before placing on a plate in the refrigerator (uncovered so that the air can circulate and dry out the skin) until you are ready to cook.
Sprinkle with salt before placing in the oven - I use maldon sea salt for it's texture.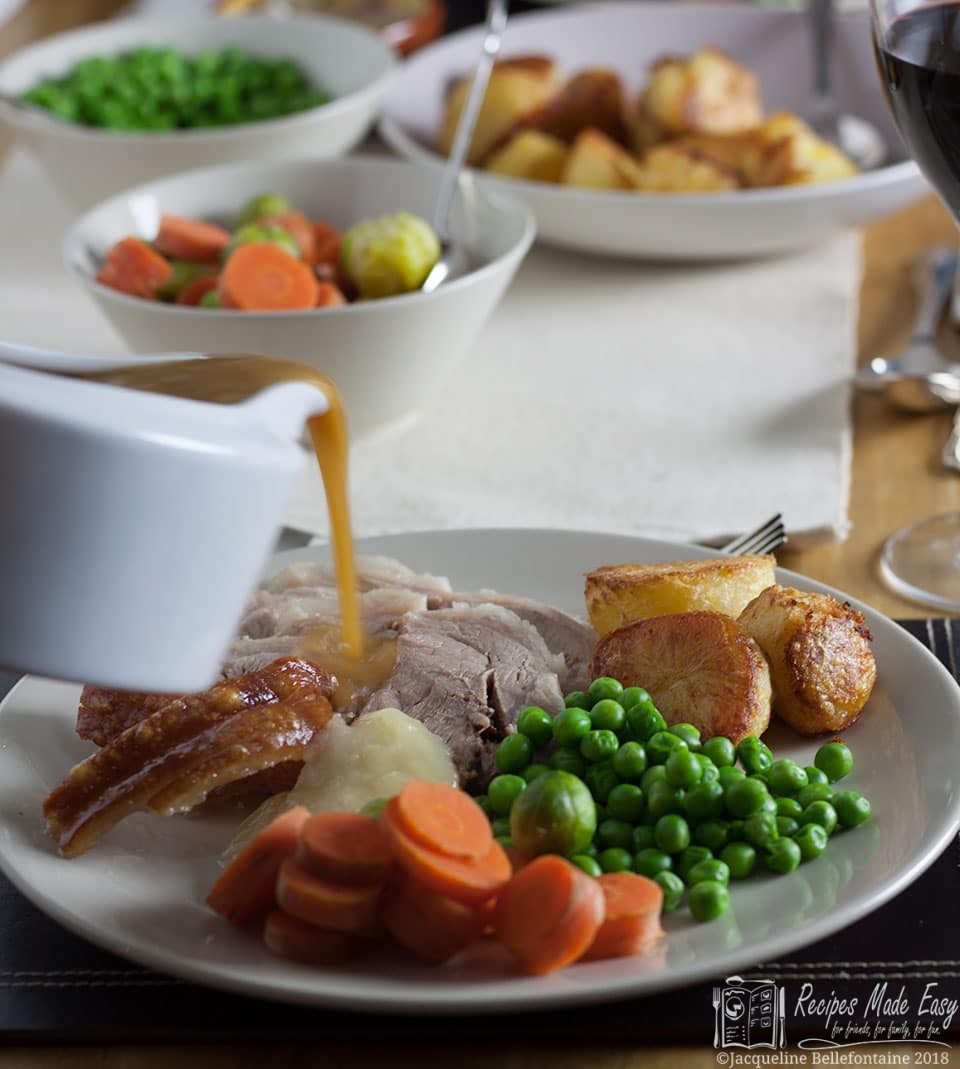 A good crackling requires cooking the pork for at least some of the time at a high temperature. For prime cuts of pork like shoulder and leg with a good layer of fat, I get success cooking at high temperature throughout.
I have given the cooking times for a 1.5 kg (3¼lb) joint which will serve 6-8 but you can adjust the cooking time according to the size of joint you are cooking.

Don't forget the Apple sauce
After roasting allow the meat to stand for at least 20 minutes in a warm place before carving. You will find it easier to carve if you remove the crackling first. Dont forget the apple sauce!
Peel, core and slice 1 bramley apple and cook in a saucepan over a low heat with 1-2 tablespoon water and a knob of butter until very soft. Then beat to a puree with a wooden spoon.
Perfect Roast Potatoes
No roast dinner is complete without the roasties, check out How to Make Perfect Roast Potatoes.
To complete the meal why not try one of these Desserts Made Easy

Roast Pork
Print Recipe
Pin Recipe
Save Recipe
Saved!
For the best roast pork buy your joint from a local butcher or farmers market. I never seem to get good crackling from pork brought from the supermarket. For the best flavour and crackling I buy a shoulder joint which has a little more fat but buy a leg joint if you prefer the leaner cut.
Ingredients
1.5

kg

Shoulder of pork joint

Maldon sea salt
for the gravy
1

tablespoon

plain flour

300

ml

pork, chicken or vegetable stock
Instructions
To roast the pork
Preheat the oven to 220C (200℃ fan)/425°F /gas mark 7. Weigh the joint and calculate the cooking time. Allow 25 minutes per 500g plus 25 minutes.

Place the meat in a roasting tin and sprinkle the skin with sea salt. Roast for the calculated time, so for this size joint

1 hour 40 minutes

. Baste with the juices once or twice during cooking but not in the last 30–40 minutes of the cooking time.

The joint is cooked when the juices run clear when pierced with a skewer or sharp knife. Allow to rest for 20 minute before carving.

To make carving easier, remove the crackling first and then carve the joint.
To make the gravy
Remove the meat from the roast tin and keep warm. Spoon off most of the fat from the pan.

Add the flour and stir well. Place over a low heat and cook stirring for a minute or two.

Gradually stir in the stock, then increase the heat and cook stirring until the gravy thickens slightly. Pour into a jug to serve.
Notes
If you do not have a roasting tin suitable to put directly onto the hob (cheap thin metal ones are not suitable as they will buckle and twist) then pour the meat juices into a small saucepan to make the gravy.
Nutrition information is approximate and is meant as a guideline only. (It does not include seasoning with salt and pepper.)
Nutrition
Calories:
509
kcal
|
Carbohydrates:
1
g
|
Protein:
43
g
|
Fat:
35
g
|
Saturated Fat:
13
g
|
Cholesterol:
161
mg
|
Sodium:
275
mg
|
Potassium:
622
mg
|
Vitamin A:
95
IU
|
Vitamin C:
1.3
mg
|
Calcium:
53
mg
|
Iron:
2.8
mg
I'm linking this post to #CookBlogShare host at Apply to Face