When you think of potato salad, do stodgy potatoes in thick mayonaise sauce spring to mind? If so think again! If that's the case, think again! This piquant potato salad is an altogether different kettle of fish. Not that a good traditional mayonnaise based potato is a bad thing, but this potato salad is lighter, packed with flavour, and makes a good addition to a summer meal.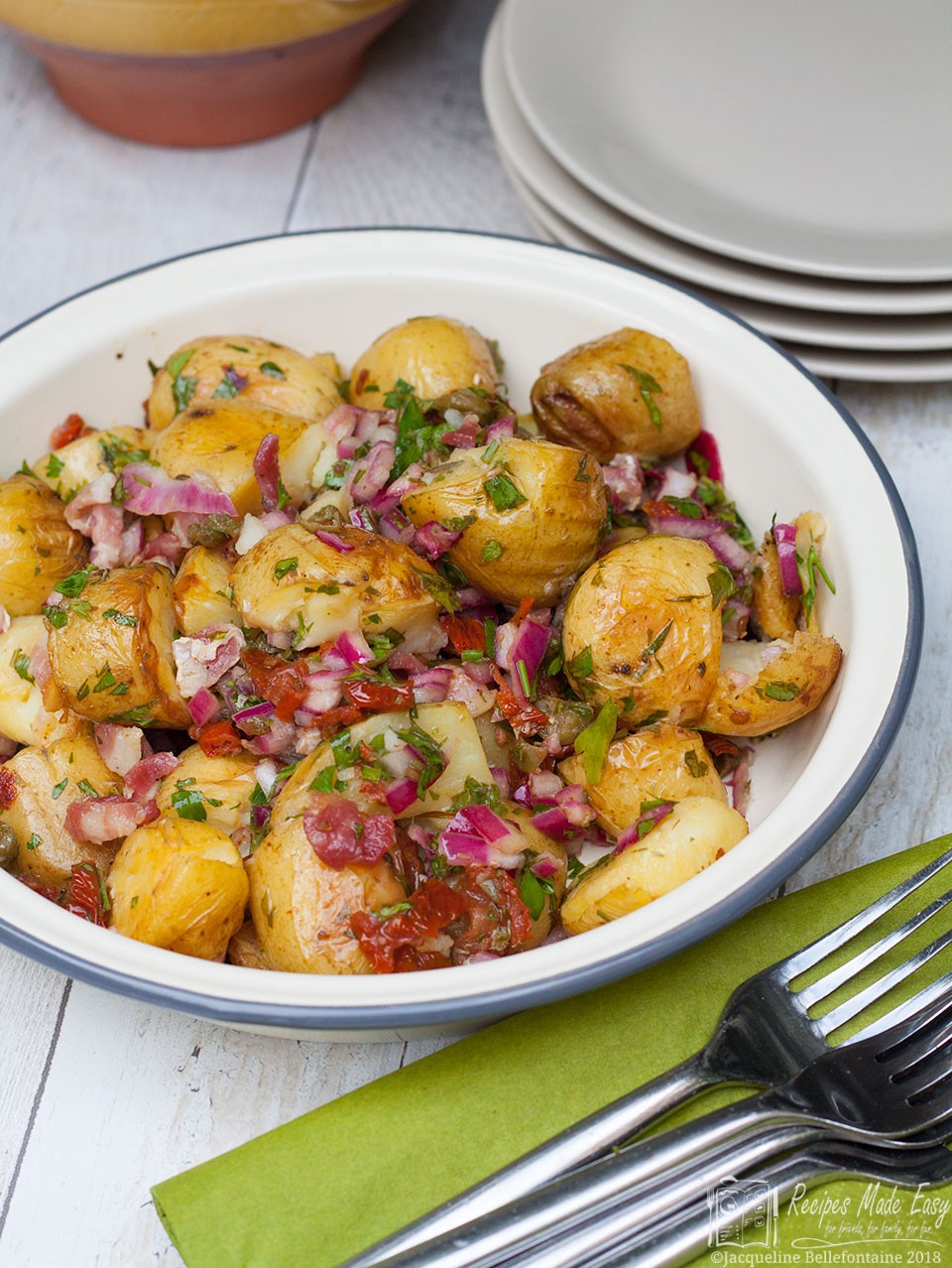 More to salad then lettuce
I'm sure many of you, like me prefer to eat lots of salads during the summer months, and it's easy enough to just resort to the basics like lettuce, tomato and cucumber - let's face it we have all done it. While they might form a good base, it does tend to get a bit monotonous unless you liven it up a bit. Of course you can simply add some other ingredients like sliced peppers (I like those thin pointy peppers), celery, spring onions, grated carrot or beetroot to add flavour and colour. Even so, it does help to add some other side salads to keep meals interesting.
That's where this piquant potato salad comes in. The potatoes are roasted and then tossed in a light oil and vinegar dressing, and flavoured with chopped onion, sun-dried tomatoes, capers, and chopped parsley. Personally I also like to add some chopped bacon for extra flavour, but this can easily be omitted to create a vegetarian version.
This piquant potato salad is delicious served warm when freshly made but will also keep 2-3 days in the refrigerator. I often make it when I have the oven on for something else, thus avoiding putting the oven on just for this dish. Served with a leafy salad along side grilled or barbecued meat or fish or cheese or cold meats, it is the makings of a prefect summer time meal.

Step by step piquant potato salad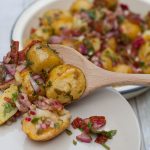 Piquant potato salad
Print Recipe
Pin Recipe
Save Recipe
Saved!
The dressing of red onions, sundered tomatoes and capers give this potato salad a lovely piquant flavour. I've added bacon because I like it and it adds a savoury flavour of this side dish but you can leave it out if you prefer.
Ingredients
500

g

salad or new potatoes

6

tablespoon

extra virgin olive oil

8

rasher bacon

½

red onion

finely chopped

4

pieces

sun dried tomatoes in oil

drained and chopped

1

tablespoon

capers

chopped

handful flat leaf parsley

leaves removed and chopped

1

tablespoon

sherry or red wine vinegar

freshly ground black pepper
Instructions
Preheat the oven to 200℃ /180 ℃/ gas mark 6. If the potatoes are small leave them whole if not, cut them into large chunks. Place in a roasting tin and drizzle with 2 tablespoon of the oil.

Roast for 10 minutes. Cut the bacon into thin strips - I find this easiest to do with scissors - and scatter over the potatoes. Return to the oven and roast for a further 15 to 20 minutes until the bacon is cooked and the potatoes are tender.

Meanwhile place the remaining oil, onion, tomatoes, capers, parsley and vinegar in a large mixing bowl and combine with a fork. Season with black pepper.

When the potatoes are cooked lightly crush each potato with a fork. Add to the bowl with the dressing and toss until well combined. Serve immediately or cool and chill until required.

Notes:
If serving cold, let the salad cool down and keep chilled until required. Bring back up to room temperature before serving.
Hints, tips and variations
Bacon adds saltiness to the dish so take care not to add too much additional salt. - Omit the bacon for a vegetarian option.
I like to use red onions for colour but regular onions, spring onions or shallots could also be used.
Want a little more piquancy - add some chopped gherkins or olives into the mix.
Do not want to turn on the oven - use boiled or steamed potatoes instead.
Lightly crushing the potatoes allows them to absorb some of the dressing.
When serving cold, serve at cool room temperature rather than chilled for the best flavour.
Save
Save
Save
Save
Save
Save