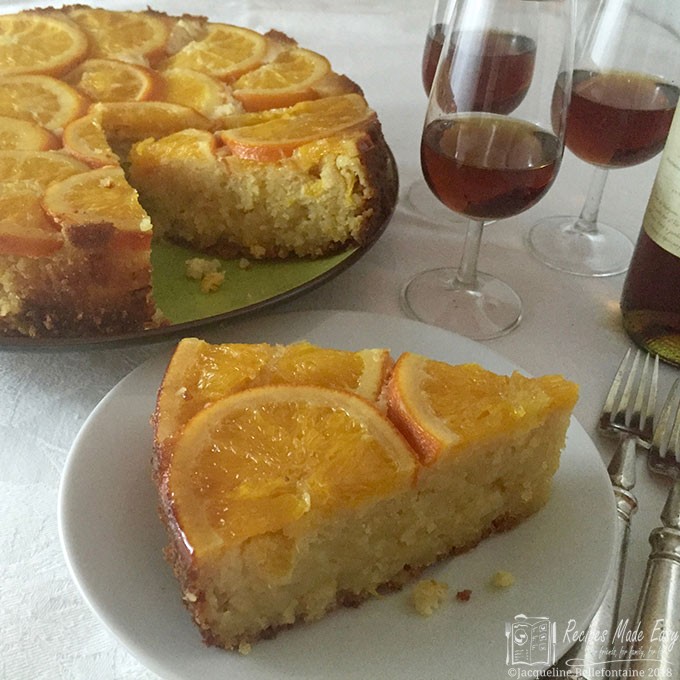 This orange and almond polenta cake is soaked with an orange flavoured syrup to make a beautifully moist, dense and flavourful cake. Perfect for serving as a dessert, and I think it looks fabulous too. I like to serve it with a glass of vin santo, decadent and delish!Although not difficult this is not the quickest cake to make. For a special occasion or just an indulgent treat, it's worth the effort though, the flavour is fantastic. The orange slices on top are lightly candied and have a slightly chewy and tangy rind a bit like marmalade which I love. It's a bit crumbly to eat, so really needs to be eaten with a fork or spoon which is why in my mind it as a dessert cake and not something to have with a cup of tea. It's also gluten free which makes it an ideal dessert on the occasions you need to accommodate someone who is following a gluten free diet. No need for anyone to miss out on cake!
Step by step orange and almond polenta cake

Orange and almond polenta cake
Print Recipe
Pin Recipe
Save Recipe
Saved!
There are a quite a few steps to this recipe but don't let that you put you off. The hard work is well rewarded with a fabulous gluten free cake. Best served chilled.
Ingredients
5

oranges

250

g

granulated sugar

250

g

butter

softened

250

g

golden caster sugar

4

medium eggs

separated

300

g

ground almonds

100

g

polenta

200

g

Greek style yogurt
Instructions
Lightly grease a 26cm round cake tin. Thinly slice two of the oranges, discarding the end slices. Squeeze the juice from a further two of the oranges, then peel and coarsely chop the remaining orange.

Place the granulated sugar in a large saucepan with 300ml of water. Heat gently stirring until the sugar has dissolved into a syrup and bring to a simmer. Add the orange slices, return to simmering, and simmer gently for 20 minutes.

Once the orange slices are tender, remove with a draining spoon and place in the bottom of the lined cake tin. When cold enough to handle, arrange over the base of the tin and set aside.

Add the orange juice to the pan and bring to the boil. Boil for 10 minutes to reduce slightly, then set aside.

Meanwhile, preheat the oven to 180℃/170℃ fan/gas mark 4. Beat together the butter and caster sugar until light and fluffy, then beat in the egg yolks.

Add the almonds, polenta, yogurt and chopped orange flesh and beat to combine.

Whisk the egg whites until standing in soft peak, then fold into the cake mixture a third at a time. Spoon into the tin and spread level. Bake in the centre the oven for 1 hour until golden and springy to the touch.

While still warm, prick all over with a skewer, then spoon the orange syrup over the cake and allow to soak in. When the cake is cold, transfer to a serving plate and chill until required.
Notes
If you use the same beaters that you used to beat the butter and sugar together to whisk the egg whites, make sure you wash them really well in hot water first as any fat on the beaters will prevent the egg whites from whipping up.
Polenta is a dish of boiled cornmeal and is an Italian staple. Uncooked polenta is available in packets from any good grocery store, if you can not find it use fine ground cornmeal
Freeze: for up to 2 months.