A white sauce can form the base of many sauces so it is worth mastering. Follow my step by step guide to success.
Step by Step white sauce
Makes 300ml
Ingredients:
25g butter
25g plain flour
300ml milk
salt and freshly ground black pepper
pinch of grated nutmeg
For a basic cheese sauce:
125g cheddar cheese, grated
Step 1

Melt the butter in a small saucepan and stir in the flour. Cook the flour over a low heat for about 1 minute, then remove from the heat. This is called a roux.
Step 2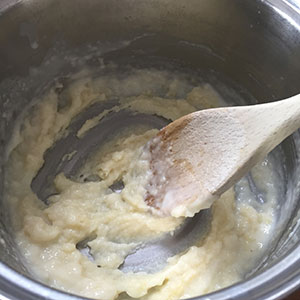 Add the milk a little at a time mixing well to remove any lumps before adding more
Step 3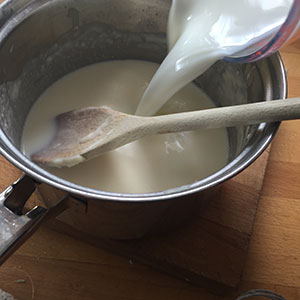 Continue adding the milk a little at a time until all the milk has been added.
Step 4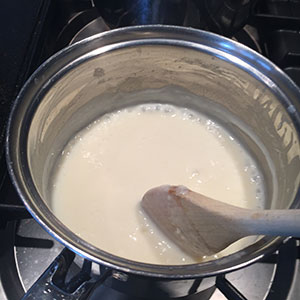 Return the pan to the heat and cook gently, stirring constantly until the sauce thickens.
Step 5

Season to taste with salt, pepper, and a little grated nutmeg.
To make a cheese sauce add the cheese before seasoning and cook stirring over a low heat until the cheese has melted. Then season to taste.