If you think all high fibre cakes are stodgy and heavy, think again. This high fibre raspberry yogurt cake has a delicious, light, moist, crumbly texture. No one will know that it has more fibre than a regular sponge cake making it a healthier choice that your family will love.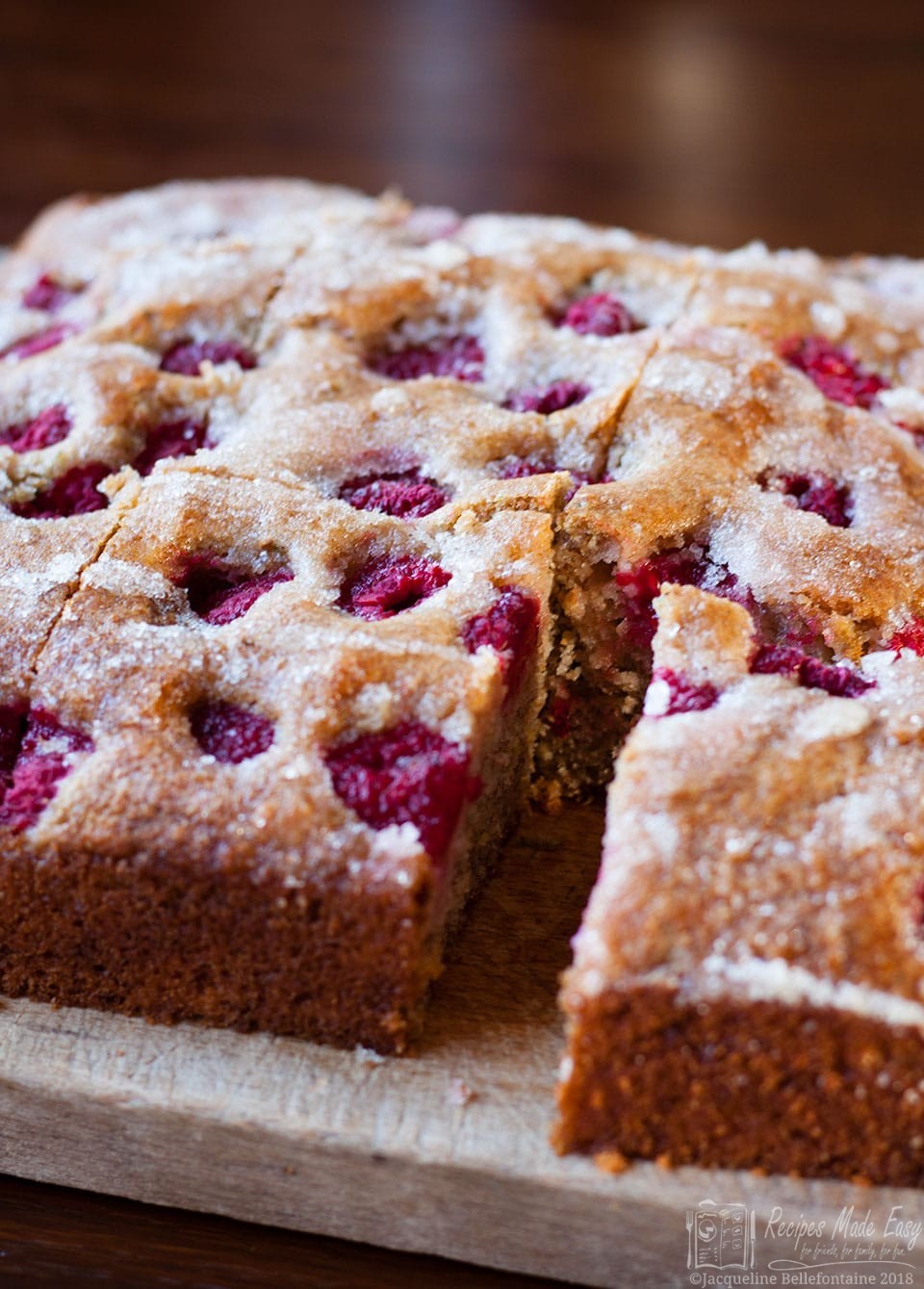 I am sure we all know that fibre is an important part of a balanced diet but for many of us that's about as far as it goes. Lets face it, fibre is not the most "sexy" aspect of nutrition, so it often tends to get overlooked. So, when I was invited to a special #GetFussed lunch hosted by Arla to highlight the important role of fibre in our diet, I did not hesitate. The lunch coincided with the launch of their new Arla fibre yogurt. Yes, you read that right, a yogurt that is high in fibre!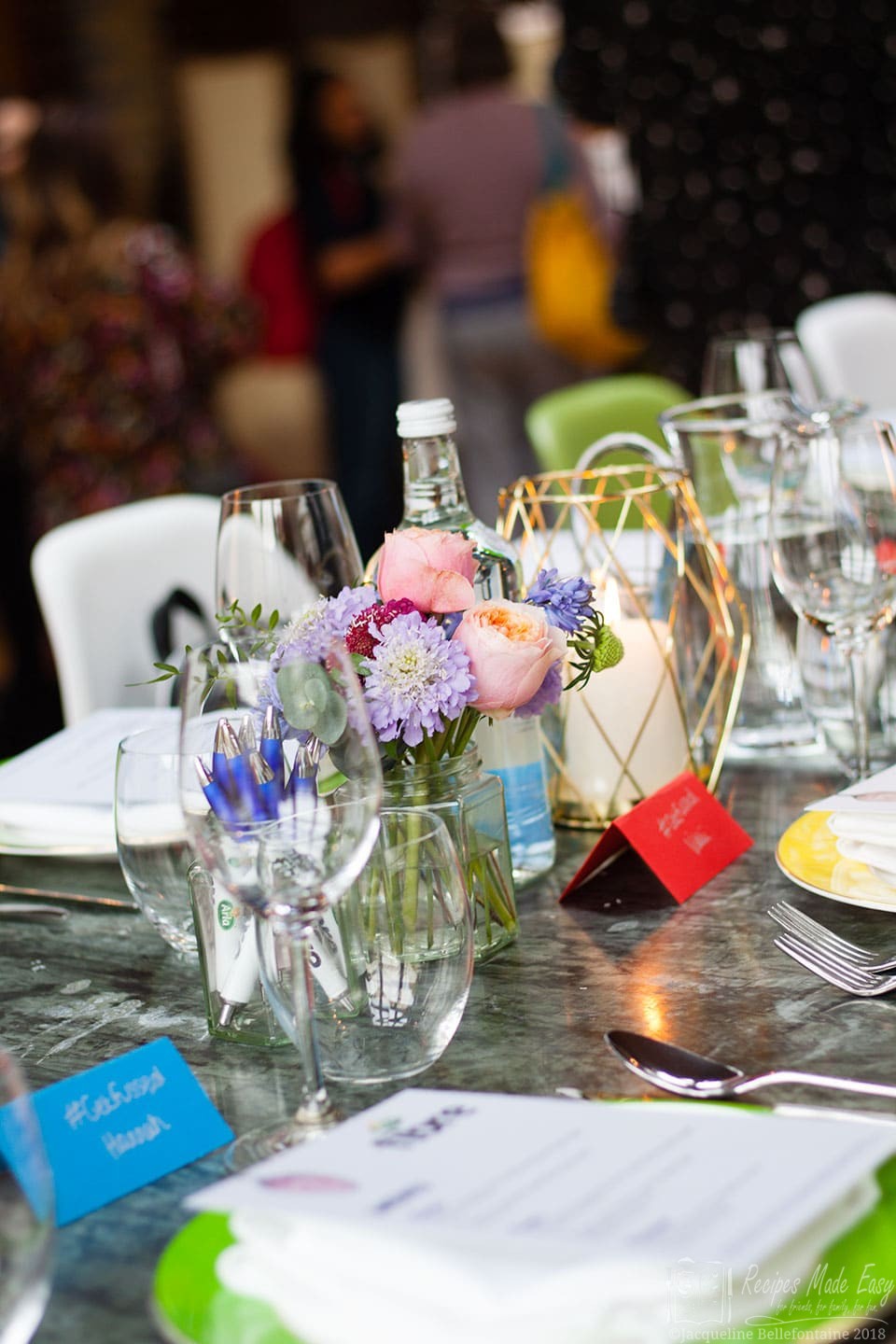 Arla fibre
Public Health England has recently published the recommendation that adults should consume at least 30g of fibre daily. However, on average we consume just 18g. Arla Fibre is a new range of yogurts that not only tastes great but is also a great source of fibre. An easy way for many of us to start bridging that fibre gap. Now, you might be wondering what a high fibre yogurt tastes like. You will be pleased to know it is just like a normal low fat fruit yogurt. If you were none the wiser you wouldn't know it was high in fibre just from the taste or texture. Each 150g pot of Arla fibre contains 4.7g of fibre which comes in the form of chicory inulin, a prebiotic that is fairly bland on its own but adds sweetness and soluble fibre to other food products.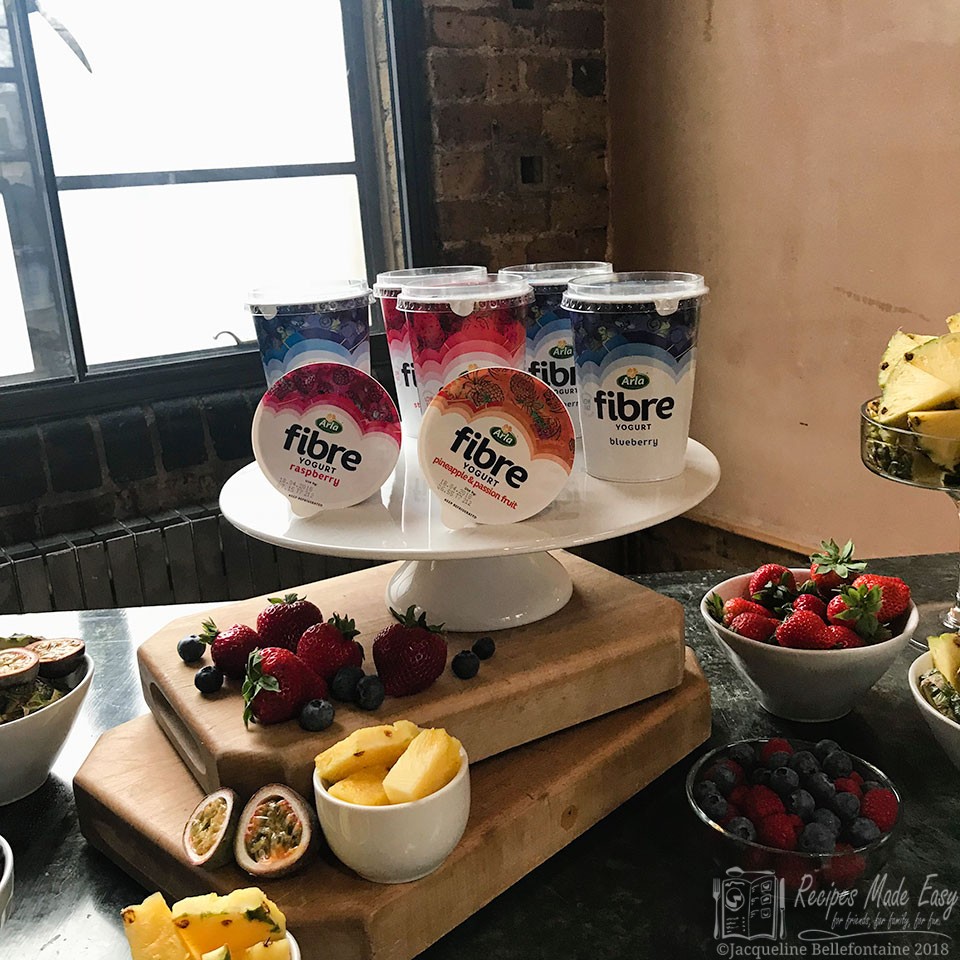 Not only is Arla Fibre yogurt high in fibre, it is also low in fat, high in protein, and contains 27% of your recommended calcium intake, making it a good choice for a healthy snack, dessert or breakfast. Available in both handy 150g pots (pineapple and passionfruit, or raspberry flavour) and larger 450g (Strawberry or Blueberry flavour) family sized pots and are available from major supermarkets.
Easy Ways to Increase Fibre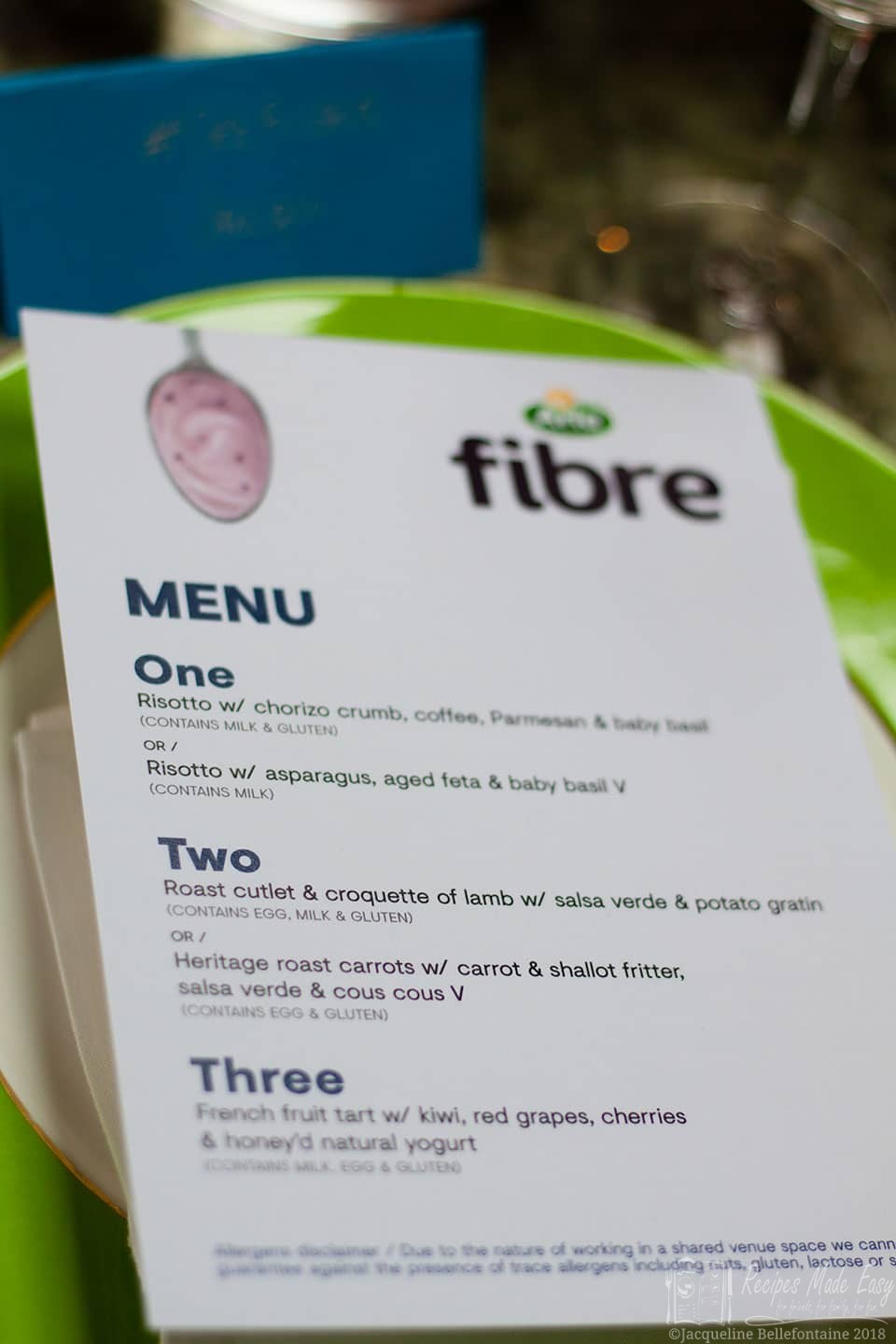 There are also other easy ways to increase your intake of fibre. Arla did a good job at showing how fibre does not have to be bland or taste like cardboard. To illustrate how small changes can make a big difference, they had adapted half of the lunches so that they were high in fibre. Although we were given the option of choosing a vegetarian option, around the table no one knew whether their lunch was high or low in fibre. They changed little things, like using brown rice instead of white in the risotto starter; kale in the high fibre salsa verde; berries, wholemeal pastry and Arla fibre yogurt instead of grapes, plain flour pastry and natural yogurt in the elegant tartlets we had for dessert. Not only did they look very similar, they both tasted absolutely delicious and yet one version had substantially more fibre than the other.
If you would like to try increase fibre in your diet here are a few easy things to try:
Use brown rice instead of white (check out how to cook brown rice in a pressure cooker to save time).
Wholemeal pasta instead of regular pasta.
Wholemeal bread instead of white bread.
replace some white flour with wholemeal in your baking.
Include some higher fibre fruits such as figs and berries.
Leave the skin on vegetables such as potatoes and carrots. Apparently, you can even make mash without peeling the spuds first. I haven't tried it yet but I'm going to.
Add sesame seeds to salads and other dishes.
Swap your breakfast cereal for overnight oats.
Arla Fibre yoghurt instead of ordinary low fat fruit yoghurt.
High Fibre Raspberry Yogurt Cake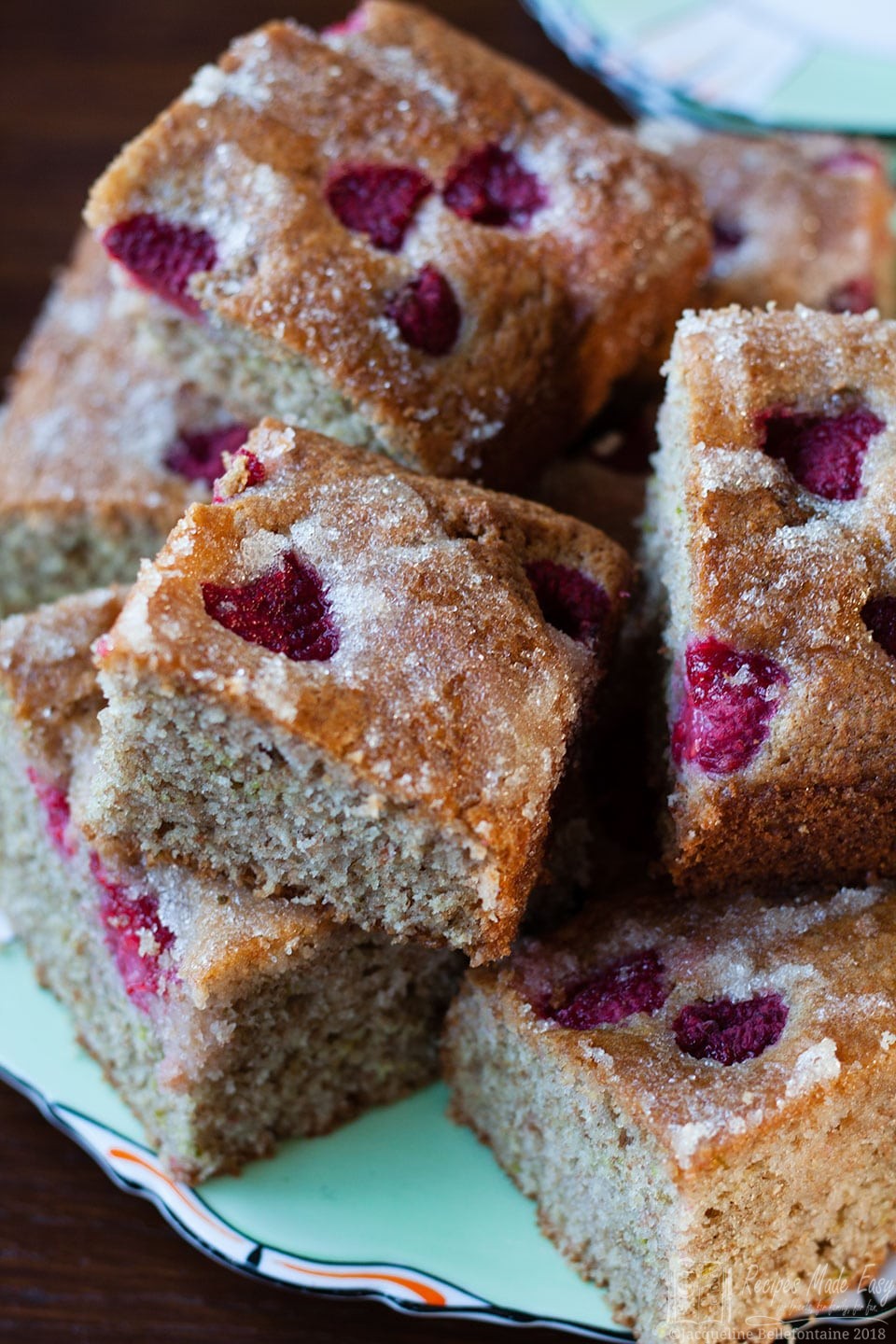 While tucking into a pot of Arla fibre is delicious on its own, I thought it would be fun to come up with a recipe to use it in. While looking for inspiration I came across an old recipe of mine Crunchy Topped Lemon Yogurt Cake, so I thought I would see if I could adapt that. Firstly, I substituted the natural yogurt for a pot of raspberry Arla fibre and changed the lemon for a lime as I think raspberry and lime is a great flavour combination. But I didn't want to stop there. I also replaced half the flour with wholemeal flour. Finally, as raspberries also contain fibre, I studded the top of the cake with some fresh raspberries.
The resulting cake was surprisingly light and fluffy. I sometimes find cakes made with wholemeal flour can taste a bit dry, but the addition of yoghurt counteracted any dryness there might have been. Like the yogurt itself, it was not obvious it was a high fibre cake and yet I had increased the fibre from less than 1g per portion to 4g! Now if that isn't a delicious way to increase your fibre I don't know what is.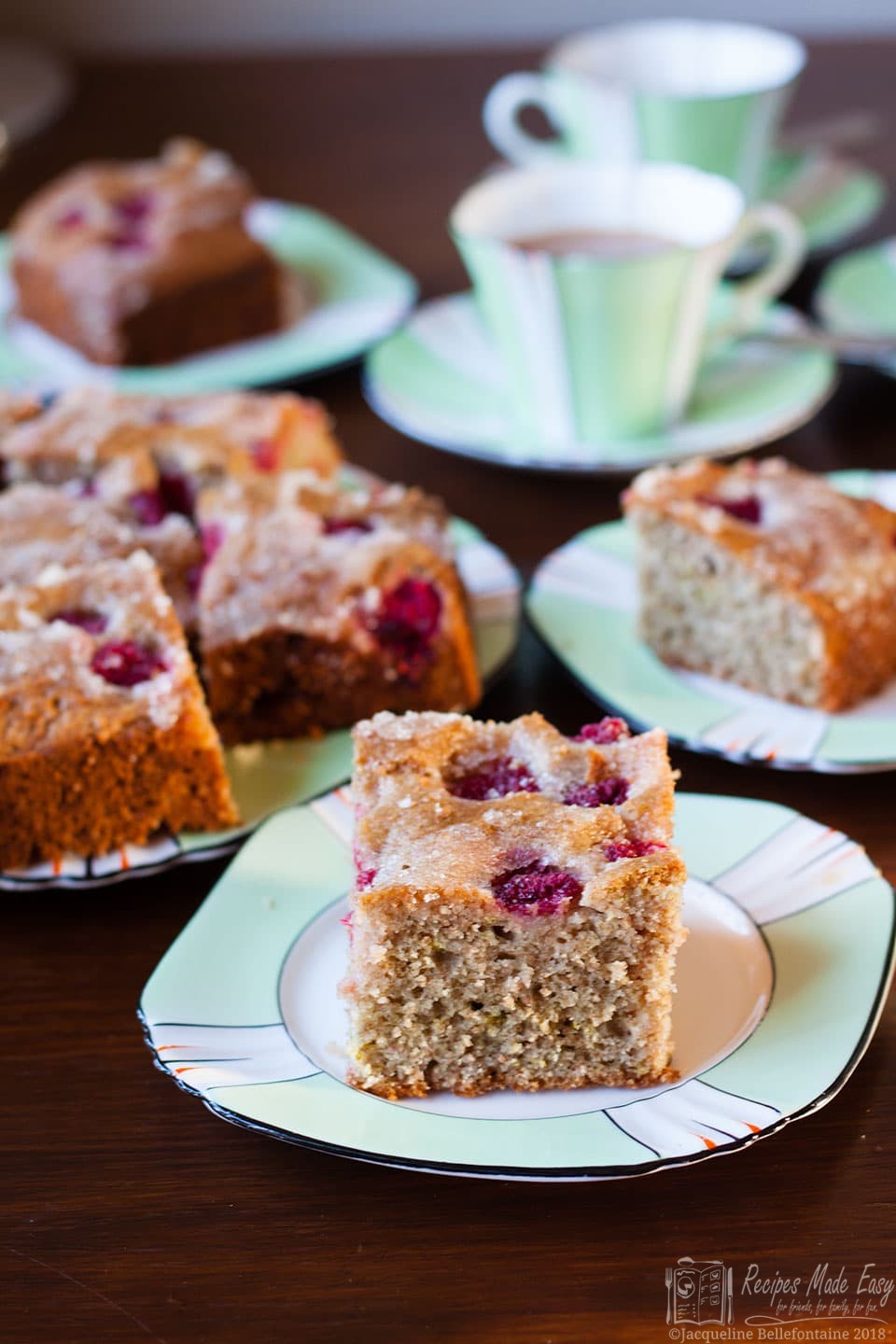 High Fibre Raspberry Yogurt Cake
Print Recipe
Pin Recipe
Save Recipe
Saved!
The addition of Arla high fibre yogurt, wholemeal flour and fresh raspberries add fibre to this tasty light cake.
Ingredients
125

g

butter

softened

125

g

caster sugar

2

eggs

150

g

carton Arla High Fibre raspberry yogurt

1

lime

grated zest

4

tablespoon

milk

150

g

plain flour

150

g

wholemeal flour

1

teaspoon

bicarbonate of soda
Topping:
125

g

raspberries

50

g

granulated sugar

2

tablespoon

lime juice
Instructions
Preheat the oven to 180℃ (160℃ fan)/350°F/gas mark 4. Lightly grease a 20cm (8inch) square cake tin.

Beat together the butter and caster sugar until light and fluffy.

Add the eggs one at a time and beat well. Add the yogurt, lime zest and milk

Add the plain and wholemeal flour, and the bicarbonate of soda and gently fold in. Spoon into the prepared tin and level the top. Arrange the raspberries on top and gently push down into the cake mixture a little way.

Bake for

45 minutes

or until springy to the touch and beginning to pull away from the edge of the pan.
To make the topping:
Stir the granulated sugar and lime juice together and spoon over the cake whilst still hot. Allow to cool slightly before turning out onto a wire rack to cool completely.

Serve cut into squares.
Notes
Nutrition information is approximate and is meant as a guideline only.
Nutrition
Calories:
335
kcal
|
Carbohydrates:
49
g
|
Protein:
6
g
|
Fat:
13
g
|
Saturated Fat:
7
g
|
Cholesterol:
66
mg
|
Sodium:
265
mg
|
Potassium:
131
mg
|
Fiber:
4
g
|
Sugar:
22
g
|
Vitamin A:
410
IU
|
Vitamin C:
6.8
mg
|
Calcium:
58
mg
|
Iron:
1.5
mg
I was invited by Arla Foods to attend their lunch event and I was paid for my time. As always, all opinions expressed are my own and I will only ever recommend products I would, and do, genuinely like myself and that I think are a good fit with Recipes Made Easy.