These pretty little sugar daisies are easy to make and great for decorating cookies, cupcakes and family sized cakes.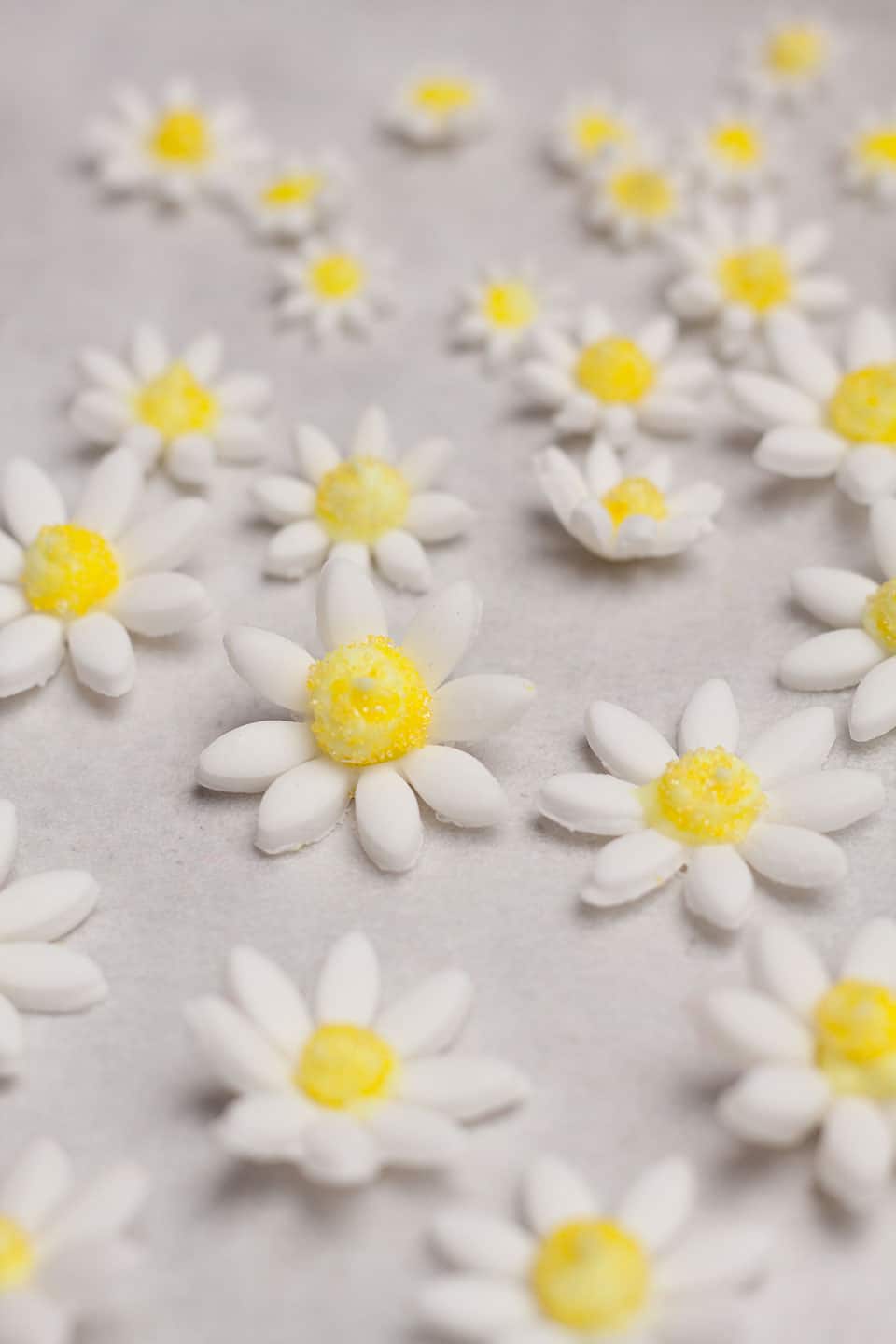 Making Easy Sugar Daisies
To make these pretty flowers all you need is a daisy cutter which you can find easily enough in cake decorating shops and online. The one I used has a little plunger which makes it easier to push out the cut out daisy.
The centres are made by piping small dots of royal icing, and sprinkling them with coloured sugar to add texture. Once dried, they are stuck into the centre of the daisy with a little more icing. You can pipe the centre of the daisy directly onto the sugar paste, but that means you will not get such a neat defined centre. Although you can just pipe a dot of yellow into the centre, I do not find the extra step that difficult and it does give a much better effect.
If you can not find ready coloured sugar crystals use granulated sugar and add a little food colour paste and work into the sugar. Do not use a liquid food colouring or the sugar will begin to dissolve and stick together in clumps.
While you can use regular sugar fondant to make the daisies, it is worth paying a little extra and using flower or petal paste which holds it shape easily and can be rolled out much thinner. These flowers should be quite dainty. You must make sure you keep the paste that you are not working on covered, it will dry out very quickly.
Available in different sizes, I used mine along with my easy sugar roses to decorate a friend's wedding cake but they also look really pretty stuck onto cookies flood iced with yellow or white icing.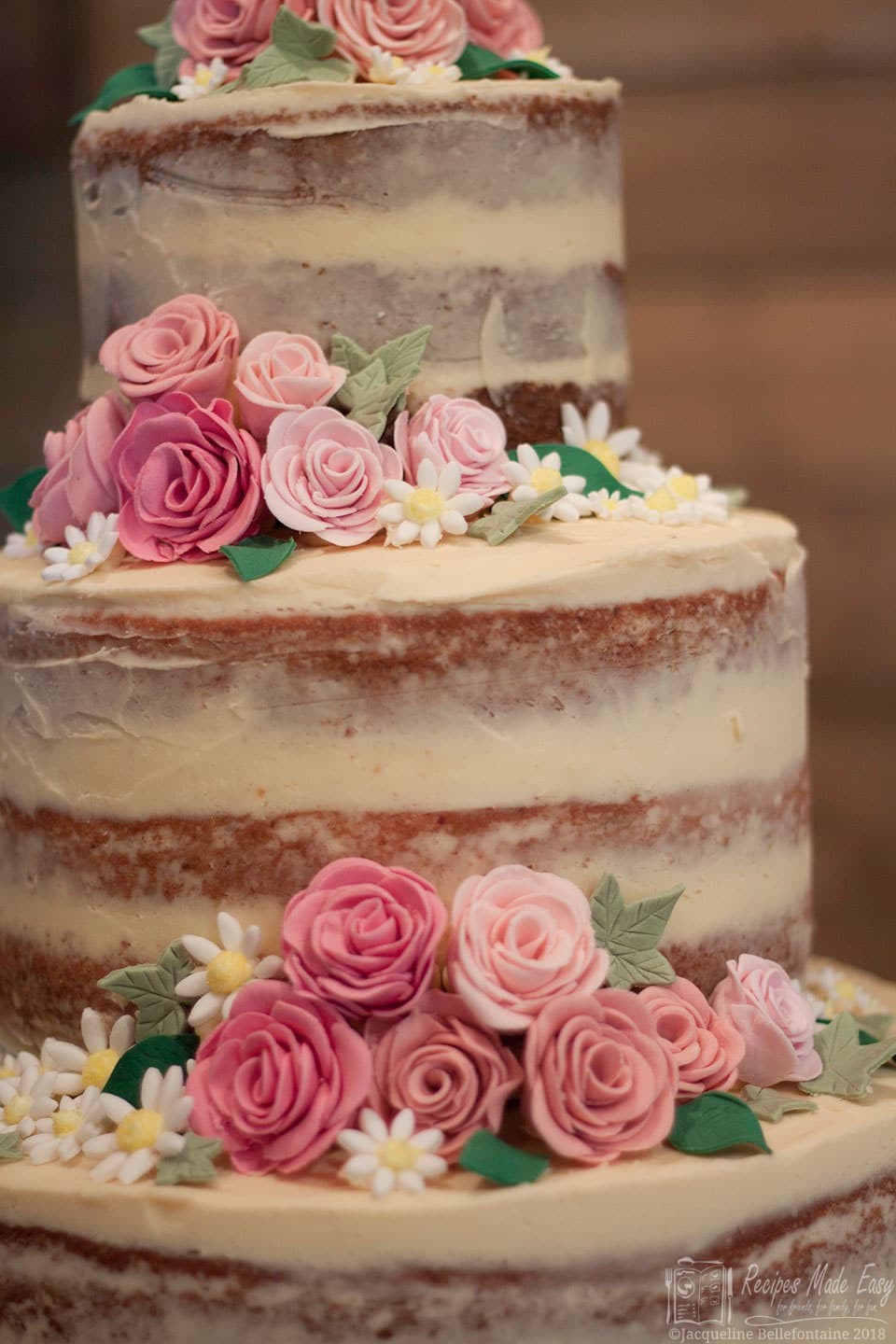 You will need:
white sugar paste, flower paste or petal paste
cornflour
yellow royal icing
yellow sugar crystals
Equipment:
daisy flower cutter
small non-stick rolling pin
nonstick mat (optional)
sugar flower foam pad
small ball tool
tray
baking parchment
piping bag
small plain nozzle
Step One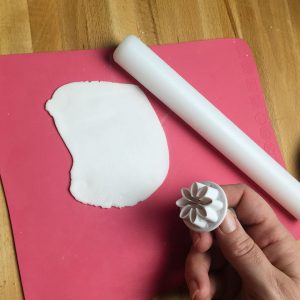 Lightly dust a nonstick mat or smooth work surface with cornflour and roll out a little sugar paste.
Step Two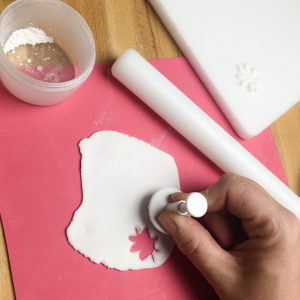 Cut out the sugar paste using a daisy cutter and transfer to the foam pad.
Step Three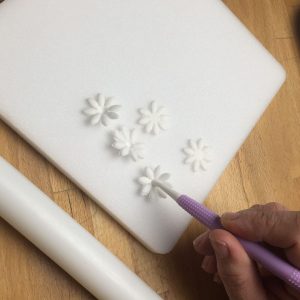 Use the tip of a small ball tool or the handle end of a small paintbrush to press into the centre of the daisy to raise the petals slightly. Allow to dry.
Step Four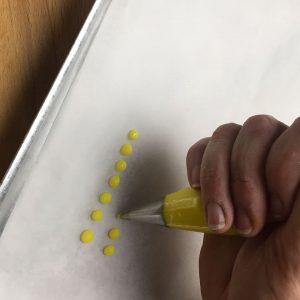 Pipe small dots of yellow royal icing onto a sheet of baking parchment. Vary the size if you are making more than one size of daisy.
Step five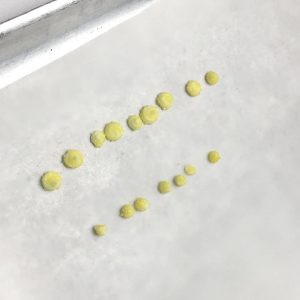 Sprinkle with yellow coloured sugar and allow to dry before carefully shaking the excess sugar away.
Step Six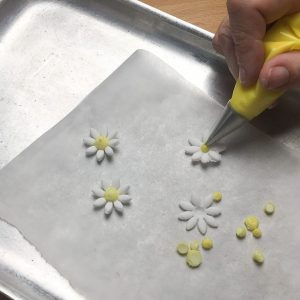 When both the daisies and the centres are dry, pipe a tiny dot of icing into the centre of the daisies.
Step Seven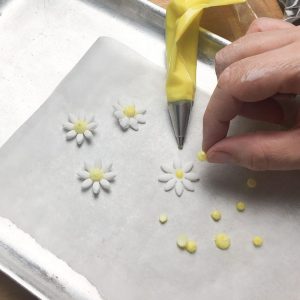 Carefully place the sugared dots into the centre of the daisy.
Step Eight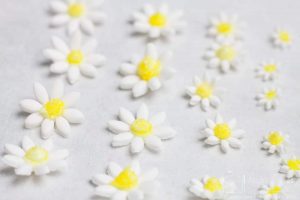 Allow to dry and use as required.