GREAT BLOGGERS BAKE OFF 2016 – WEEK 3 - BREAD
This week was bread week in the Bake Off tent and the contestants had to make a signature chocolate bread, dampfnudel ( I'd never heard of it either!) and a showstopper centre pieces using at least 3 different flours. Regular readers will know that I like making bread which may have something to do with the fact that my dad was a Master Baker, so I was really looking forward to this week. Once again I have given the show stopper a miss, but I have tackled two of the three challenges this week. Chocolate, Pecan and Orange bread is my take on the chocolate bread with a twist.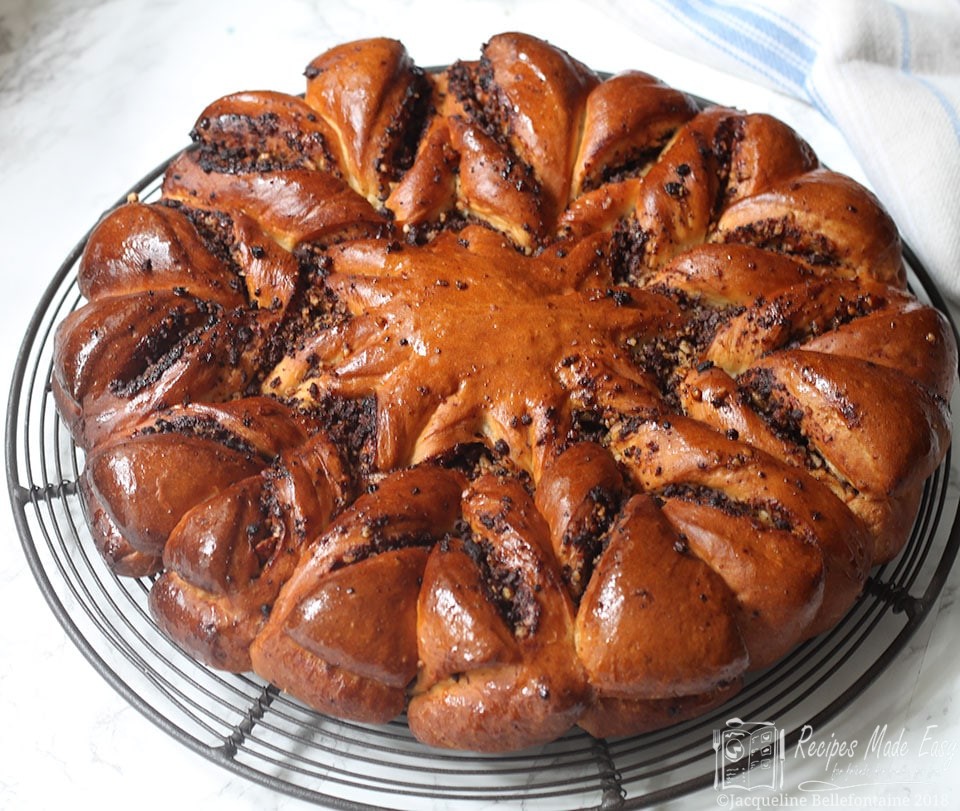 I'll let you in on a secret.
I have baked bread in a tent with Paul Hollywood. I even got the Paul Hollywood seal of approval for my loaf and no, I wasn't a Bake off contestant. It was a few years ago. Pre Bake Off in fact, so Paul had yet to achieve the fame he now has. He was just starting to become known, so I had no idea what it would come to mean to have the Paul Hollywood seal of approval for my bread making skills.
But even then I was really struck by his depth of knowledge. I walked away that day with one particularly valuable tip that really improved my home baking. That was to make my bread dough a little wetter. A common mistake with home baking. When you first start to knead the bread the dough should be a little sticky. The process of kneading the dough helps the gluten develop and the stickiness will go.
Chocolate, Pecan and Orange Bread
My recipe for chocolate, pecan and orange bread is based on a recipe I originally wrote for Baked and Delicious Magazine which was a walnut and cinnamon bread. It's a pretty tear and share bread, which is easier to shape than it might look. To fit the Bake Off brief I have substituted the walnut and cinnamon filling with a filling made of chocolate, pecans and orange zest. I love the result, I hope you do too.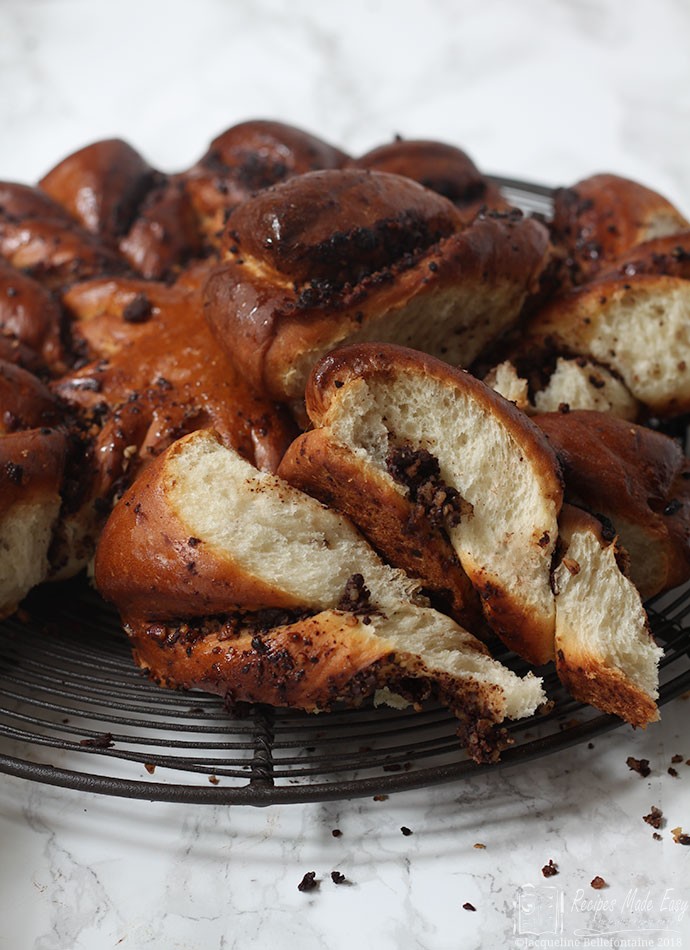 Step by step chocolate, pecan and orange bread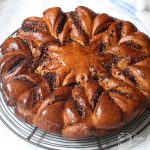 Chocolate, Pecan and Orange Bread
Print Recipe
Pin Recipe
Save Recipe
Saved!
Ingredients
For the dough
400

g

strong bread flour

7

g

sachet easy-blend yeast

30

g

caster sugar

1¼

teaspoon

salt

25

g

butter

cut into small pieces

100

ml

milk

150-175

ml

warm water
For the Filling
50

g

pecans

60

g

dark chocolate

i used a 70% cocoa solids chocolate

25

g

caster sugar

finely grated zest of 1 orange
Instructions
To make the dough, place the flour into a mixing bowl and stir in the yeast, sugar and salt. Rub in the butter. Add the milk and enough water to mix to a soft slightly sticky dough.

Turn out the dough and knead well for 5 minutes, until smooth and elastic. Return to the bowl, cover and leave in a warm place to rise for about 1 hour or until doubled in size.

Meanwhile prepare the filling. Finely chop the pecans in a food processor, then tip into a mixing bowl. Next finely chop the chocolate in the processor and add to the bowl. Stir in the sugar and orange zest. Set aside until required.

When the dough has risen, knock back the dough and cut into two equal pieces. Form each piece into a ball, then roll each piece out to form a 28cm circle.

Place one of the dough circles onto a lightly greased baking sheet. Brush the surface of the dough with Sprinkle the filling evenly over the surface of the dough, leaving a 1cm border around the edge.Cover with the second circle of dough and gently press the edges together.

Use a small glass or cookie cutter to mark a circle in the centre of the dough, then cut the dough into 16 equal sections.

Taking one section of the dough, lift and gently twist twice in one direction. Then take the next section and twist in the other direction. Continue twisting the dough sections in alternate directions until all the pieces have been twisted. Cover loosely, leave in a warm place to rise for 30 minutes.

Preheat the oven to 190°C/170°c fan/gas mark 5. Bake for 30–35 minutes, until golden brown. The bread should sound hollow when tapped on the bottom. Brush with maple syrup whilst the bread is still warm. The bread is best eaten on the day it is made.
Can I just say it is delicious dunked in coffee. I wonder if Mary would disapprove.

Dampfnudel
Because I like yeast cookery, and because I had never heard of it before, I decided I would give the recipe for the technical challenge a whirl as well. Making the dough is fairly straight forward. Having said that it was the first yeast dough I have made without salt, so I was a little apprehensive. Salt helps regulate the yeast and I also think it is needed for flavour. Judging when the dough balls are cooked was a little tricky and I ended up re-covering the pan and cooking for another 5 minutes. Getting them cooked and risen in the two hours they were allowed for the task was also tricky. I think mine took about 2 ¼ to 2 ½ hours.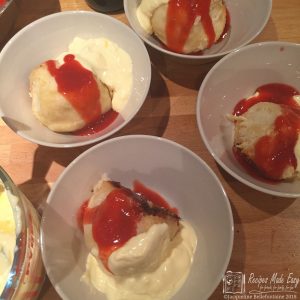 They tasted ok, and got the seal of approval from my German friend, but I think they would have been so much nicer if baked. If you fancy giving them a try Paul's recipe is here. Word of warning: remove them from the pan before they get cold or you will end up with dampfnudel well and truly stuck to the base of the pan.
Don't forget to pop over and check out what Jenny at Mummys Mishaps and all the other bloggers have been baking for the Great Bloggers Bake Off.