Brandy snaps are pretty lacy ginger flavoured biscuits that are not as difficult to make as you may think. Delicious eaten on their own, filled with cream or served as a biscuit with creamy desserts.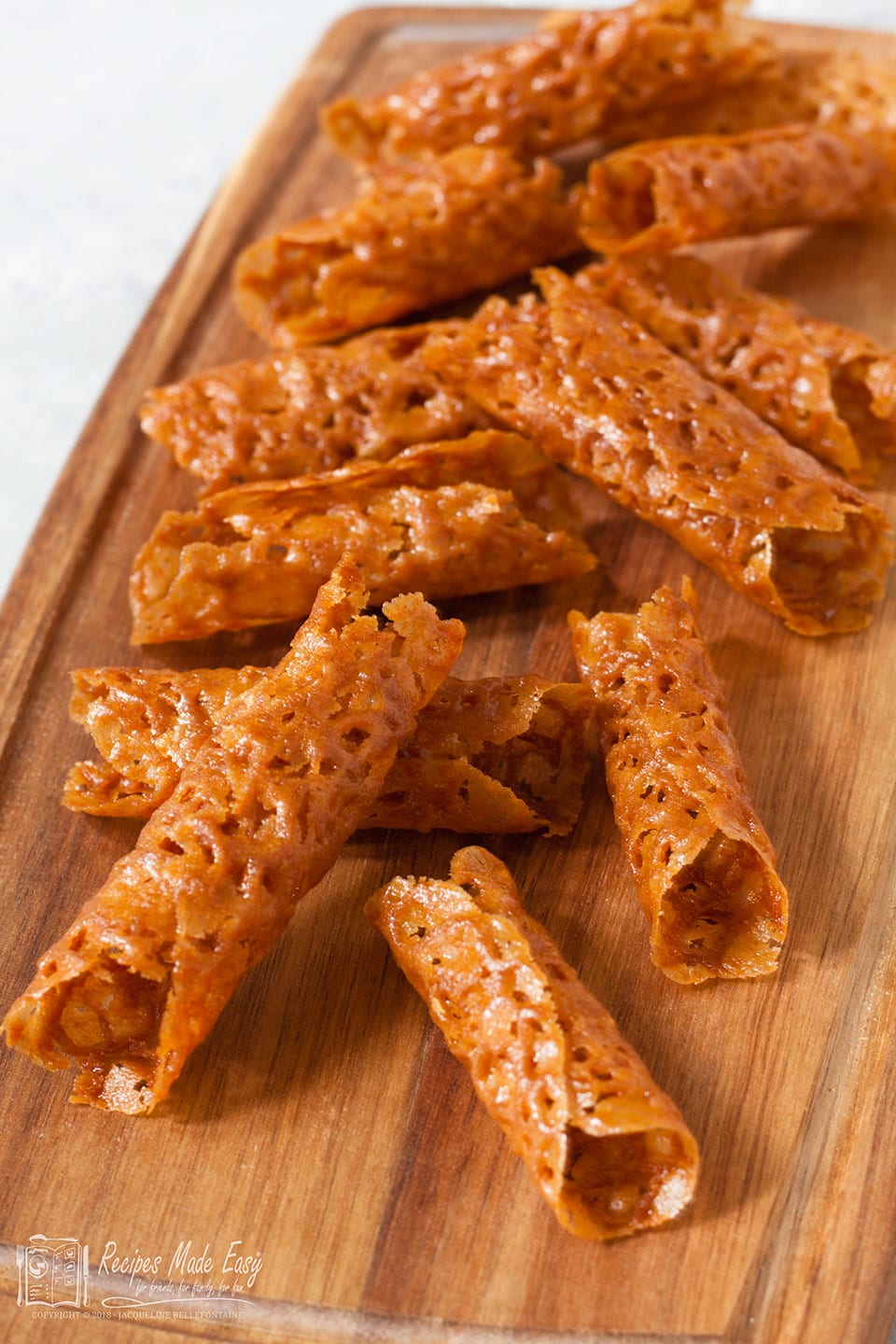 Brandy snaps or wagon wheels
Hmmm baking along to The Great British Bake Off Might not have been such a good idea. I think I have already undone the good work watching my weight over the last few weeks.
Looking for inspiration for a regional biscuit I came across Brandy snaps. I've never really thought of them as Regional biscuits (more on that in a bit) but I love them. Buttery and crispy at the same time with the delicious warming flavour of ginger and so pretty.
I've nearly scoffed the lot. Well, they are very moreish! So yes once, I realised they were a regional biscuit I thought that's what I shall make for my first Great British Bake Off inspired bake, this year.
I could have gone for wagon wheels which was the biscuit week technical challenge but to be honest, when I was younger I dipped hundreds of wagon wheels in chocolate.
They were one of the items my dad made in the Bakery and I helped out on Saturdays and school holidays. I actually preferred the "real" wagon wheels that you got in packets to my Dads which he just could not understand.
For that reason and because its a lot of faff making them from scratch that I wanted to opt for a regional biscuit instead, well this is Recipe Made Easy!
Brandy Snaps from Yorkshire
I was thumbing through some old books hoping to find a regional biscuit from the South of England where I grew up, but no luck apart from Maidstone biscuits which are shortbread and not very inspiring.
Then as I was flicking through a Yorkshire WI recipe book that my father-in-law had recently given me from the 1950 or 60's there were Brandy snaps complete with a little introduction to their provenance.
The sale of sweetmeats at fairs is a common occurance, but Brandy Snaps are particulay associuated with Hull. This fair dates back to 1279 when the town was called Wyke..... Hull fair was originally established for the sale of horses, cattle and foreign goods but soon the provision of amusement became and integral part of the gathering and Brandy Snaps were looked upon as a favourite delicacy. These Brandy Snaps have been a traditional sweetmeat on sale at Hull fair for many years."
So that's it my decision was made, Brandy Snaps it is.

Brandy Snap biscuits and Brandy Snap Baskets
Now I have alluded to the fact that some people think these are difficult to make. They're really not. The only tricky part is shaping them into the traditional finger shape.
Once out of the oven they need to cool just enough that they are firm enough to shape and then quickly shaped before they set hard which happens in a matter of minutes.
The trick is to cook just a few at a time. I cooked six at a time but if it's your first time I would suggest you start with four. If you have two baking sheets you can have some cooking while shaping the others so it won't take up too much of your time.
The other watchpoint is to remember the mixture will spread a lot so make sure they are well spaced on the baking sheet.
As well as, the traditional shape brandy snap, you can drape them over the back of a muffin tin to shape into a basket, to make a pretty container for a dessert. Alternatively, you can drape them over a rolling pin or just leave them flat. It's really up to you.
Brandy Snaps recipe step by step
All recipes for Brandy Snaps are similar. I have used the one from the Yorkshire WI book, converting the measurements from imperial to metric. I noticed that this recipe uses more ground ginger than many.
I like them but if you want a less gingery snap then, by all means, reduce to ½ or even ¼ tsp. Some recipes have brandy in them others don't. This one does but if you prefer to leave it out replace with 1 teaspoon lemon juice. You will also find my recipe has a little more detail. Old recipes are often rather basic!

Brandy Snaps
Print Recipe
Pin Recipe
Save Recipe
Saved!
A traditional Yorkshire Recipe, these delicate lacy biscuits have a delicious crunch and a warming ginger spice flavour.
Ingredients
50

g

butter

50

g

golden caster sugar

2

tablespoon

golden syrup

50

g

plain flour

(all purpose flour)

1

teaspoon

ground ginger

½

lemon

finely grated zest only

1

teaspoon

brandy
Instructions
Preheat the oven to 180℃ (160℃ fan)/350°F/gas mark 4. Lightly grease or line 2 baking sheets with baking parchment.

Place the butter, sugar and golden syrup in a small pan over a low heat. Heat gently stirring until the butter melts and the sugar dissolves. Do this slowly and make sure the sugar has dissolved before removing from the heat.,

Sift the flour and ginger into the pan and add the lemon zest and brandy. Mix well to a smooth consistency.

Drop teaspoons of the mixture onto a baking sheet leaving plenty of room between for the biscuits to spread. Bake one tray at a time for

7-8 minutes

until golden brown.

Remove the baking sheet from the oven and allow to stand for a moment or two until the biscuits can be easily lifted from the sheet with a palette knife. Shape the biscuits by wrapping around the handle of a wooden spoon and leaving for a minute to set.

Repeat until all the biscuits are made. Store in an airtight container
Notes
Store for up to 1 week. Not suitable to freeze
Nutrition information is approximate and is meant as a guideline only.
Nutrition
Calories:
49
kcal
|
Carbohydrates:
6
g
|
Fat:
2
g
|
Saturated Fat:
1
g
|
Cholesterol:
5
mg
|
Sodium:
19
mg
|
Potassium:
2
mg
|
Sugar:
4
g
|
Vitamin A:
70
IU
|
Vitamin C:
0.2
mg
|
Calcium:
1
mg
|
Iron:
0.1
mg
More Biscuit Recipes Made Easy
I'm sharing this recipe on

with Jo's Kitchen Larder