Basil ice-cream, it sounds like an odd flavour for ice-cream, but it really works. Aromatic, slightly sweet and floral, it makes for an interesting dinner conversation as others try to guess that familar flavour they can't quite put their finger on. So if you like to serve something a little unusual then certainly give this ice-cream a try.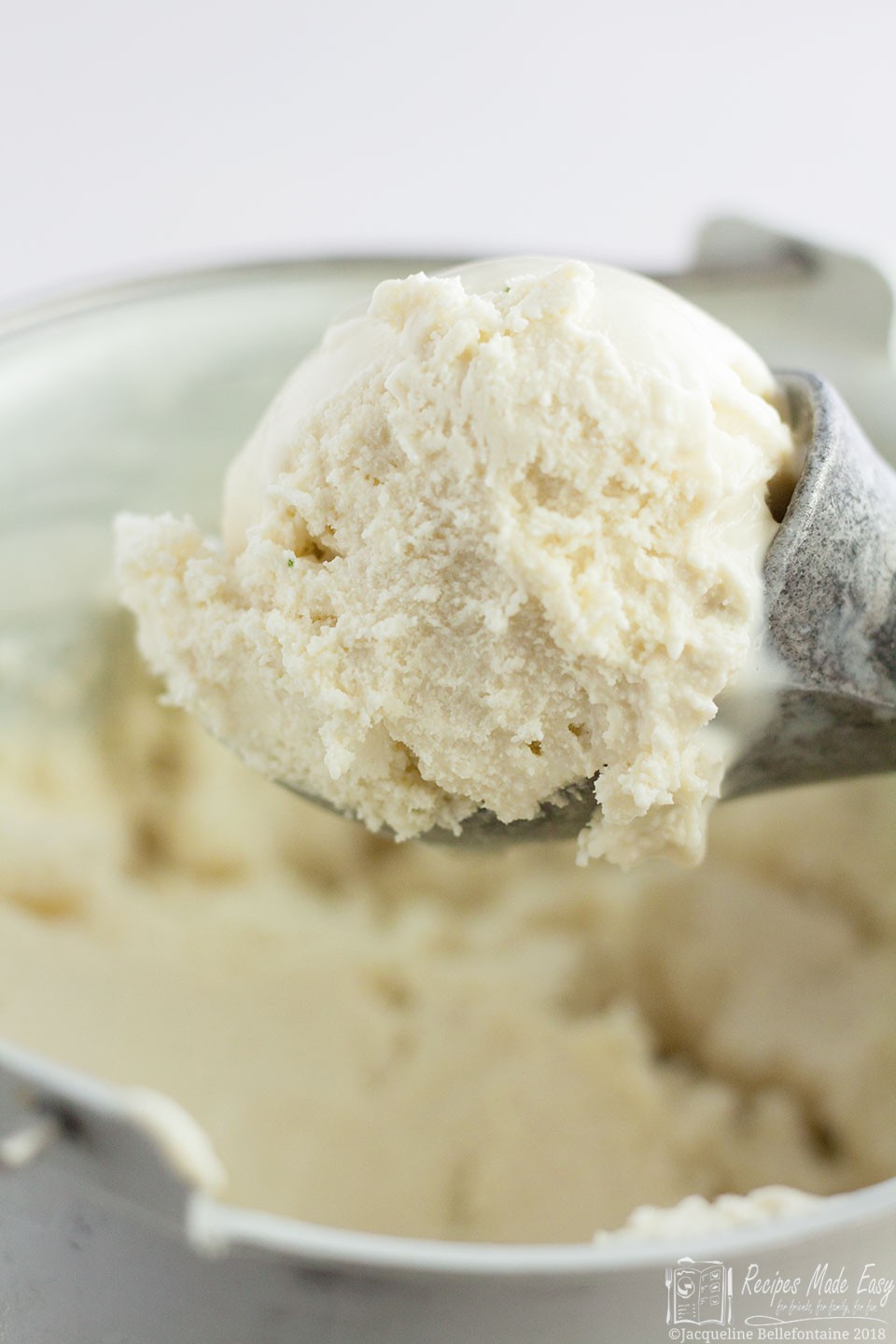 I am very lucky to have holiday cottages in Suffolk, and so we spend a lot of our weekends there. Now, you may wonder what that has to do with basil ice-cream. The answer is quite simple.
A lot of the time we are there we spend gardening or working on the cottages (they were built circa 1750 so there is always something that needs doing) and we often treat ourselves to a meal in a pub on the Saturday night.
We are spoilt for choice, as Suffolk is really getting a great reputation for producing good quality local produce (check out the smoked fish from Orford or Blythburgh pork among many other excellent local produce!), and a lot of the pubs serve great seasonal local food.
One of our favourite places is The White Horse - Sibton. The owners are really friendly and make everyone feel very welcome and the food is great. Well worth a visit if you are in the area. This is where we get to the connection. It was at the White horse that I first tasted basil ice-cream. It was served with a mango tart and when I saw it I was intrigued to find out what it would taste like and, of course, just had to try. One taste later I was sold and decided to try and make it myself.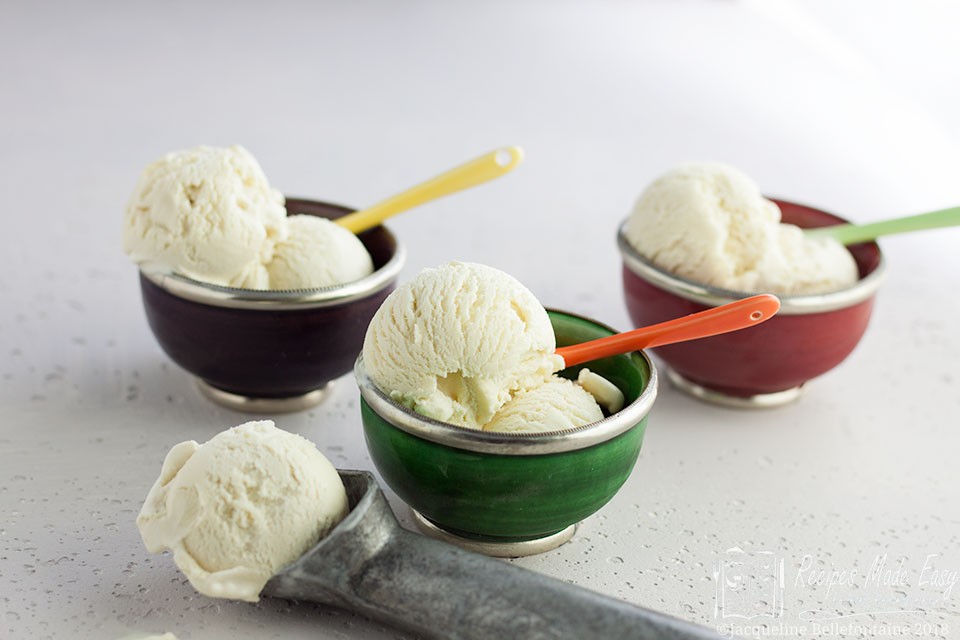 Back at home I set about trying to replicate the ice-cream. Starting with a basic egg custard (the base of many ice-creams), I added chopped basil. The one (minor) short coming of the ice-cream at the White horse was its slightly muddy coloured green, not enough to put you off, but equally not the bright green you might expect.
To overcome this I decided against whizzing the basil and custard together in the food processor before freezing and instead let the basil infuse into the custard for several hours before straining it. Next I added cream and popped it in the ice-cream maker. My concern that the flavour would not be strong enough turned out to be unfounded. It's subtle but I think the better for it.
I have made it a couple of times since as well as for testing and photographing here, once serving with an orange and pine nut tart and the other time with my Almond bizcocho with some stewed rhubarb on the side. Both times it was huge success with my guests.
I shall be making it again, it's easy and (in case you are wondering) you don't need an ice-cream maker. I know the flavour works well with orange, but wonder what else it will go with. I suspect strawberries or raspberries might be a nice pairing.

Hints and tips for making basil ice-cream
Take care when making the egg custard not to let it boil or it will curdle. The custard should thicken very slightly. Use a cook's thermometer if you have one to reduce any chances of over heating.
The custard should be heated to 85°C. If the custard does get a bit too hot and looks like it is beginning to split, remove from the heat and plunge the base of the pan into cold water to stop it from cooking any further. Whisk frantically with a balloon whisk.
Use an ice-cream maker if you have one, and follow the manufacturers instructions. If not, pour the ice-cream into a shallow freezer-proof container (this will help it freeze quicker) and freeze until the mixture is slushy and beginning to firm around the edges. Whisk the ice crystals that have formed around the edge of the container into the middle. Repeat every 2-3 hours until you have a smooth ice-cream mixture.
Homemade ice-cream is best eaten when freshly made and the taste will deteriorate overtime, so try to consume within a a week or so. Store in an airtight container and place a piece of parchment onto the surface of the ice-cream to help exclude as much air as possible to maximize it's keeping quality.
Depending on how cold your freezer is you may need to take the ice-cream out of the freezer and place in the refrigerator for 20 minutes or so before serving to soften sufficiently to scoop.
Step by step basil ice-cream

Basil ice-cream
Print Recipe
Pin Recipe
Save Recipe
Saved!
Best made 24 hours before required to allow sufficient time for cooling and freezing.
Ingredients
4

egg yolks

150

g

golden caster sugar

1

teaspoon

cornflour

500

ml

milk

25

g

basil leaves

chopped

300

ml

double cream
Instructions
Place the egg yolks in a mixing bowl with the sugar and whisk until pale and fluffy. Sprinkle the cornflour over the top and whisk in.

Heat the milk in a saucepan until just beginning to bubble around the edge of the pan. Slowly stir the hot milk into the egg mixture. Return the mixture to the pan.

Add the chopped basil and cook gently stirring constantly until the mixture thickens very slightly.

Pour the mixture back into the mixing bowl and allow to cool. When completely cold, cover and chill for at least 4 hours or over night.

Strain the mixture though a fine sieve, pressing the basil firmly with a spoon.

Pour the cream into the cold mixture and whisk in. Pour into an ice cream maker and following the manufacturers instructions, churn until frozen. If you don't have an ice cream maker pour into a shallow container and freeze for about 2 hours until beginning to firm. Whizz in a food processor or beat with an electric whisk to break up the forming ice crystals. Return to the freezer for another couple of hours and repeat the freezing and beating 2 or 3 more times until you have a smooth iced mixture, then transfer to a suitable container cover and freeze until firm.

To serve, move from the freezer to the refrigerator about 20 minutes before serving.