I am super excited and delighted to be guest hosting #CookBlogShare this week. Kirsty from Hijacked By Twins and Eb at Easy Peasy Foodie, do a brilliant job of running this popular foodie blog linky, so I'm a little nervous to say the least.
Recipes Made Easy regulars might well be wondering what on earth I am talking about. But they might also have noticed the #CookBlogShare badge at the bottom of many of my posts. That's because it is one of my favourite linkys to participate in.
But what is a linky you may ask?
A linky is a place where bloggers share their posts. Over the week more and more thumbnails pictures of recipes written by other bloggers will appear at the bottom of  this post. If you click on them it will take you to that recipe on the bloggers own website. Trust me there are some brilliant #CookBlogShare bloggers and their blogs are well worth a visit, so it is worth clicking. Each week four of the best posts, from the week before are included in a round up at the start of the next linky.
If you are a blogger, you probably already know what a linky is and if you have a recipe to share, you can link up your post below detail of how to do so below.
4 Special Spring Recipes
But before we get to the linky itself, first the round up. I have the honour of sharing a round up of  four of my favourite posts from last weeks Linky. With some great posts to choose from that is not as easy as it sounds and what a responsibility!  Given that the long Easter weekend is just over, it is my guess that more than a few of us might have slightly over indulged over the weekend.  You may also have done more than your fair share of baking and eaten a few sweet dishes. So I thought I would pick out 4 posts that I think have great spring time recipes.
Leek Potato and Celeriac Soup
Soup seems to me a great transitional dish from the heavier winter stews to the light summer salads, so is perfect for this time of the year. Jo from Jo's Kitchen Larder  shared her Leek potato and Celeriac Soup recipes which sounds delicious. I love the idea of adding celeriac to leek and potato soup, even if Jo originally only did so to use up a piece of left over celeriac from the fridge. Soups are perfect for  using left overs and I hate food waste so it seems a win win to me.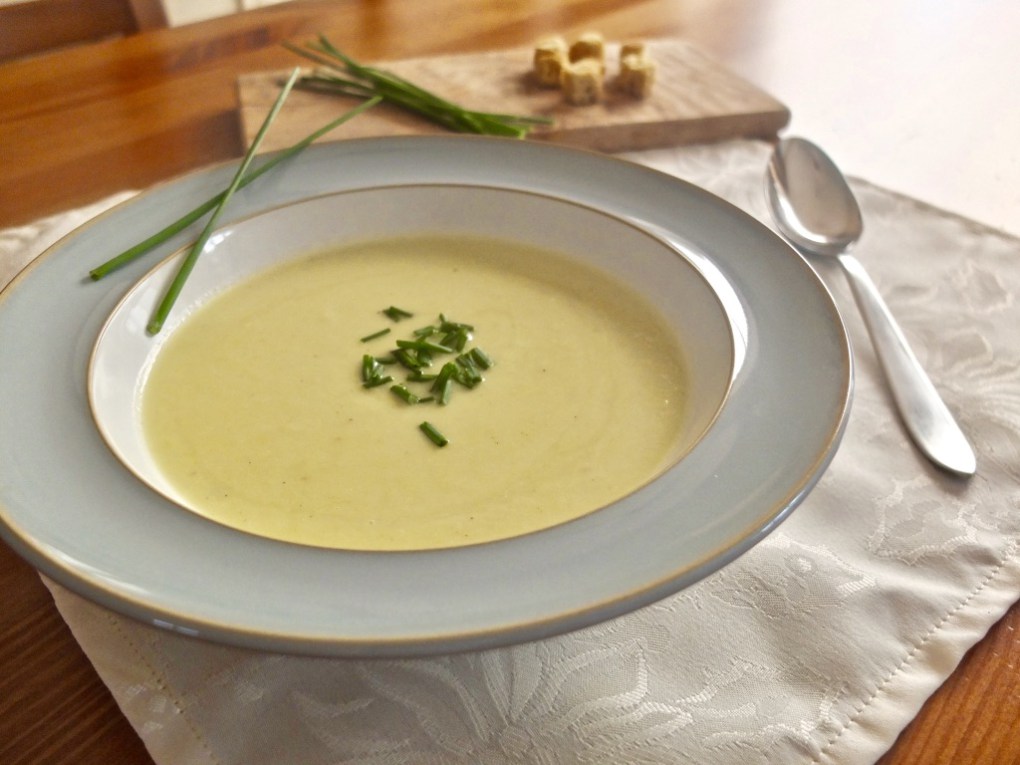 Mushroom asparagus potato casserole with herbs
I look forward to the English asparagus season. It is short but oh so special! I  really don't think imported asparagus tastes quite the same. Monica from Everyday Healthy Recipes uses asparagus in her Mushroom, Asparagus Potato Casserole with herbs. This recipe looks delicious and takes less than an hour from start to finish. I definitely going to give it a try, just as soon as I can get my hands on some English Asparagus.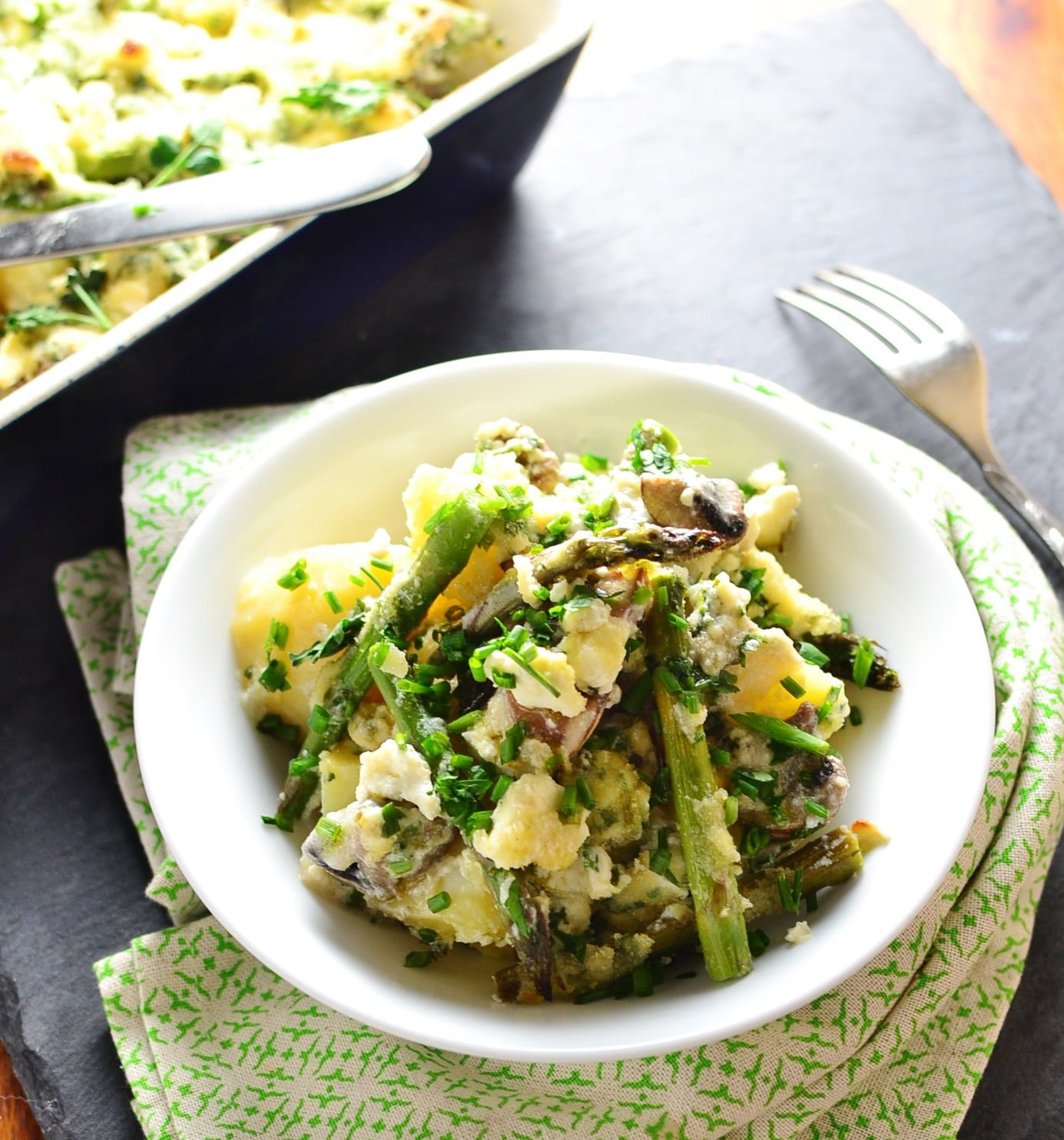 Crumb Coated Cod
Nathalie from The Intolerant Gourmand shared her recipe for a gluten free Crumb Coated Cod. Simple to make,  she served it with Samphire which is packed full of vitamins and minerals. On the table in about 30 minutes this would make a super healthy midweek meal.  She even has a little video to show you how easy it is to make. I really must get my act together and start making some videos!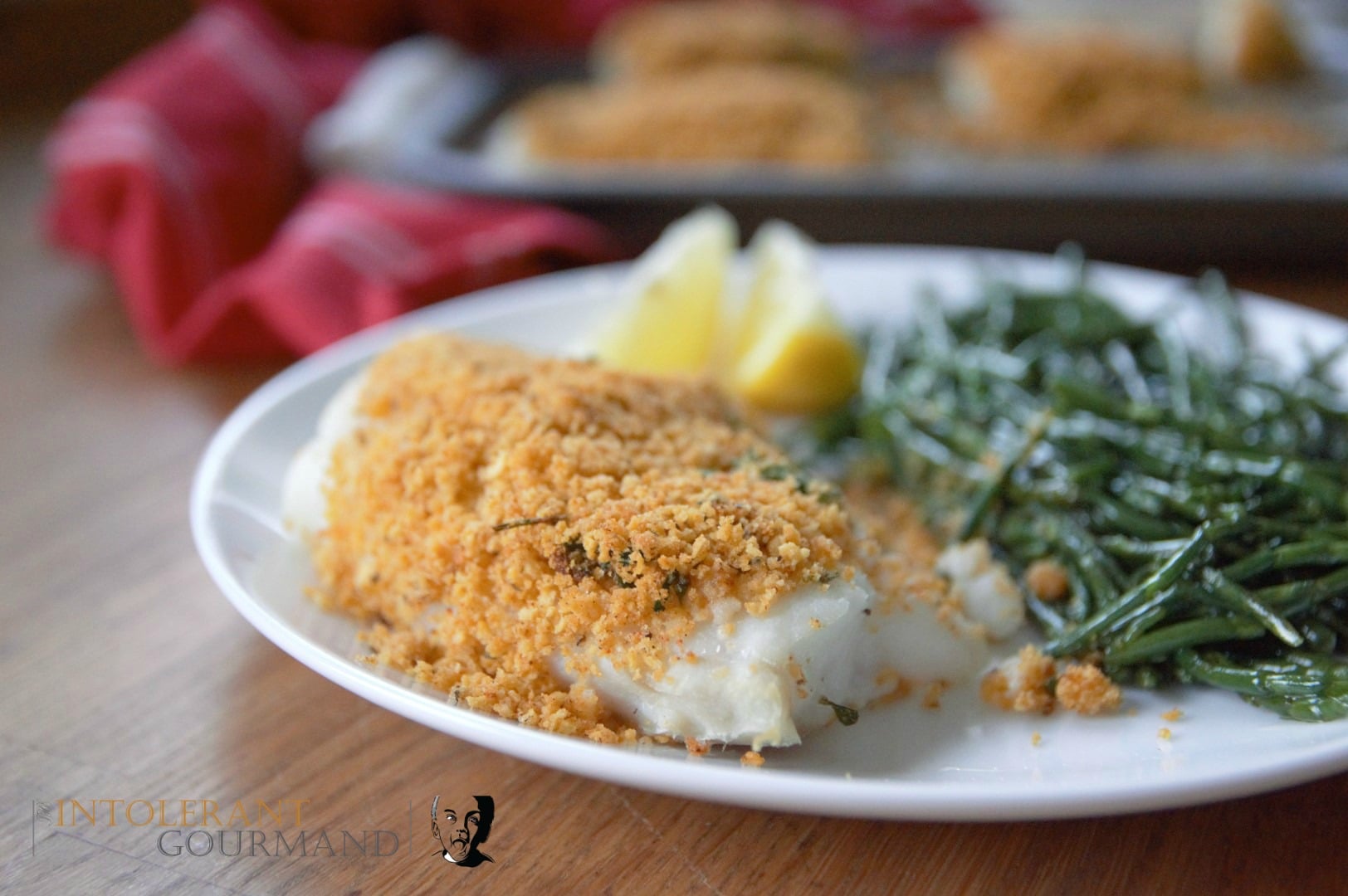 Rosemary Pancetta and Sweet Potato Cakes
My finally choice is The Proper Foodie's Rosemary Pancetta and Sweet Potato Cakes. I can not believe that these have less than 500 calories.  The dish looks fresh and colourful and is just perfect for this time of the year. Debra is a registered nutritionist so you know it's going to be good for you too.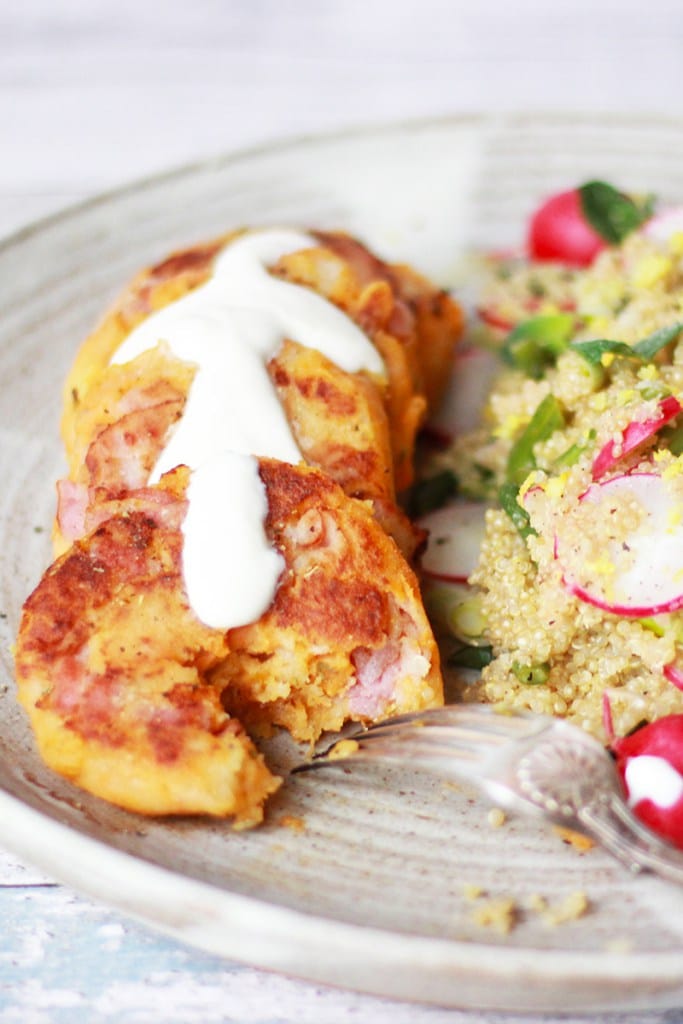 #COOKBLOGSHARE LINKY WEEK 16
And so we come to this week's linky. Bloggers, you can link up any foodie post that you have – both old and new posts are welcome. All you need to do is:
Link up a recipe or foodie post by clicking the blue 'add your link' button below and following the instructions.
Add a link from your post back to this post (so everyone else can find it and link up too!)
Add the #CookBlogShare badge to your post (you can find the code below)
Comment on some of the other recipes linked up here and generally share the love with a bit of social media action!
If you wish, you can tweet a link to your recipe to me  @jacdotbee   using #CookBlogShare and I will retweet them. If you also tag Eb @easypeasyfoodie and her co-host Kirsty @k_phillipson,   they will probably retweet them too (I dont trust them to take a complete break from #CookBlogShare).
You can also post your recipe on the Cook Blog Share Facebook Page.
I will comment on all the posts this week and pin them all to the Cook Blog Share Pinterest Board.
I'm relying on you lovely lot not to let me down as guest host, and I can't wait to see what you've all been making! Don't forget to add the badge below so that others can find us, and to comment and share some of the other posts.  I will be commenting, Tweeting and Pinning throughout the week.

Loading InLinkz ...
Next week (25th April),  Monika at Everyday Healthy Recipes will be guest hosting, then on the 2nd May it will be back to the usual hosts Kirsty and Eb.
Just to remind you, by joining in you are giving the #CookBlogShare hosts permission to use your pictures in a round up and on social media, if your recipe is selected as one of our favourites!
After you have linked up do take a moment or two to enter my Thermapen Giveaway, if you haven't already done so. It's a great prize I use mine all the time