Whilst my home grown strawberries have now all been harvested, English strawberries are still plentiful in shops and markets and it's the perfect time of year to make strawberry jam. Admittedly I like all types of jam, but my personal favourite is blackcurrant because of its tangy taste. Having said that, I find a dollop of homemade strawberry jam quite irresistible with scones and its the boys favourite jam.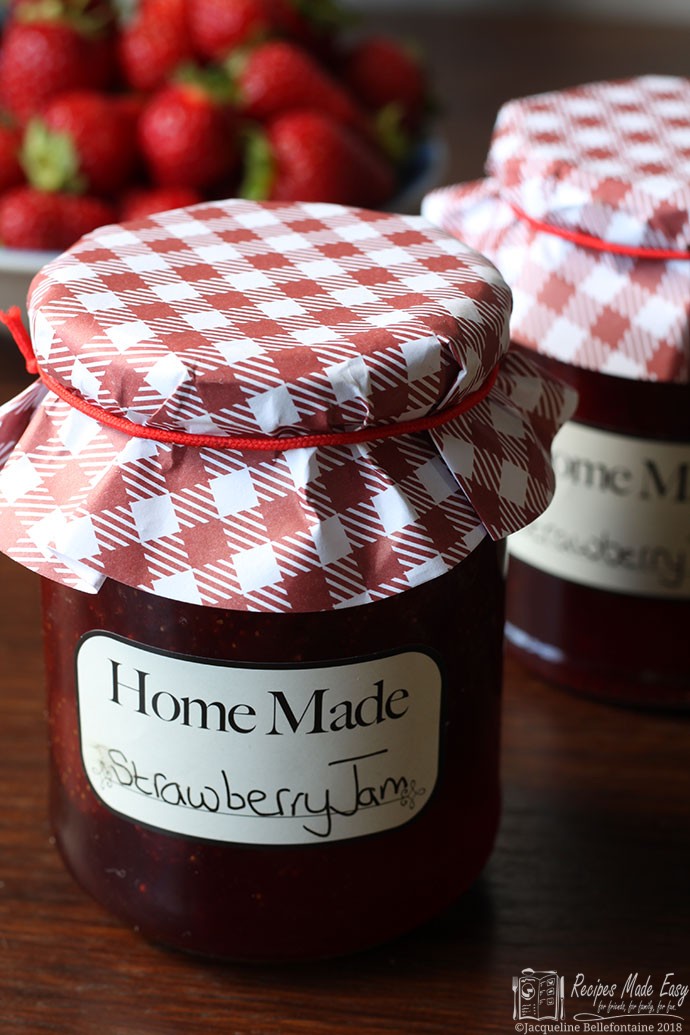 Last weekend I made a batch of strawberry jam with some cheap late strawberries from Borough Market. Although the market is not exactly known for cheap food, you can find some good bargains. Late summer strawberries are often smaller which makes them a bit more fiddly to hull, but the additional sweetness is certainly worth the effort and I think they are better for jam making. Large or small, English strawberries will not be around for much longer this year, so now is the time to get in the kitchen and make some jam before it's too late.

Strawberry Jam Made Easy
If you think jam making is difficult, think again. It's honestly just a case of cooking some fruit (soft fruit like strawberries and raspberries don't even need cooking first), dissolving the sugar with the fruit, boiling for a short while and potting. The most difficult part is to work out when setting point is reached, and even that it is not particularly hard. See notes at the bottom of the recipe.
Pectin
Pectin is a type of starch that is naturally present in fruits and helps the jam to set. The level of pectin differs per fruit, however, so unless you know what you are doing, you will need to follow a recipe. Fruit with low levels of pectin such as strawberries need additional pectin, whereas fruits with high levels of pectin such as blackcurrants don't. Add pectin to blackcurrants and the jam will set like a brick, probably not the result you would be looking for!
Jam sugar
One of the easiest ways of adding pectin to a low pectin fruit is to use jam sugar. Jam sugar is available in larger supermarkets and is sugar with added pectin. It should not be confused with preserving sugar which is used for fruits naturally high in pectin. Preserving sugar has large sugar crystals which dissolve more slowly than those of standard granulated sugar.
Liquid pectin
I only know of one brand of liquid pectin, Certo, which is stirred into the jam after boiling. Although I use it sometimes, it can be a little wasteful since you only use half a bottle for one batch of jam, and it has a limited life once opened. It is very convenient if you are doing a lot of jam making,
Powdered pectin
As an alternative to jam sugar, you could buy packets of powdered pectin and add this to regular sugar. Follow the instructions on the packet for quantities.

Step by step strawberry jam made easy

Strawberry Jam Made Easy
Print Recipe
Pin Recipe
Save Recipe
Saved!
Ingredients
1

kg

small strawberries

1

kg

jam sugar

finely grated zest and juice of 1 lemon

small knob butter
Instructions
Wash the strawberries and allow to dry, then hull. Place in a preserving pan or large saucepan and add the sugar.

Add the lemon juice and zest and stir well. Use the side of the spoon or a a potato masher to lightly crush some of the strawberries so that the juice starts to run.

Place over a low heat and heat gently while stirring frequently until all the sugar has dissolved.

Once all the sugar has been dissolved bring the mixture to a rolling boil and boil rapidly until setting point is reached (see below). This should take about 5 minutes.

Skim off any scum, then stir in a knob of butter and stir to disperse any remaining froth.

Allow to cool for about 15 minutes before potting into sterilised jars, cover and seal immediately. Label when cold.
Notes
Notes:
To test for set – Chill a couple of saucers before you start. After about 5 minutes boiling turn off the heat. Place a small amount of jam on the chilled saucer and allow to cool for a minute or two. Gently push with your finger tip. If the surface crinkles then setting point is reached. If not return the mixture to the boil and boil again for a further minute or so then test again. Repeat until setting point is reached
To sterilise jars – Wash your jars and the lids in hot soapy water. Rinse and place upside down on a roasting tray while they are still wet. Place in a preheated oven at 160-180ºC for about 10 mins.
Hints tips and variations
I sometimes skip sterlising jars if I have washed them in the dishwasher just before using.
If you have time, mix the strawberries and sugar together in the pan the night before. This will help keep the strawberries whole during cooking. That said, I quite like a mixture of whole fruit and fruit pieces. I break my fruit up a bit either by prodding it with a wooden spoon or with a potato masher (quicker but easier to over mash). I aim for about 50% broken fruit and 50% whole.
Heat over a low heat while the sugar dissolves. Try not to let the mixture boil until all the sugar has dissolved. Lift up the mixture from the base of the pan and see if there are any grains of sugar still visible on the spoon.
A knob of butter will help to disperse any remaining scum after skimming.
Allow the jam to cool slightly before potting. If you pot to early the fruit pieces will rise to the top rather than being evenly spread throughout the jam - look closely at the pictures and you will see that's what happened to me this time. Oh well, nobody is perfect and I was a bit impatient.
Do you make your own Jam? What is your favourite flavour.I would love to hear from you. Perhaps you have some tips or tricks to share too.