Hot cross buns are a traditional part of Easter. These delicious hot cross buns are made using a sourdough starter.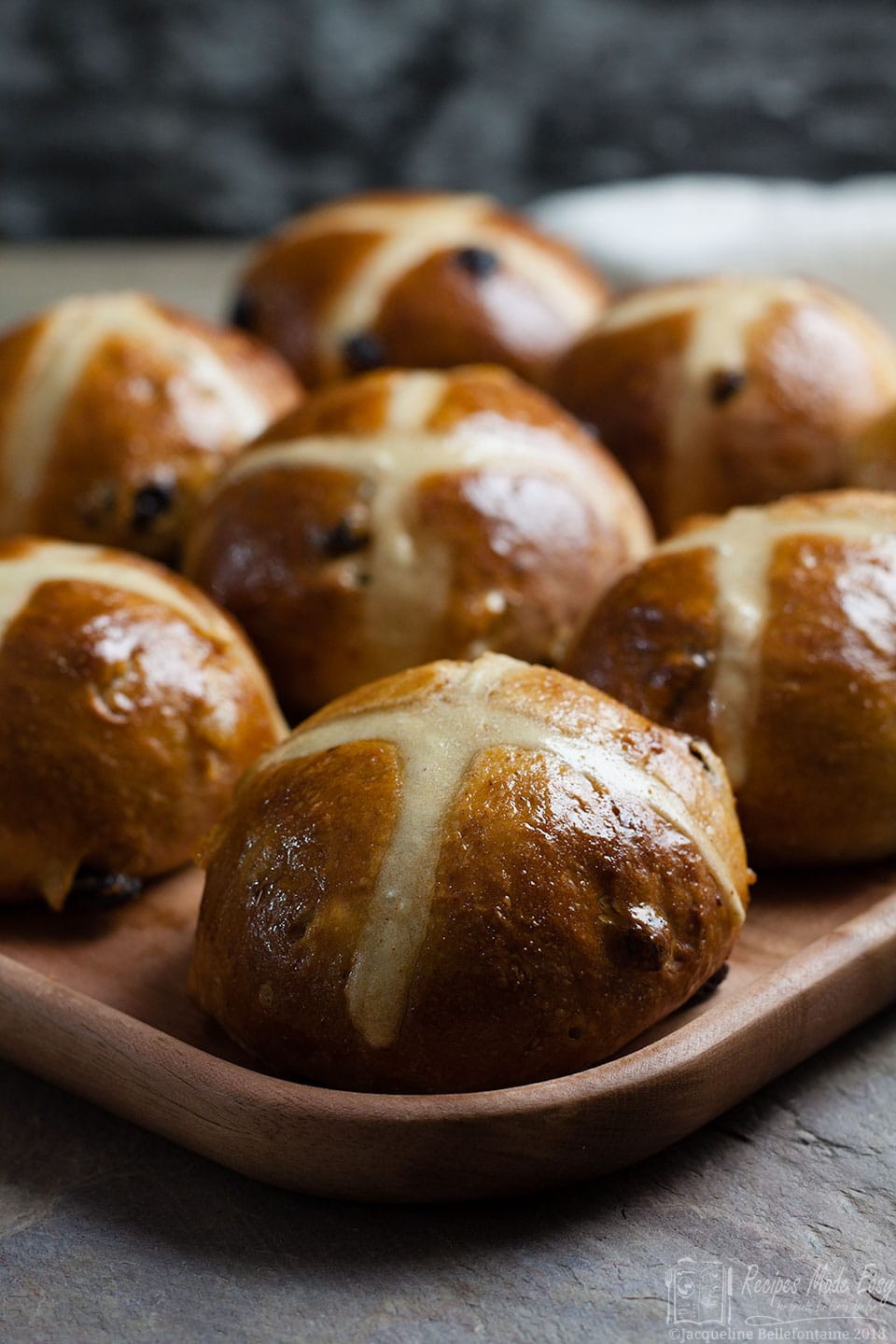 My dad was a baker and I grew up in a house attached to the bakery so Easter wouldn't be Easter to me without Hot Cross Buns. Each year I make at least one batch and usually more because I like them so much.
My traditional Hot Cross Buns are the most like the ones my dad made but each year I like to experiment a little too. Last year I made Pecan, Cinnamon and Orange Hot Cross Buns.
This time rather than play around with the flavours I thought I would have a go at using my sourdough starter instead of instant yeast. I make my no-knead sourdough bread on a regular basis as I love the flavour and texture of the bread it produces but I am only just beginning to experiment in using sourdough in other yeasted recipes.
I realise that this is going to make this recipe a little more niche than usual but if you make your own sourdough bread and I know a quite a few of my readers do, then you going to want to try these too.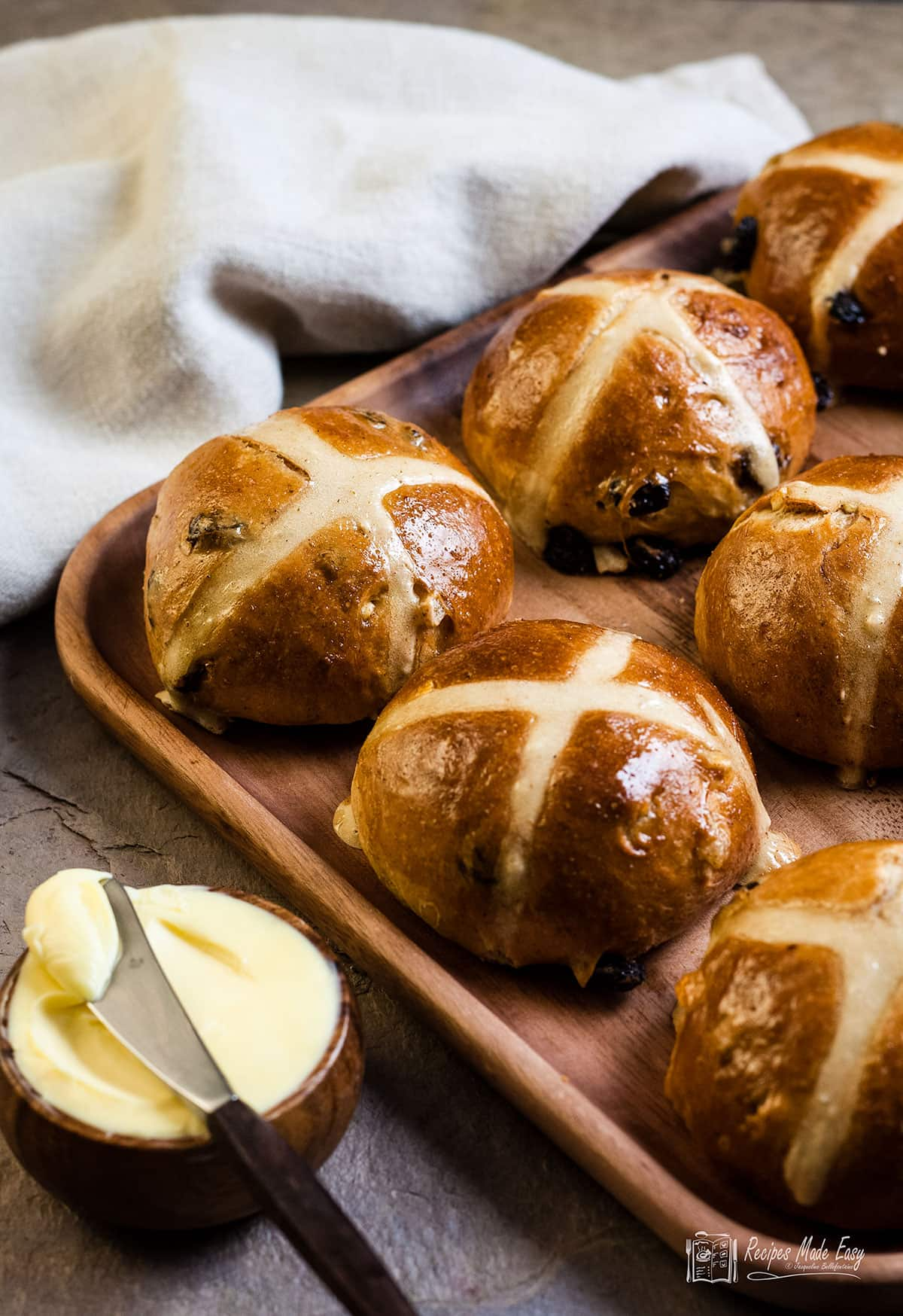 Sourdough Hot Cross Buns with added Yeast
I made two batches and both worked well. For this batch, I added the sourdough for flavour and still added yeast to make the dough rise and this meant that I had the buns ready to eat in the same amount of time that it would take to make them conventionally.
They tasted delicious and the taste difference between this and the second batch below was negligible. It has to be noted though that my sourdough starter is quite mild. If your sourdough is more sour then the two methods would have a more noticeable effect on the flavour.
To make them like this simply add 1½tsp dried yeast to the recipe below and stir it into the flour before rubbing in the butter. Allow to rise the first time until doubled in size about 1 – 2 hours and again once rolled into buns for about 1 hour.

Sourdough Hot Cross Buns without added yeast
For the second batch, I decided to let the sourdough do all the work. I wasn't sure how well it would work with the enriched dough of the buns but I can happily report it worked perfectly.
Of course, the time scale changes dramatically taking a full 24 hours to make and bake. But I think with a little planning, this can work out perfectly.
The actual hands on time is much the same but you need to allow about 10-12 hours for each rising. I made my dough in the morning, then shaped them before going to bed and left them to rise until the following morning. So by starting the day before I was able to have a batch of warm hot cross buns for breakfast the next day. Perfect!
Sourdough hot cross buns step by step


Print Recipe
Sourdough Hot cross buns
Traditionally eaten on Good Friday these sweet spicy buns are easy to make. They use a sourdough starter in place of yeast to make the dough rise so although hands on prep time is relatively short you will need to start about 24 hours before you want to bake them.
Ingredients
for the buns
500

g

strong bread flour

(1lb 2oz/4 cups)

2-3

tsp

mixed spice

(pumpkin spice)

½

tsp

ground nutmeg

60

g

golden caster sugar

1¼

tsp

salt

50

g

butter, cut into cubes

125

g

sultanas

50

g

chopped mixed peel

1

egg

lightly beaten

100

ml

sourdough starter

200

ml

warm water
for the crosses
50

g

plain flour

cold water to mix
for the glaze
25

g

golden caster sugar

50

ml

water

½

tsp

mixed spice

(pumpkin spice)
Instructions
To make the dough, place the flour and spices into a large mixing bowl and stir in the sugar and salt. Rub in the butter with your fingertips, then stir in the sultanas and mixed peel. Make a well in the centre.

Drop the egg into the well and add the sourdough starter. Add most of the water. Mix to a soft, slightly sticky dough, adding the remaining water if required.

Turn out the dough and knead gently, until smooth and elastic and no longer sticky. Place in a lightly oiled bowl, turning to coat the dough in the oil. Cover and leave in a warm place to rise for about 12 hours.

Turn out, and lightly knead again. Divide the dough into 12 and roll each piece into a ball. Place on a greased baking sheet about 2cm apart. Slip the tray inside a large carrier bag or cover loosely with cling fim, and leave in a warmish place for 10-12 hours or overnight until doubled in size

Preheat the oven to 190℃/180℃ Fan/ gas mark 5.

To make the crosses, place the flour into a small bowl and stir in enough water to mix to a soft paste. Spoon the mixture into a disposable piping bag and snip of the end. Pipe a cross on each bun.

Bake for

20 -25 minutes

until risen and golden. While the hot cross buns are baking, prepare the glaze. Place the sugar and water in a small pan and heat gently stirring until the sugar dissolves.

Once the buns are cooked transfer to a wire rack placed over a tray or baking sheet then brush the tops with the sugar glaze.
Notes
Hot cross buns are best eaten warm and on the day they are made. However, they can be refreshed by popping them in the microwave for a few seconds to warm through. They are also delicious toasted.
Freeze for up to 2 month. Defrost in the refrigerator overnight and warm in the oven at 180℃/170℃ fan/gas mark 4 for 5 minutes.
Details on how to make a sourdough starter can be found with my recipe for
No-knead sourdough loaf
Nutrition information is approximate and is meant as a guideline only.
Nutrition
Serving:
1
bun
|
Calories:
282
kcal
|
Carbohydrates:
54
g
|
Protein:
6
g
|
Fat:
4
g
|
Saturated Fat:
2
g
|
Cholesterol:
22
mg
|
Sodium:
284
mg
|
Potassium:
128
mg
|
Fiber:
1
g
|
Sugar:
16
g
|
Vitamin A:
125
IU
|
Vitamin C:
0.4
mg
|
Calcium:
17
mg
|
Iron:
0.9
mg
Tried This Recipe?
I would love to know how you got on – Tag me on Instagram or Twitter @RecipeCrumbs or leave me a comment and rate the recipe below