Until my recent road trip to Southern Spain I couldn't remember the last time I had drank Sangria. I have made it many times in the past but somehow it has dropped off my radar in recent years. Well I am rectifying that now, it really is a fabulous drink when the weather is hot. Sangria is also a doddle to make.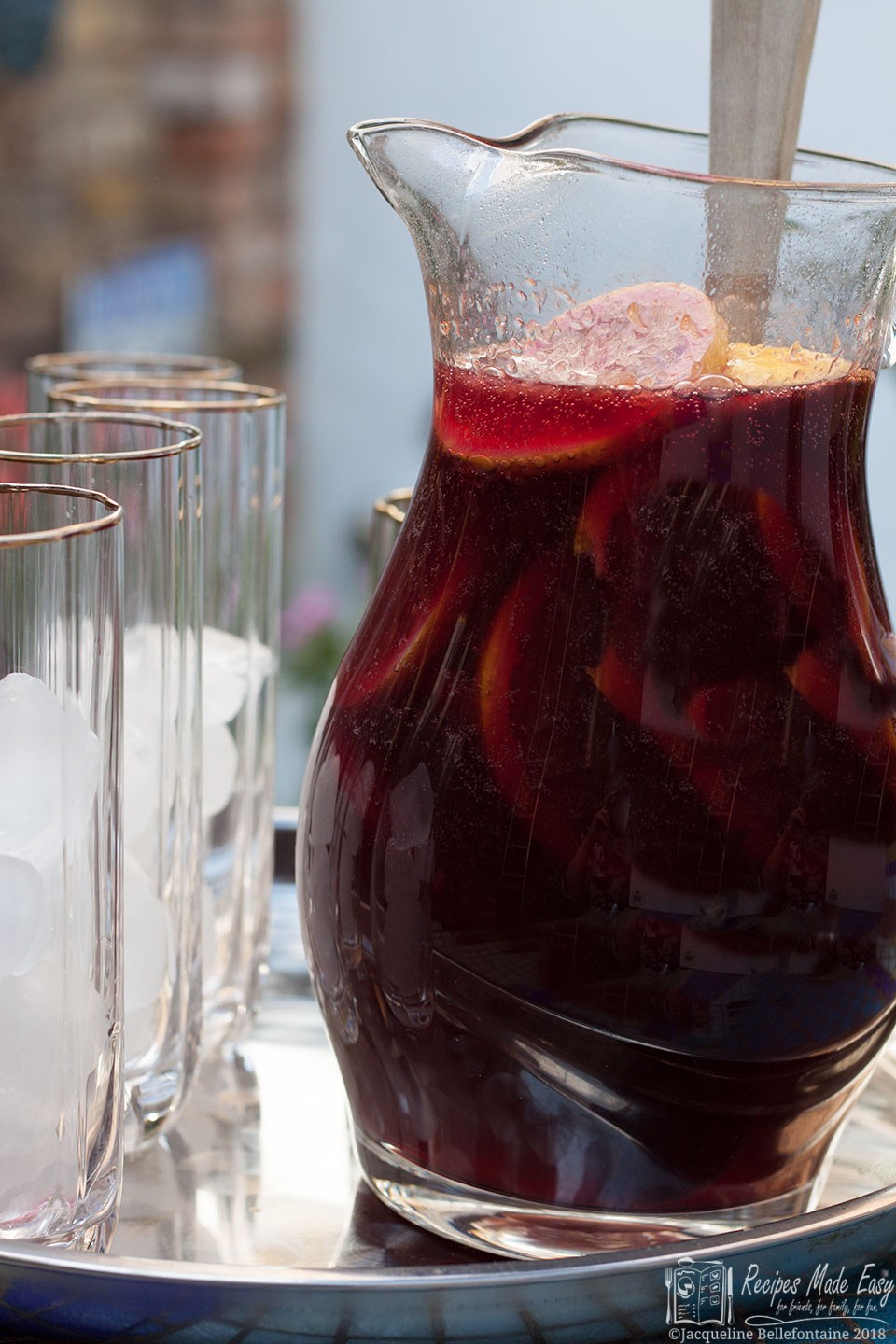 During our drive down through France into Spain and back again the temperatures changed considerably. At one point in France it was only 15C where as in Spain it tended to be in the mid 30s but for a couple of days in the South it was as high as 42C.
On cooler days our drink of choice tended to be red wine but as the temperature improved we were drinking white wine or Sangria.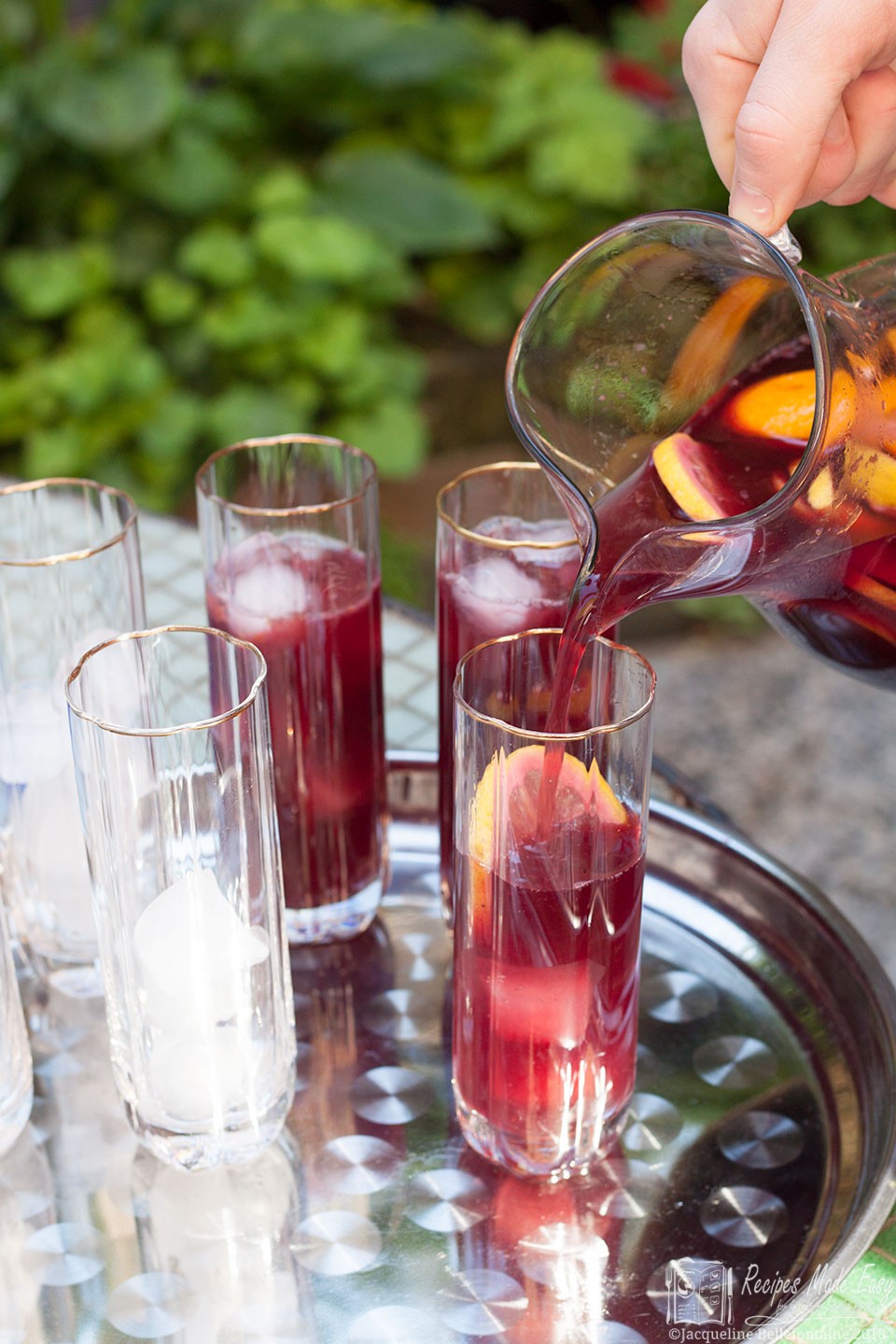 I had forgotten how good Sangria is especially when its hot and in Southern Spain it was on offer in many bars and we were well off the tourist trail so it is not just a drink served to visitors but obviously enjoyed by many Spanish too.
Well I don't know about you but I think the summer in the UK this year is particularly disappointing. Those from sunnier climes might think it always that way but lets face it this year is perhaps worse than usual.
I've given up waiting for the sun to shine on anywhere like regular frequency but I am not going to let that stop me from posting summery recipes now that I'm back from my vacation. I want to share my recipe for Sangria with you because if the weather does get hot, even if only for a day or two, then forget the Pimms and go for this instead.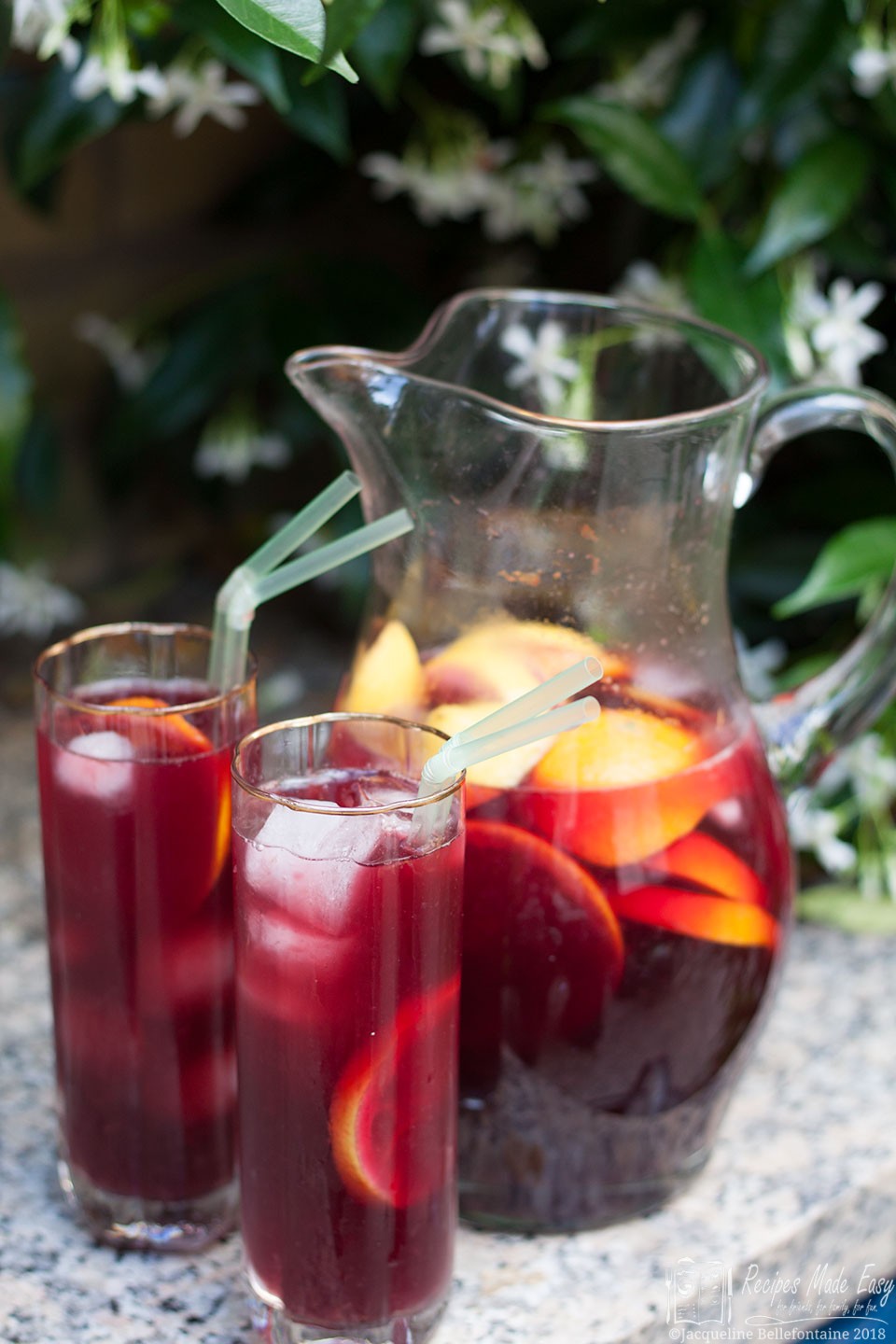 If it doesn't give it a try anyway and let's just pretend. After all it was sunny enough yesterday for me to shoot these pictures in the garden.
Step by step Sangria made easy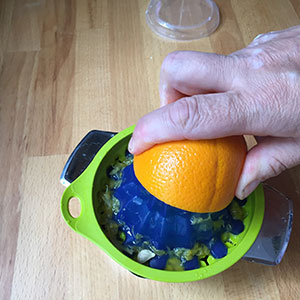 Hints, tips and variations
Some people like to add lots of different sliced fruit to the mix. I prefer to keep to keep it simple and just add orange and lemon slices, but you could add a lime or some sliced apple if you like. In a trendy food court in Salamanca they put tinned fruit cocktail in it - something to avoid, it was the least good of the Sangrias we drank on holiday and we drank quite a few.
I think Sangria is best made with Spanish wine but any fruity full bodied red will do. Don't be tempted to use any old cheap red wine. I think there are some fabulous Spanish wines out there at the moment and they are really good value for money.
Brandy is optional, I think it benefits to add some but it up to you. I guess it should really be Spanish brandy but that's not in most peoples cupboards, so just use any brandy. Alternatively add some cointreau or other orange flavoured liqueur.
Ideally allow the wine and fruit juice a little while to infuse. I would suggest a minimum of 30 minutes. 2-3 hours is perfect or up to 12 hours if you want to make it in advance.
Top up with lemonade or soda water just before serving.
Try making with white wine or rose instead.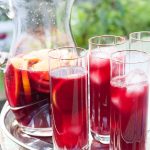 Sangria
Print Recipe
Pin Recipe
Save Recipe
Saved!
The perfect summer party drink. It only takes minutes to prepare but for the best flavour chill for several hours before serving.
Ingredients
2

oranges

2

lemons

2

tablespoon

caster sugar

75-100

ml

brandy or orange flavoured liqueur

1

bottle Spanish red wine

lemonade or soda water

to taste

ice

to serve
Instructions
Squeeze the juice from 1 orange and 1 lemon. Slice the other.

Place the juice, sugar and brandy in a large jug and stir well

Add the sliced fruit then the wine. Chill and allow to infuse for 30 minutes or up to 12 hours.

Top up with lemonade or soda water just before serving.

Serve poured over ice.