This week for my Bake Off inspired bake I have made Puit's D'Amour with Rhubarb Compote. These French pastries that translate as "wells of love" are really easy to fall in love with. They may not be the most elegant of bakes but they sure taste good.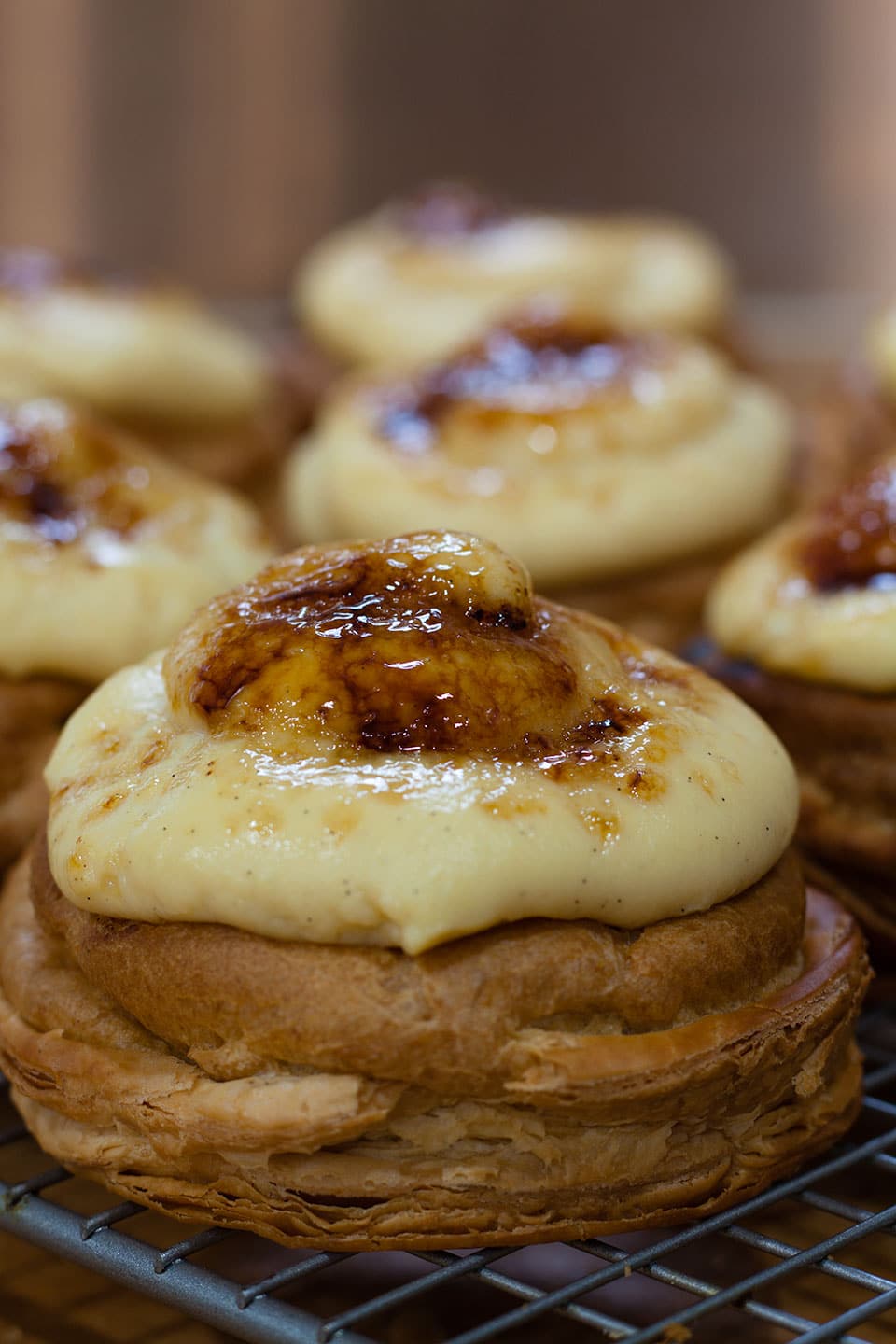 This week on the Great British Bake Off it was pastry week, so when they made puits d'amour for the technical challenge, I knew that was the bake I was going to have to make for Recipes Made Easy. That was because I had never heard of them before, let alone made them and I do like to try something new. But more importantly than that, I thought they sounded delicious and I was not wrong there. The Puits d'amour consist of a disc of puff pastry with a ring of choux pastry on top, filled with fruit compote and topped with crème pâtissière. Then if that's not enough the top is sprinkled with sugar and caramelised. I mean what is there not to love about these!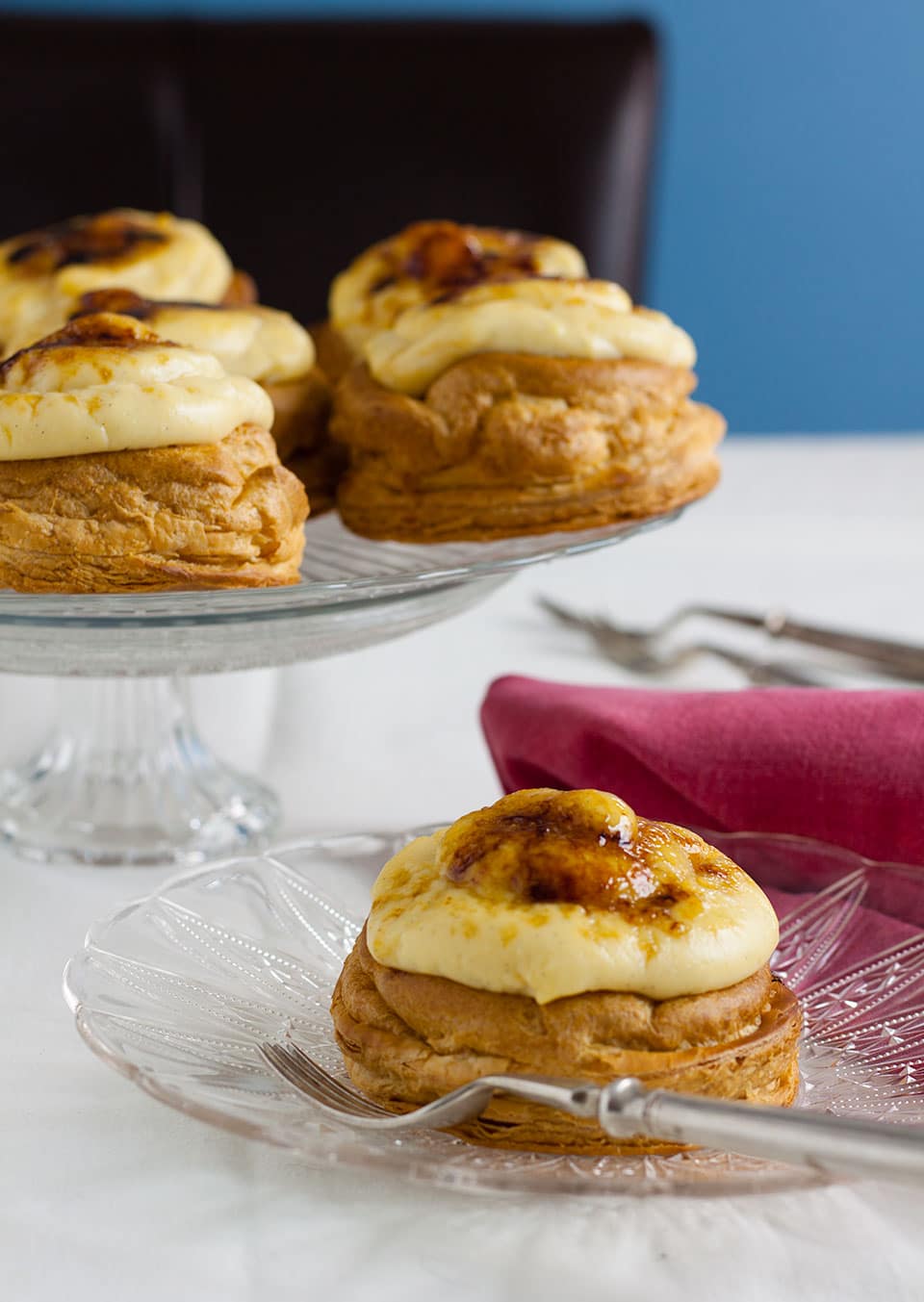 Prue's Puits d'amour vs My Puits d'amour with rhubarb compote
As I have not made them before I based my recipe on Prue' s Recipe for Puits D'amour. Of course, as I am all about Recipes Made Easy, I have adapted and simplified my version. To start with I have used ready rolled puff pastry rather than making my own ruff puff pastry. Not that ruff puff is that hard to make but there is a lot of folding and chilling which takes time and there are several elements to this bake and using ready made puff pastry is one shortcut I don't mind making. I cut out 9cm (3 ½ in) rather than 10cm (4in) discs of pastry Prue suggests because that was the largest cutter I have.
No changes were made to the choux pastry but I didn't bother brushing the ring of choux with egg so my cooked choux pastry is not as shiny, but trust me its hard brushing egg onto soft choux pastry and I don't think it makes that much difference. I also left off the nibbed sugar because that is hard to get and rather superfluous.
As I had some rhubarb in my fridge that needed using and its a bit late in the year for English strawberries, I made a rhubarb compote instead of the more traditional berry filling. The slightly tart rhubarb contrasts well with the sweet crème pâtissière. You could make another shortcut here and just use some jam instead. I pretty much followed Prue's recipe for the crème pâtissière but I didn't bother passing it through a sieve it really isn't necessary and I prefer to cover mine with parchment to stop a skin forming as it cools rather than cling film.

The Verdict
There are several elements to these French pastries but none are overly difficult and the end result is well worth the time and effort. I don't think they are the prettiest of French pastries but they make up for that in flavour, the different textures and flavours just work so well together. Once complete they are best eaten as soon as possible as the pastry goes soft and the brulée top loses its crunch. However, you can easily prepare them in advance. I made all the separate elements the day before I assembled them. Keeping the compote and the crème pâtissière in the fridge and the pastries in an airtight container. I popped them back into the oven for a few minutes to crisp up again, then assembled as soon as they had cooled. This was my first but will not be the last time I will make puits d'amour.

Puits d'amour with rhubarb compote
Print Recipe
Pin Recipe
Save Recipe
Saved!
A simplified version of Prue's Puits d'amour. These French pastries are delicious.
Ingredients
For the crème pâtissière:
500

ml

full-fat milk

100

g

golden caster sugar

4

egg yolks

3

tablespoon

cornflour

2

teaspoon

vanilla paste

40

g

butter

4 ½

teaspoon

demerara sugar

to brûlée
For the compote:
300

g

rhubarb cut into 1cm lengths

2

tablespoon

golden caster sugar

25

g

caster sugar
For the pastries:
1

sheet ready rolled puff pastry

about 375g

50

g

butter

75

g

plain flour

2

large eggs

beaten
Instructions
To make the crème pâtissière
Place the milk in a saucepan and heat until almost boiling.

Whisk the sugar, egg yolks cornflour and vanilla paste together in a large bowl. Gradually whisk in the hot milk until well combined. Return to the pan. Cook gently, stirring, until the mixture thickens.

Remove from the heat and return to the bowl. Add the butter and stir until melted Cover with a sheet of baking parchment and leave to cool, then chill until required.
To make the fruit compote
Place the rhubarb and sugar in a small pan and cook gently stirring occasionally until the rhubarb is tender. allow to cool, then chill until required.
To make the pastries
Unwrap the pastry and place on a lightly floured worktop. Using the 9cm cutter, cut out 9 discs and place on lined baking sheet. Chill while you make the choux pastry.

Preheat the oven to 220°C(200°C fan)425°F/Gas mark 7. Place the butter in a saucepan with 150ml (¼ pint). Heat gently to melt the butter, then bring to the boil.

Remove from the heat and immediately add the flour. Beat with a wooden spoon to form a smooth ball of dough that leaves the sides of the pan.

Allow to cool slightly, then beat the egg into the hot dough, a little at a time, until the dough is stiff and glossy.

Spoon the mixture into a piping bag fitted with a 1cm (½ in) plain nozzle.

Pipe a circle of choux pastry leaving a ½cm (¼ in) border on each pastry disc.

Bake for 20–25 minutes, until puffed, crisp and golden. swap the trays around for the last 5 minutes of cooking. Remove from the oven and transfer to a wire rack to cool completely.
To assemble
Spoon the rhubarb compote into the pastry shells. Then spoon or pipe the crème pâtissière over the top. Sprinkle half a teaspoon of demerara sugar over the top and, using a blowtorch, brûlée the sugar.
Notes
Best eaten as soon as possible after assembling.
Nutrition information is calculated using an online nutrition database - is approximate and is meant as a guideline only.
Nutrition
Calories:
367
kcal
|
Carbohydrates:
42
g
|
Protein:
7
g
|
Fat:
18
g
|
Saturated Fat:
9
g
|
Monounsaturated Fat:
2
g
|
Cholesterol:
150
mg
|
Sodium:
182
mg
|
Potassium:
200
mg
|
Fiber:
1
g
|
Sugar:
22
g
|
Vitamin A:
540
IU
|
Vitamin C:
2.6
mg
|
Calcium:
110
mg
|
Iron:
0.8
mg
I'm linking this recipe to The #GBBOBloggers2018 / #GBBOBakeoftheWeek Linky Hosted by Mummy Mishaps and Cassa Costello