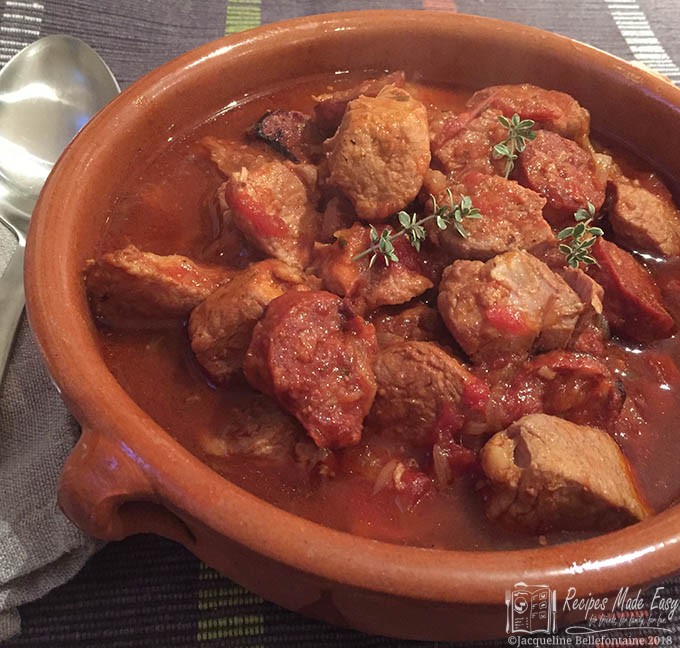 I have recently  rediscovered the pressure cooker. I know I had one back in the 80's but I don't remember using it much back then. Having invested in one again this year I can't believe it has taken me until now to realise just what a god send they can be when time is short.  Now I can take advantage of cheaper cuts of meat that would normally take hours of slow cooking to become tender even when I don't have much time. Although it is true that sometimes the flavour doesn't have time to develop in quite the same way, that's not an issue with this dish as it is so flavour packed. Anyway this may be the first recipe for the pressure cooker on my blog but I can assure you it wont be the last.
But don't worry if you do not have a pressure cooker (yet). I might be able to persuade you over time, but until then, you can still make this dish. It will just take longer to prepare. Follow the recipe below using a large heavy based saucepan and add an extra 150ml of stock. Cook covered over a very low heat for 1–1½  hours or until the pork is very tender, adding a little extra stock if required.
It's the chorizo that adds the flavour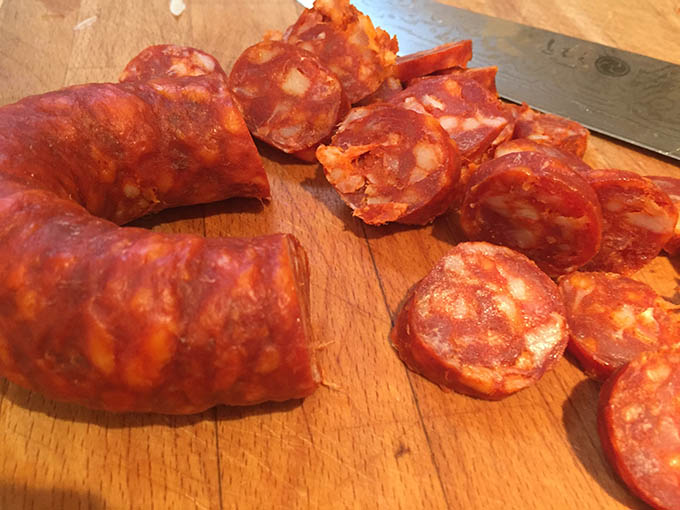 I have to confess that for a long time I was not a huge fan of chorizo finding the flavour a little too strong. But then I tried a Hairy Bikers low calorie recipe where just a little bit of chorizo added lots of flavour to what would have been a rather tasteless diet recipe. From then on I was hooked. There are lots of different chorizo out there, from mildly spicy to hot and peppery, so experiment until you find the one which you like best.
The dish freezes well for up to 3 months.
Pork and chorizo stew
Packed full of flavour this delicious pork stew is super quick to make when cooked in a pressure cooker.
Ingredients
3-4

tbsp

rapeseed oil

2

onions

sliced

4

cloves

of garlic

sliced

1

kg

pork shoulder

cut into chunks

225

g

chorizo

skinned and sliced

2

tsp

smoked paprika

150

ml

red wine

2

tbsp

tomato purée

400

g

can chopped tomatoes

150

ml

vegetable stock

few sprigs fresh thyme

leaves removed or ½ tsp dried thyme

2

bay leaves

salt and freshly ground black pepper
Method
Heat 1 tbsp oil in the pressure cooker and add the onions, cook over a medium heat, stirring frequently until the onions have softened and are beginning to colour. Add the garlic and continue to cook for 1 minute, the remove the onions and garlic from the cooker and set aside.

Heat 1tbsp oil in the cooker and brown the pork in batches over a high heat adding more oil as required. Once the pork is browned, remove from the cooker and add it to the onions.

Once all the pork has been browned add the chorizo to the pan and cook until beginning to colour, then stir in the paprika and cook for 1 minute, stirring constantly.

Add the red wine to the cooker, stirring well to scrape out all the caramelised juices from the bottom of the cooker. Bring to the boil and allow to bubble for a minute or two.

Return the meat and onions to the pressure cooker, add the tomato purée, chopped tomatoes and stock, thyme and bay leaves.

Close the pressure cooker and bring up to high pressure. Lower the heat to maintain the pressure and cook for 20 minutes. Remove from the heat and allow the pressure to drop slowly before opening. Season to taste. Serve garnished with extra thyme if desired.