I like a challenge, so when a friend asked if I knew a good recipe for pulled pork and would I put it on the blog, I could not refuse. I hadn't actually made pulled pork before and in fact have only eaten it a couple of times. But that's hardly a reason to stop me. Is this the perfect pulled pork recipe? Well, as far as I'm concerned it's pretty darn good. Sue, this is for you, what do you think?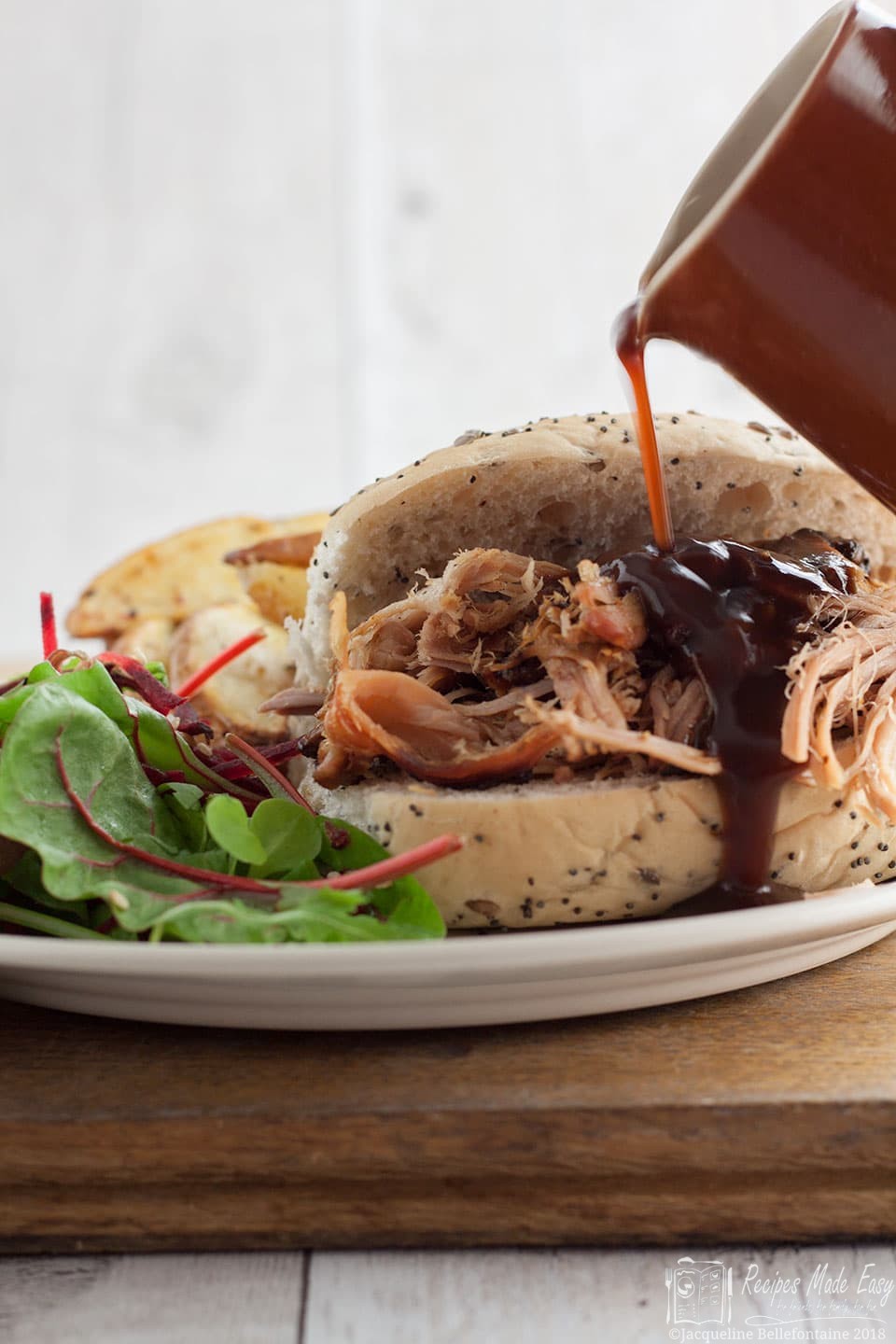 I started off by researching pulled pork on the internet and searching through my books. Originally from the US pulled pork is pork that has been very slowly cooked over coals so that the meat becomes so tender you can literally pull it apart to shred. However the barbecue method is not essential nor very practical in the UK and great results can be achieved by slow cooking in a slow cooker or an oven, as I have done in this recipe.
Perfect pulled pork - which cut?
I am very lucky as I get my pork directly from Suffolk. A lot of pork is produced in Suffolk to the point where allegedly there are more pigs in Suffolk than people. Admittedly, I have no idea whether this is true or not, thinking about it always makes me giggle. I buy local, outdoor reared pork, and the flavour is amazing. It's worth spending a bit extra as well. Pork is in any case one of the more economical meats. Make sure there is some fat on the joint, it will help keep it moist and flavour the meat while it cooks. I would recommend shoulder rather than leg for this dish because it is a slightly fatter joint. I have used a boned rolled shoulder but you could use a bone in joint if you prefer.
Perfect pulled pork - brining
The pork is usually soaked in brine for about 12 hours before you start to cook it, so make sure you plan ahead. Trust me it's worth it and although some recipes omit this stage, I really recommend you don't. You are going to invest quite a lot of time anyway so why rush it and get inferior results. Soaking the pork in brine gives it extra moisture which, in turn, stops it drying out during the long cooking process. As is common with many recipes using this method, the brine is flavoured with some of the spice rub to give extra flavour. Don't be put of by the fact that it rather looks like mucky dishwater when you mix it up! Place the pork in a large non metallic dish, pour the brine solution over it, and leave to soak for at least 12 hours, turning occasionally. If you have a strong plastic bag you can place the pork inside the bag with the brine solution. Seal well. By using this method the joint is immersed in the brine, so there is not need to turn.
Perfect pulled pork - cooking
After brining, the pork needs to be drained. Pat it dry and flavour with the spicy rub. I made my own spice mix based on the spices commonly used for pulled pork. Make sure you rub it into the meat well. Place the meat skin side up in a roasting tin. You may want to line the tin with a double layer of foil to make cleaning up easier. The cooking should be long and slow. It doesn't look like much when it comes out of the oven. Rather blackened to be truthful, but it's going to taste good.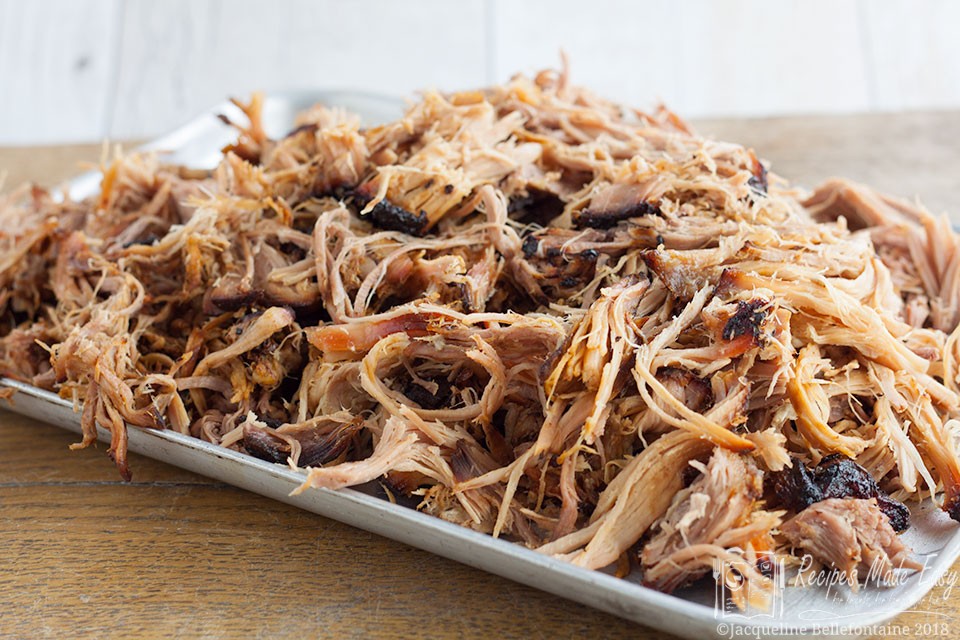 Perfect pulled pork - serving
Allow the pork to stand for at least 30 minutes before removing the skin and pulling it into shreds with two forks. The meat is served with a barbecue sauce. I added smoked Paprika to mine to give it a light smoky flavour that isn't over powering. Pulled pork is often served in a soft bread roll and yes, it does taste great that way. You can toss the meat in the barbecue sauce before serving, or serve the sauce separately so diners can add as little or as much as they like. Pulled pork is also fab served cold with a salad, or hot over rice.
When I made this for its final test and photography there were just two of us at home, so Mr B and I were eating it all week. It tastes so good we didn't mind though!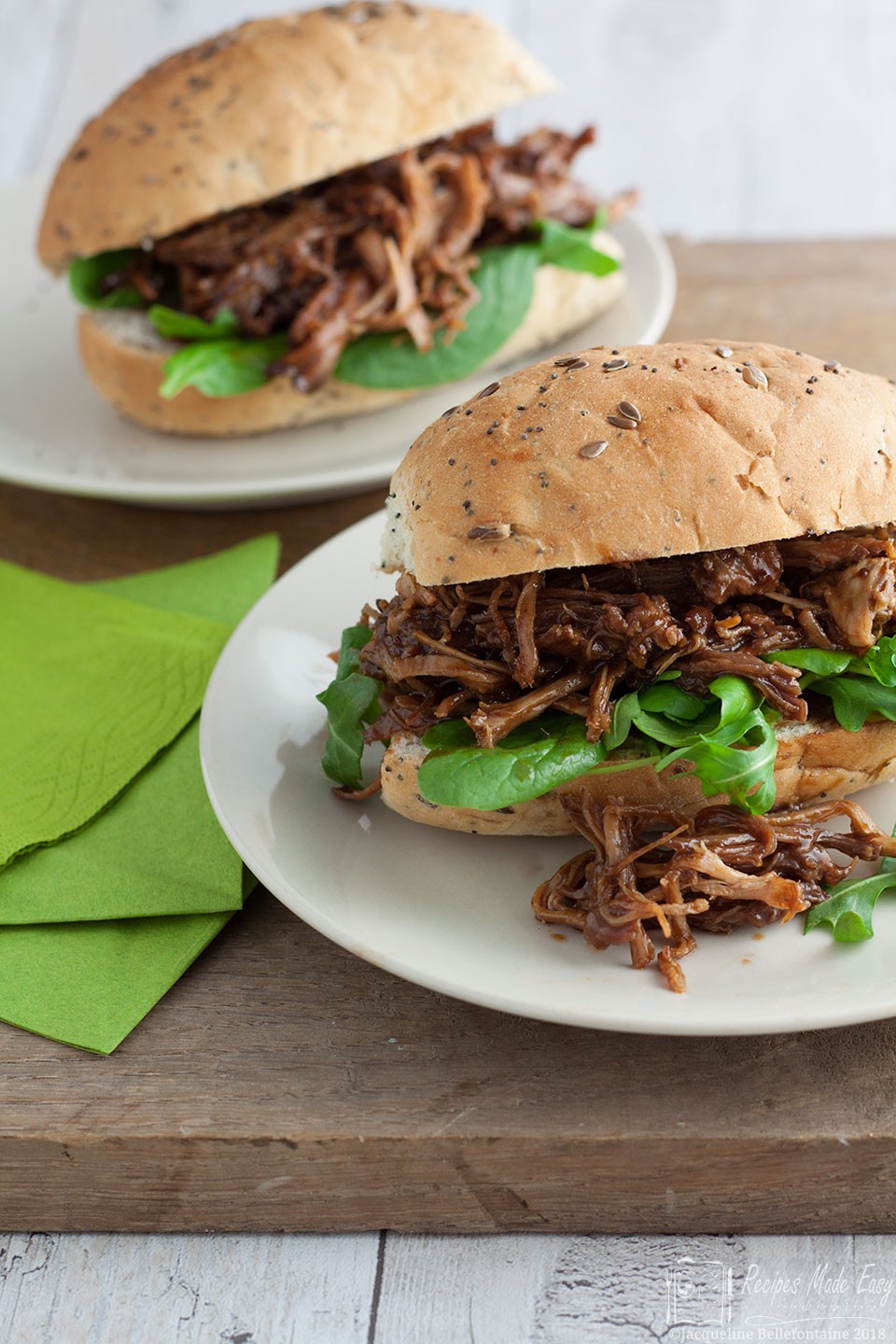 Step by step to perfect pulled pork

Perfect pulled pork
Print Recipe
Pin Recipe
Save Recipe
Saved!
Long slow cooked pork, so tender it can be pulled apart with forks. Perfect for casual entertaining. Plan ahead to allow time for brining.
Ingredients
1.5

kg

rolled shoulder of pork

3½lb
for the rub
2

tablespoon

dark brown muscovado sugar

1

teaspoon

cayenne pepper

1

teaspoon

chilli powder

1

teaspoon

ground coriander

1

teaspoon

ground cumin

1

teaspoon

oregano

1

teaspoon

smoked paprika

1

teaspoon

salt

2

plump cloves of garlic

crushed
for the brine solution
2

tablespoon

salt

2

tablespoon

dark brown muscovado sugar

1

litre water

1¾pt

1

tablespoon

of the rub
for the barbecue sauce
125

g

dark brown muscovado sugar

4oz

300

g

tomato ketchup

10½oz

300

ml

apple juice

½pt

4

tablespoon

Worcestershire sauce

4

tablespoon

balsamic vinegar

4

tablespoon

whole grain mustard

2

teaspoon

smoked paprika

few generous dashes of tabasco sauce
Instructions
Rinse the pork shoulder and place in a large non metallic container or a large strong polythene bag.
To make the rub
Combine all the ingredients together in a small bowl and mix well.
To brine the pork
Add the salt and sugar to the water and stir until dissolved then add the 1 tablespoon of the rub. Cover the the remaining rub and set aside until later.

Pour over the pork, cover or seal the bag and leave in the brine solution for at least 8 hours or unto 24 hours.
to cook the pork
Preheat the oven to 140℃/130℃ fan/gas mark 1.

Remove the pork from the brine solution, pat dry, and place in a large baking tin. Sprinkle the remaining rub over the pork, and rub into the the surface with your fingers. Makes sure you coat all the sides.

Place the pork fat side up in the tin and pour a glass of water around it in the tin. Bake for about 6–7 hours. Baste a couple of times during the cooking, adding a little more water if the tin becomes too dry. There should not be too much water in the tin, but a little will help stop the spices and sugar burning on the base of the tin.

Remove the pork from the oven and allow to rest for about 30 minutes in a warm place. Transfer to a board and remove the skin. "Pull" the pork into shreds with a fork. It will pull apart really easy. Serve with the barbecue sauce.
To make the barbecue sauce
Place all the ingredients in a small pan and heat gently stirring until the sugar has dissolved and all the ingredients have combined. Gently simmer for about 10 minutes until thickened slightly. Serve warm or cold.
Notes
The sauce is delicious used as a baste for the last few minutes of grilling meat or sausages.
Some things are made to be shared so I am sharing this recipe on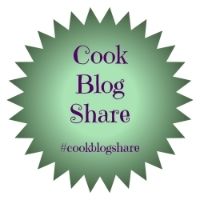 Save