Meatloaf makes an economical and very tasty family meal. For this recipe, I have pimped a simple meatloaf dish by adding mozzarella and peppers for extra flavour, texture and colour. The recipe is still quick and easy to prepare, but the end result is even better. This is comfort food at its best.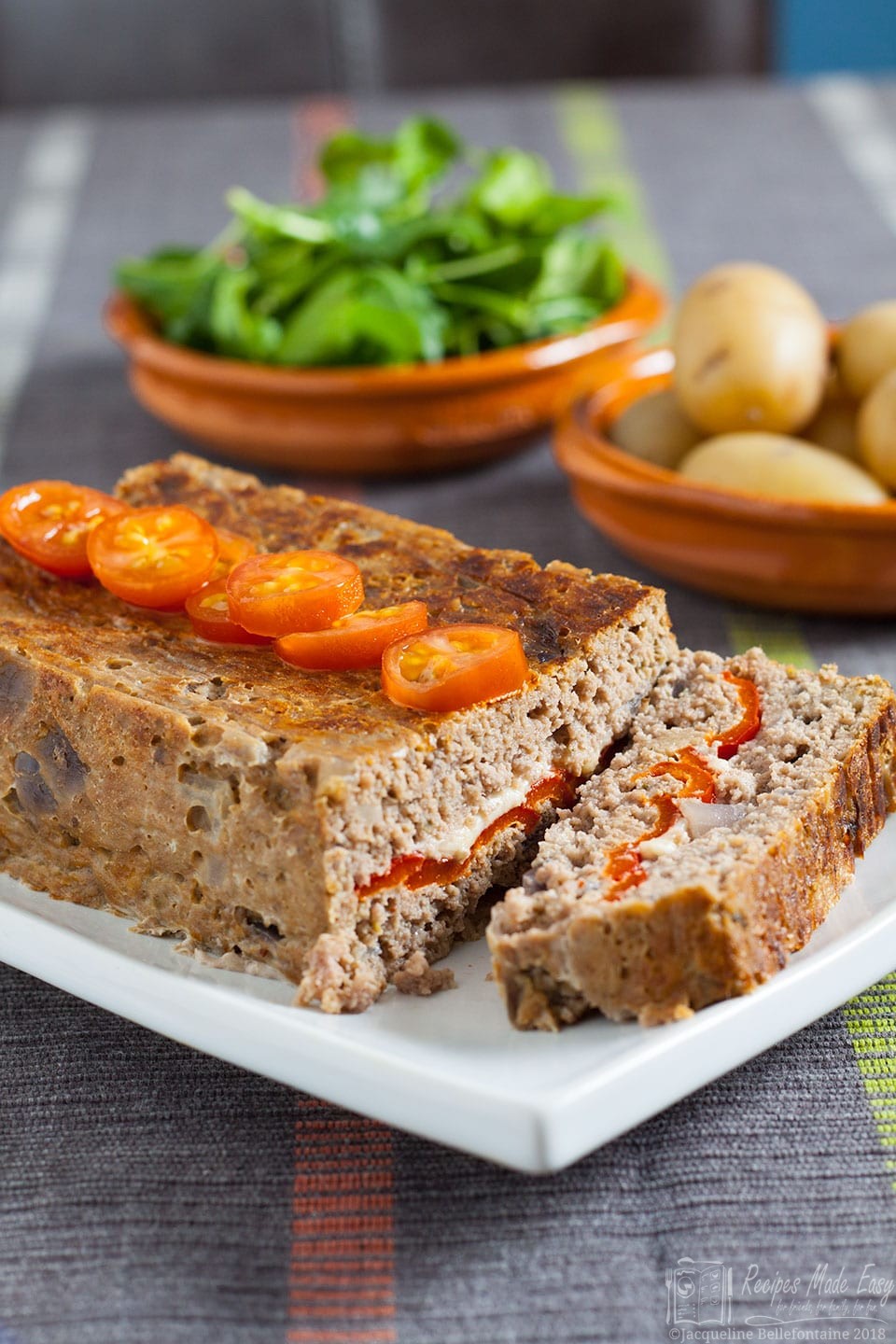 Meat Loaf with Mozzarella and Red Peppers - Revisited
If you have been with me from the start you may feel this post looks vaguely familiar. Which is because it is, in fact, one of the early recipes I shared. I have learnt a lot in the couple of years I have been writing Recipes Made Easy, and some of the earlier recipes leave a bit to be desired on the photographic side. We eat with our eyes and good photographs go along way in making people want to try a recipe.
This meatloaf recipe was one of the first that I photographed using a "proper" camera as opposed to my phone. Even then I wasn't really happy with the pictures and this is what I said about it at the time:
"I have a confession to make. This recipe for meatloaf nearly didn't make it to the blog. Not because it's not a good recipe, it is. But because I am not really happy with the pictures. That's the problem with being a cookery writer and not a photographer. However, Mr B insisted it should go in because he likes it! So please forgive my photography skills and give it a try anyway. He's right though, it is really tasty, and makes a good weekday meal."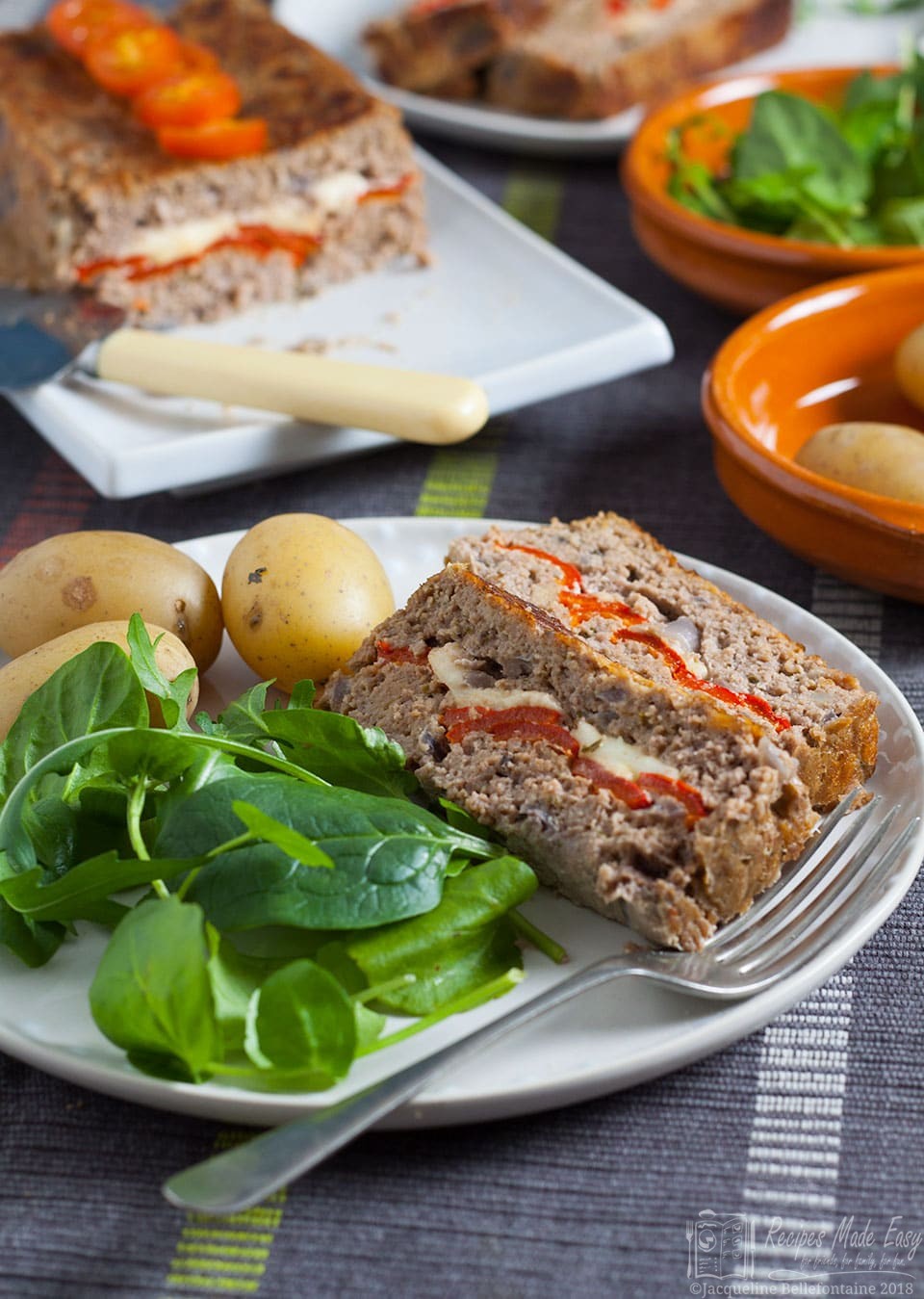 At the time I grappled with the dilemma as to whether to post or not. I think I made the right decision at the time. Had I not posted regardless then Recipes Made Easy would never have got off the ground.
"As a professional cookery writer, developing recipes comes naturally to me. As a result, I have acquired a large bank of fabulous recipes over the years which I wanted to share with my friends and family, not just through my books but here on-line too. When I started this blog a few months back I was taking the pictures on my phone. They were OK, and sometimes even pretty good. (I was very happy with the picture of the coffee truffles I shot last week.) Nothing like the standard I have become accustomed to as a professional food stylist though. So there is my dilemma: I want all pictures to be good. When shooting for work all my effort goes into producing the food to look fabulous and I don't have to think about lighting, focusing, how a camera works etc. That's all down to the photographer. Here I have to be the photographer too so a couple of weeks ago I picked up a "proper" DSLR camera of the first time and these are some of the first pics I took with it. Just using the auto setting. I've still got a lot to learn."
Fast forward two years and I still have a lot to learn but I like to think I have improved a lot since then. Over time I will revisit some of my old posts, update the photography, and republish. I posted some of my favourite recipes in the early days so it would be a great shame if they are not made because my early pics suck!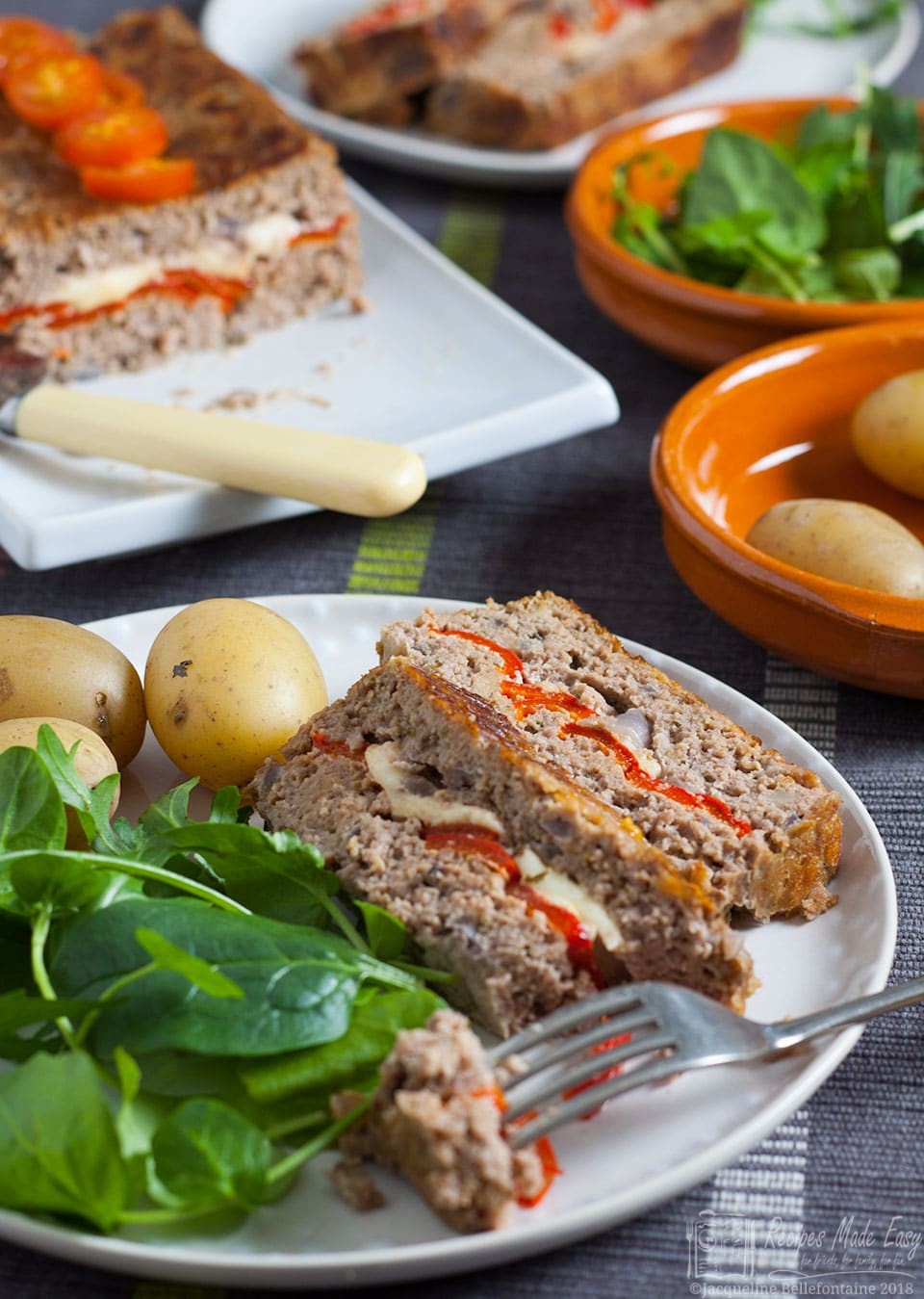 Step by step meatloaf with mozzarella and red peppers
I know in the States meatloaf is a regular staple but in the UK, it does not appear to be that common. It's a shame we don't make it here more often as it is simple to make and very tasty. Economical too! Meatloaf also tastes good cold which makes it a really versatile dish. Serve it for lunch, supper or even on a picnic.
Easy
Economical
Family Favourite
Versatile
Serve Hot or cold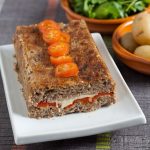 Meatloaf with mozzarella and red peppers
Print Recipe
Pin Recipe
Save Recipe
Saved!
The layer of mozzarella and red peppers in the middle of this easy to make meatloaf, add flavour and interest to a simple dish. It's perfect for a midweek meal and delicious either hot or cold.
Ingredients
1

tablespoon

rapeseed oil

1

small onion

finely chopped

1

clove

garlic

crushed

450

g

lean minced beef

1

tablespoon

dried oregano

50

g

fresh breadcrumbs

3

tablespoon

fruity brown sauce

2

eggs

beaten

1

pointed red pepper

seeded and cut into thin strips

125

g

mozzarella

sliced
Instructions
Preheat the oven to 180℃/170℃ fan /gas mark 4. Line a 900g loaf tin with baking parchment.

Heat oil in a frying pan over medium-high heat. Add onion and stir continuously. Cook for about 5 minutes, or until softened. Add the garlic and cook, while stirring, for another minute. Allow to cool slightly.

Place the onions, beef, oregano, breadcrumbs, and brown sauce in a large bowl. Mix well.

Add the eggs and beat until well combined.

Pile just under half of the mixture into the lined loaf tin and press level. Arrange the red pepper strips down the centre of the tin. Cover with the sliced mozzarella.

Spoon the remaining meat mixture on top and press down well. Cover with foil and bake for

1 hour

.

Allow to stand for 10 minutes, then turn out and slice to serve.
Notes
Nutrition information is approximate (does not include seasoning with salt and pepper) and is meant as a guideline only.
Nutrition
Calories:
370
kcal
|
Carbohydrates:
11
g
|
Protein:
35
g
|
Fat:
18
g
|
Saturated Fat:
7
g
|
Cholesterol:
176
mg
|
Sodium:
367
mg
|
Potassium:
522
mg
|
Fiber:
1
g
|
Sugar:
5
g
|
Vitamin A:
350
IU
|
Vitamin C:
2.3
mg
|
Calcium:
224
mg
|
Iron:
4.2
mg
Cook's Tip
Line the tin to ensure that the meatloaf turns out easily. Lining the base and long sides of the tin with one strip of parchment is sufficient.
When layering in the peppers and cheese leave a gap around the edge of the tin so that the second layer of meat can join with the first. This stops the loaf breaking into layers when served.
I find the long thin pointed peppers, rather than bell peppers work best for this recipe.
For a delicious variation, omit the peppers and mozzarella and serve with my Really Easy Tomato Sauce, instead.
And Before
This is a shot from the original post. Meatloaf is still not the easiest dish to shoot but I hope you think I have improved.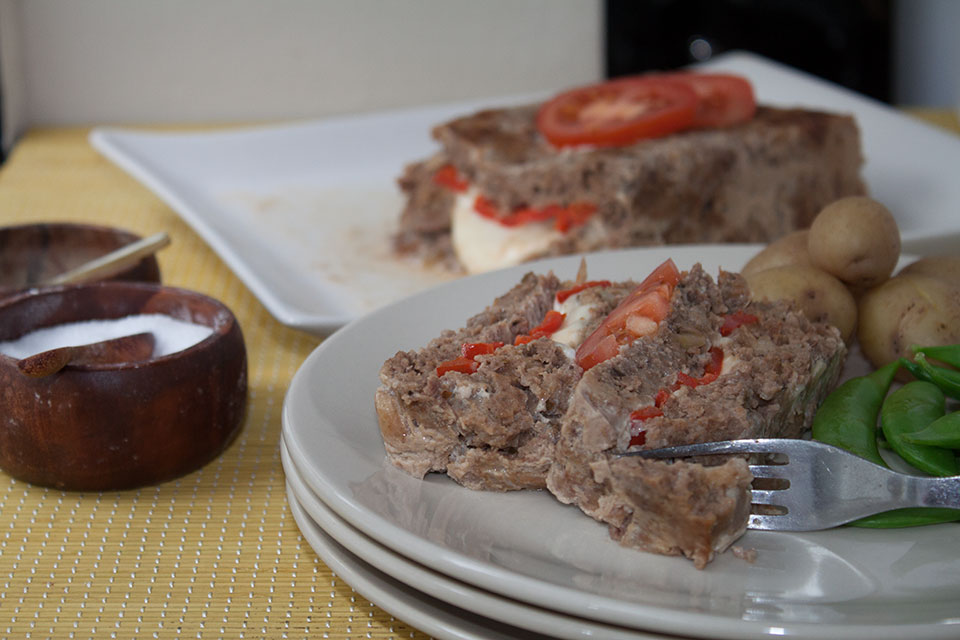 Click on the Images for More Mince Recipes Made Easy