Madeleines are delicious little French cakes made in a traditional shell-shaped moulds. Often plain vanilla, I have flavoured mine with orange and thyme, lemon and rosemary, and then dipped in chocolate for extra yumminess.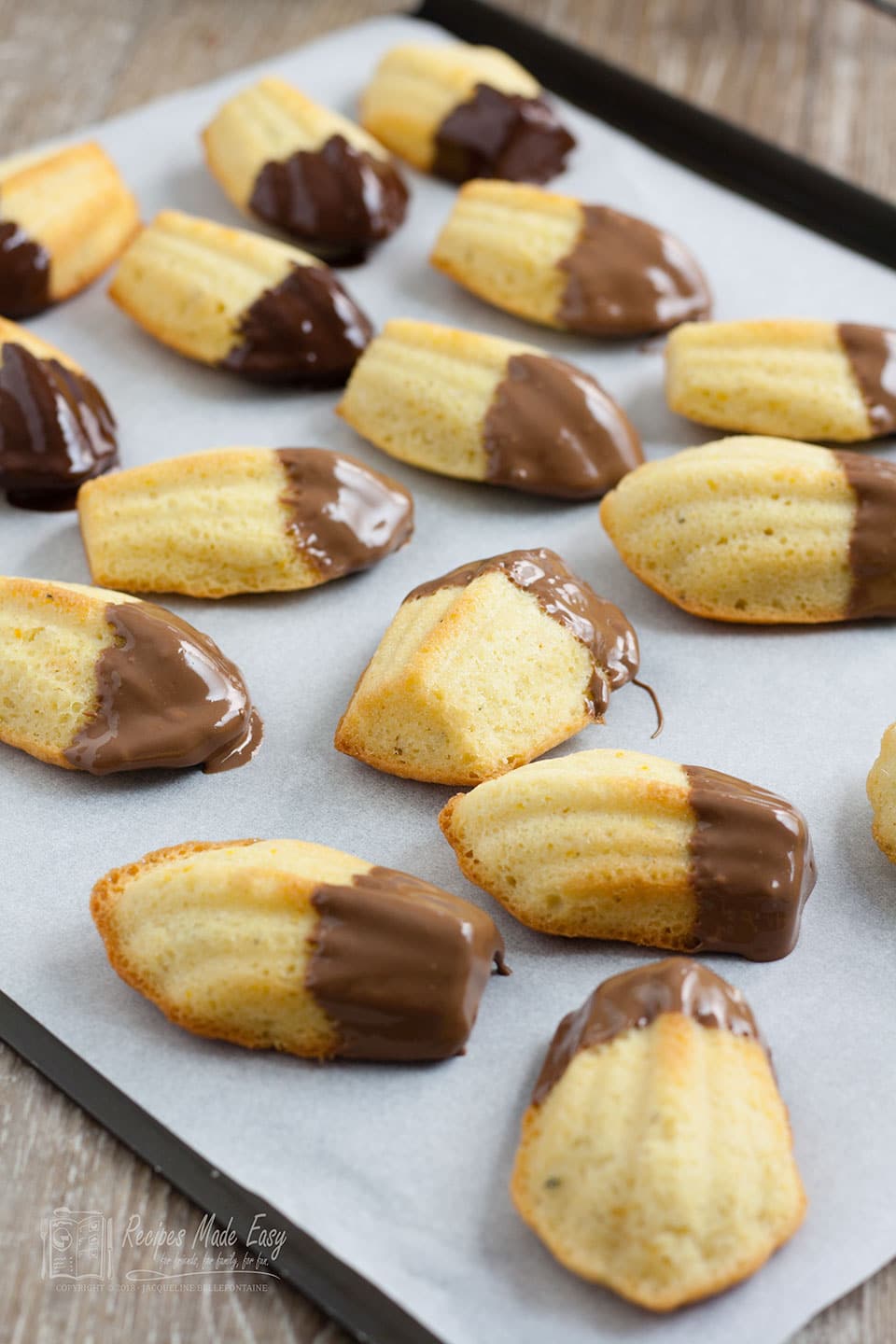 At the time of writing, it's semi-final week on The Great British Bake Off and once again I am posting a bake that has been inspired by the show. Being Patisserie week in this series the contestants had a technical challenge to make a Torta Setteveli which while rather delicious looking, this multi-layered cake would not have been an ideal bake for Recipes Made Easy as it is just too complex. They also had a show stopper to make three types of patisserie, one made with choux pastry; one made with puff pastry plus a mille-feuille. I could have opted for one of those but the signature bake was Madeleines and I rather fancied sharing making those.
Shell Shaped Pans
These little French cakes are often quite plain and are a basic Génoise cake baked in shell-shaped tins. I made Madeleines quite a few times for Baked and Delicious Magazine when I was the joint editor. My Madeleine pan is silicone given away with the Baked and Delicious magazine but you can buy both silicone and metal madeleine tins from cook shops or online.
Although I am not a massive fan of silicone bakeware, I rather like them for madeleines as they do not stick. They also have a deeper, better shape than some of the metal tins I have seen. Don't worry if you don't have the special tins you could always bake them in a bun tray or cupcake tins instead. They won't be the classic shape but they will taste the same.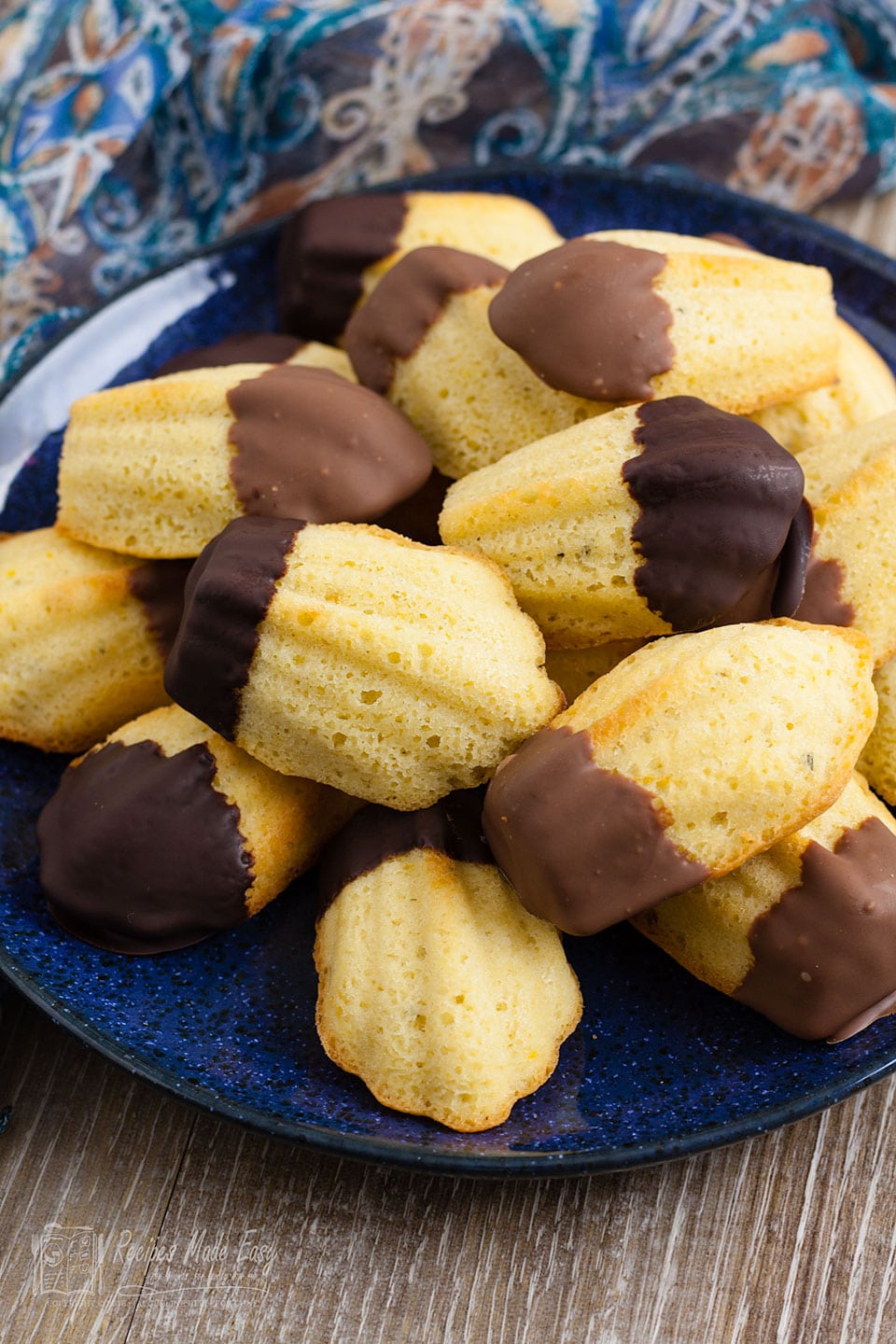 It's All About the Hump
Apparently! According to Bake Off. Madeleines should have a nice rounded hump on the back which of course is correct. Too peaky is wrong, as is too flat, so contestants were told they had to get it just right. A particular challenge for them as time was a constraint as the mixture should be allowed to cool before baking. Traditionally Madeleines are made with plain flour. The hump is formed when the cold mixture goes into the hot oven.
Despite having written several Madeleine recipes for Bake and Delicious some with and some without the addition of baking powder, I'm going to confess that I have not heard that they need to be chilled before and have always cooked them straight away. But you are never too old to learn something new so I decided to try it to see if it made a difference.
It would seem yes it does, but not much. I made two batches exactly the same way and allowed one to cool in the refrigerator and cooked the other straight away. There is no doubt that the ones cooked straight away were just merely rounded on the top and had no discernable hump. However, some but not all of the ones that were cooled before cooking had the classic hump. So would I chill in future, possibly if I had time, but more likely not, I'm too impatient and the difference was not that impressive. If you really want a hump then you could just add ½ tsp baking powder to the flour instead, quicker and easier.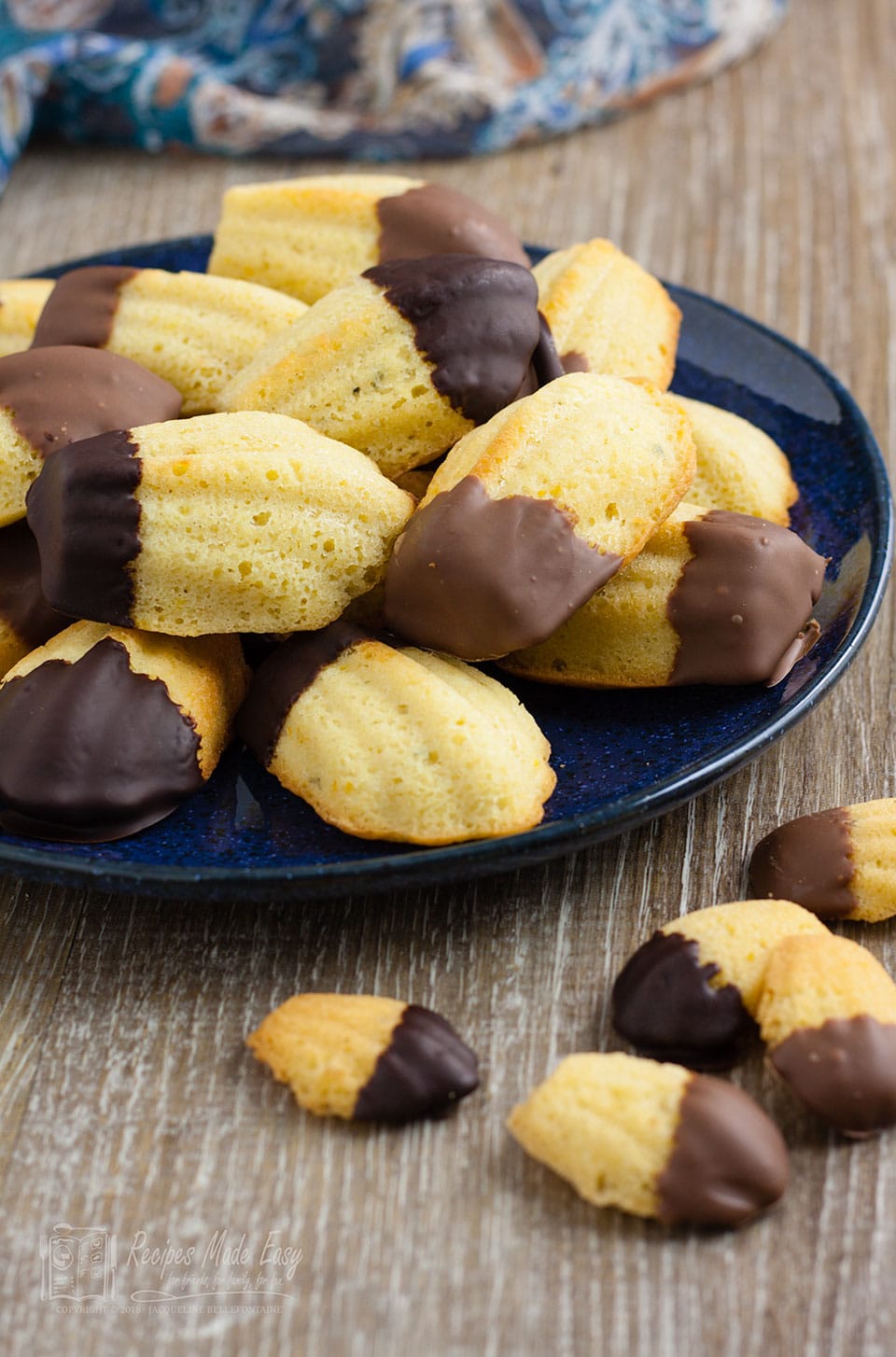 Variations
As I was making two batches I made them slightly different flavours. One batch I flavoured with orange zest and fresh thyme, the other lemon zest and rosemary. Both flavours are subtle but distinct and I really cannot decide which one I prefer. So I am sharing both options. Traditionally Madeleines are often served plain warm from the oven, its part of their simple charm but as with Bake Off, I have dipped mine in chocolate. It makes them a little more decadent but is not essential, especially if you prefer a plainer cake. I also made a few mini madeleines in a tin that I bought a few years back in New York. Don't they look cute. They would be great served with coffee at the end of a meal.

Orange & Thyme / Lemon & Rosemary Madeleines
Print Recipe
Pin Recipe
Save Recipe
Saved!
Cooked in their distinctive shaped pans these light sponge cakes are flavoured with citrus zest and herbs and dipped in chocolate to give these classic cakes a sophisticated twist.
Make 18-20 orange and thyme OR 18-20 lemon and rosemary madeleines.
Ingredients
125

g

butter

2

large

free range eggs

125

g

golden caster sugar

125

g

plain flour
For the Orange and Thyme Madeleines
finely grated zest of 1 orange

½

teaspoon

chopped fresh thyme leaves
for the Lemon and Rosemary Madeleines
finely grated zest 1 lemon

½

teaspoon

finely chopped rosemary
To Complete
100

g

milk or dark chocolate

(optional)
Instructions
Preheat the oven 200℃ (180℃ fan)/400°F/gas mark 6. melt the butter in a small pan then brush the insides of the madeleine pans with melted butter. Allow the remaining butter to cool

Place the eggs and caster sugar in a heatproof bowl and place over a pan of gently simmering water. Whisk on high speed until the mixture is very thick and leaves a trail when the beaters are lifted.

Remove from the bowl from the heat and continue to whisk for a few minutes until the mixture cools. Sift the flour into the bowl and add the zest and herbs Gently fold in with a metal spoon or spatula.

When the flour is almost blended into the egg mixture. drizzle the melted butter over the top of the mixture and very gently fold in using a figure of eight movement.

Spoon into the prepared moulds. Bake for 10-20 minutes until risen, golden and springy to the touch. Allow to cool for a few minutes then transfer to a wire rack to cool completely.

Heat the chocolate in a small bowl over a pan of hot water stirring until melted. Remove from the heat. Dip one end of the madeleines into the melted chocolate. allow the excess to run back into the bowl then place the madeleine on a baking sheet lined with baking parchment. Leave to set before serving
Notes
Nutrition information is calculated using an online nutrition database - is approximate and is meant as a guideline only. This recipe was calculated using milk chocolate.
Nutrition
Serving:
1
madeleine
|
Calories:
124
kcal
|
Carbohydrates:
14
g
|
Protein:
1
g
|
Fat:
7
g
|
Saturated Fat:
4
g
|
Cholesterol:
32
mg
|
Sodium:
52
mg
|
Potassium:
28
mg
|
Sugar:
8
g
|
Vitamin A:
185
IU
|
Calcium:
6
mg
|
Iron:
0.5
mg
Click On the Images for More Cake Recipes Made Easy
I'm linking this recipe to

The #GBBOBloggers2018 / #GBBOBakeoftheWeek Linky Hosted by Mummy Mishaps and Cassa Costello