GREAT BLOGGERS BAKE OFF 2016 – WEEK 8 – Tudor
I have to say I again wasn't overly inspired with this week's Bake Off and their Tudor theme. Since I haven't tried any of the technical challenge bakes yet, I decided to do it this week and baked Jumbles.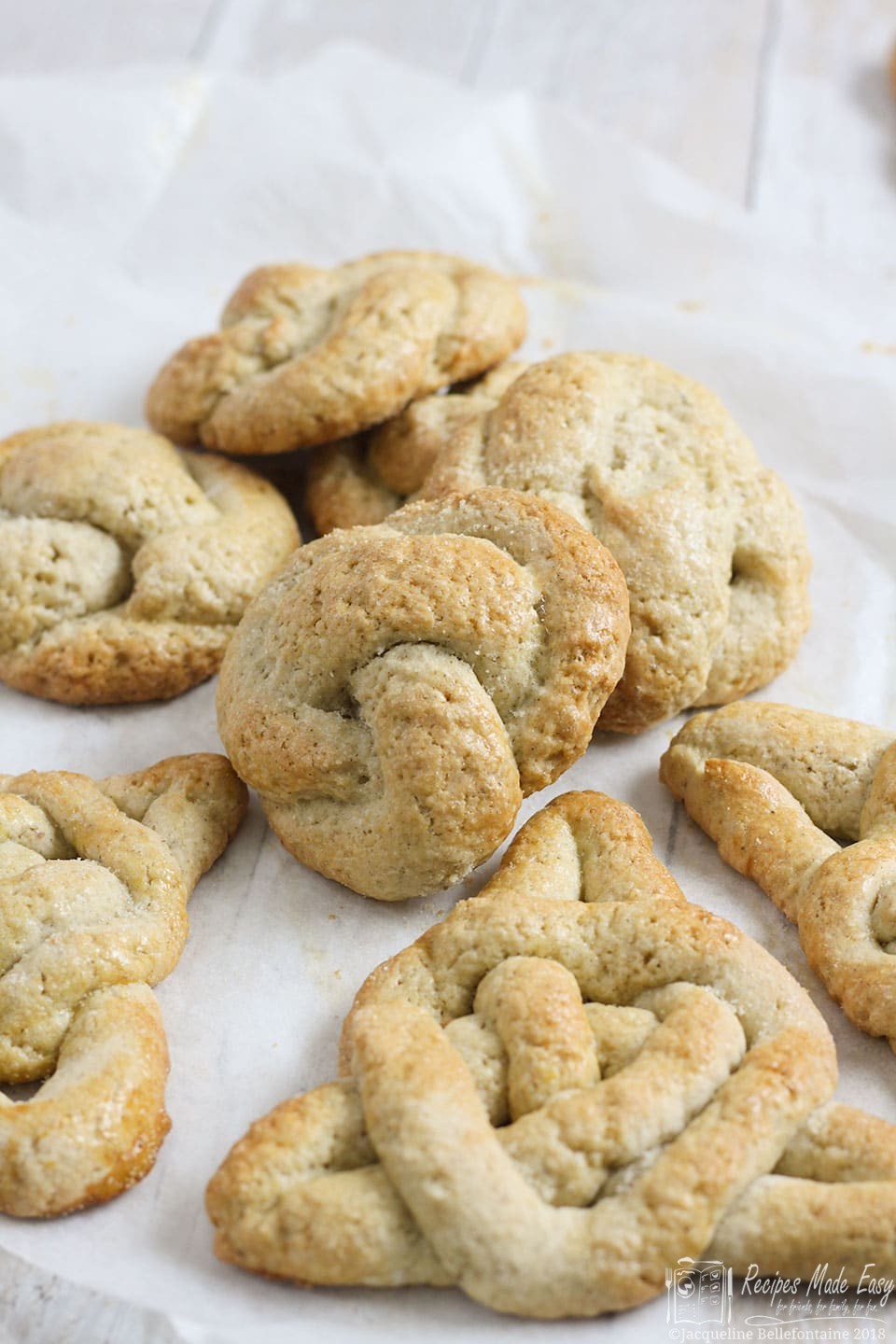 Back in the tent the first task was to make small pies arranged to make a bigger picture. Pies were a big deal in Tudor times so Im told. Although initially a good starting point for a recipe to share on Recipes Made Easy, I already have two fabulous pie recipes coming soon on the blog. Neither of them fits the brief though as they are both large ones.
The final challange was making a marzipan centre piece. Now, I like real marzipan and I have made my own. I shall share some recipes with marzipan in the future but somehow I don't think a marzipan dominated cake will appeal much to my readers. If I'm wrong then let me know.
So for this week's bake, jumbles it was. While not the most inspiring looking technical bake, I have to say these biscuits are rather good. A little plain and less sweet then modern biscuits tend to be but rather nice for being so.
Paul's Jumbles Recipe
A little tweak
For this bake I used Paul Hollywood recipe published on the Great British Bake Off web site, which you will find here. I did make a few tweaks though. I have a drawer full of spices and herbs but no aniseeds and only had blade mace so I substituted the aniseed and mace with Chinese five spice. It worked well.
The numbers don't add up
The method in Paul's recipe says "divide the dough in 6 x 65g portions for the double knot biscuits and 6 x 85g for the Celtic knot biscuits", and said you may have a little dough over. Having duly weighed out the 6 smaller portions I only had enough dough left to make four of the larger biscuits. I wondered if my scales were not working accurately but then I did the maths. To make those portions I would need 900g of dough. Adding up the ingredients and assuming the eggs are about 50g each (the average size of a medium egg) you have 745g of dough. Someone has got their numbers wrong.
I later found Paul's recipe published here on the BBC website. It's the same recipe but instead it states "Divide the dough into four balls weighing 65g/2½oz and four balls weighing 85g/3oz (you might have a little leftover)". If you followed this recipe you would have enough dough left over to make another two of the simpler knot biscuits, that's more than a "little" left over! For my version of the recipeI have made sure the numbers do add up.
Shaping the Biscuits
For the technical challange the bakers on GBBO only get basic instructions like "make a dough" and "Bake" with no details on method of making the dough or baking times etc. So following his recipe here is much easier.But, to be honest, when it comes to the shaping Paul's published full recipe doesn't say help that much either.
"Knead the 6 pieces of dough (weighing 65g) on a lightly floured surface and roll using your fingertips into a 30cm rope. Knot into double knots.
Shape the remaining 6 pieces of dough (weighing 85g) into Celtic knots."
To be fair it is not easy to explain and I did struggle to get the shapes - particularly the Celtic knot. I have tried to explain in a bit more detail in my method and of course you have the step pictures which should to help. But to be honest If I were making them again ( and I liked them enough that I will make them again) I would make different shapes. I did like the proportion of crust to biscuit in the Celtic knots better, so would go for thinner shapes.Perhaps twists, or even simple balls flattened.
Step by step Jumbles

Jumbles
Print Recipe
Pin Recipe
Save Recipe
Saved!
This plain slightly sweet biscuits are flavoured with caraway seeds and five spice. Delicious served with a cup of tea.
Ingredients
For the dough
1

teaspoon

caraway seeds

375

g

plain flour

plus extra for dusting

1

teaspoon

Chinese five spice powder

60

g

butter

cubed

150

g

golden caster sugar

finely grated zest 1 lemon

3

medium eggs
To finish
1

medium egg

lightly beaten

caster sugar

for sprinkling
Instructions
Line 2 baking sheets with baking parchment. Grind the caraway seed to a powder in a small electric grinder or in a pestle & mortar.

Place the ground caraway seeds, flour and five spice powder in a bowl and add the butter. Rub the butter into the flour mixture until it resembles fine breadcrumbs, then stir in the sugar and lemon zest.

Make a well in the centre and add the eggs. Use a fork whisk the eggs to break up then start to incorporate the flour. Finish mixing to a dough with your hands.

Divide the dough into 6 balls weighing 65g and 4 balls weighing 85g. Place the dough balls on one of the baking sheets, cover with clingfilm and chill for 30 mins.

Preheat the oven to 180℃ /160℃ fan/gas mark 4. Knead the smaller pieces of dough on a lightly floured surface and roll into a 30cm rope. Tie into in the rope then shape into a double knot by tucking one end of the rope on top and the other underneath.

Shape the remaining pieces of dough into Celtic knots. – Do this in two pieces. Take off about a ¼ of each piece and roll the larger piece into a long rope about 45cm long. Shape into the base of the the knot and place on the second baking sheet. Roll the remaining piece of dough into a rope and place in a circle on top of the base, of the knot.

Brush the biscuits with beaten egg and sprinkle with caster sugar. Bake the Celtic knots for 15 – 20 minutes, until golden brown and the double knots for 20 – 25 minutes.

Remove from the oven and leave to cool on a wire rack.
As with all my other Bake Off Post I'm linking with the Great Bloggers Bake Off 2016 hosted by Jenny at Mummy Mishaps. Pop over and take a look at what the other bloggers are posting.