I only got a small crop of gooseberries from my allotment this year.  But there was just enough to make one dish so I opted for an old favourite; gooseberry tart.
Growing to like Gooseberries
When I was little I didn't like gooseberries – do you know any children who do?  They were much more commonly available  than they are now, but after a long while in obscurity,  they are beginning to regain in popularity. You might even say they are almost  fashionable!   I have also grown to appreciate the flavour of gooseberries and because they remain seasonal, I now really look forward to eating them.
I was hoping for a good crop this year so that I could share several recipes with you, but although there was plenty of greenery, there was little fruit.  There are three gooseberry bushes on my allotment, one red and two green. The red bush did better than the green but even so it was very disappointing and I used the whole crop on this one tart. I do however have a few left  in the freezer from last year,  gooseberries freeze well and most dishes that you make with fresh gooseberries can also be made with frozen. So you never know if time permits I will try blog at least one more gooseberry recipe this summer, because you may just be like me, becoming a fan of them now.
Free-form tarts
Free-form tarts are really easy to make, you simple roll out the pastry into a large circle and then fold over the the sides to form the edges and enclose the filling. What could be easier than that. For that reason I'm sure you are going to see some more of these from me in the not too distant future. My gooseberry tart was made this way. I sprinkled some ground almonds on the base before adding the gooseberries as this helps soak up the juices from the fruit and stops the bottom pastry going soggy. We all know that no one wants a soggy bottom!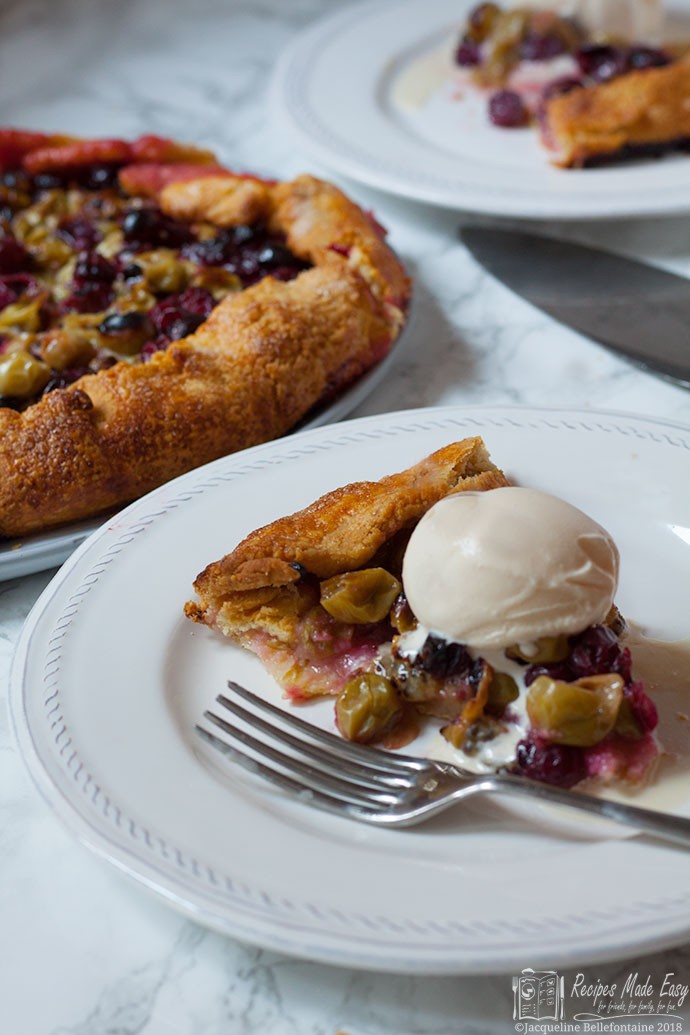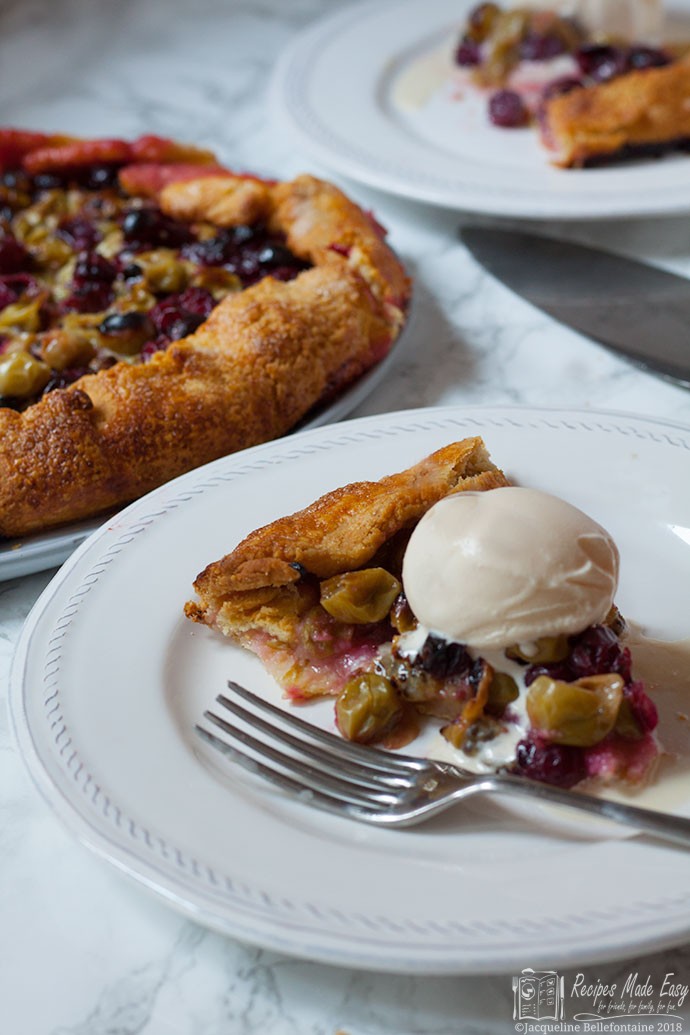 Step by step gooseberry tart

Print Recipe
Gooseberry tart
An easy to make free-form gooseberry tart
Ingredients
For the pastry
175

g

plain flour

50

g

ground almonds

100

g

butter

cut into cubes

2

tbsp

caster sugar

1

egg

separated
for the filling
50

g

ground almonds

500

g

gooseberries

topped and tailed

4

tbsp

caster sugar

plus extra to sprinkle
Instructions
Place the flour and ground almonds in a bowl and rub in the butter until the mixture resembles fine bread crumbs.

Stir in the sugar, then add the egg yolk and enough cold water to mix to a soft dough (about 2-3tbsp). Cover and allow to rest in a cool place for 30 minutes.

Preheat the oven to 200℃/185℃ fan/gas mark 6. Roll out the pastry to form a rough circle about 30cm in diameter, there is no need to be precise.

Transfer to a baking sheet and brush the surface with a little beaten egg white. Sprinkle the ground almonds into the centre of the circle leaving a border around the edge.

Pile the gooseberries into the centre, sprinkling with caster sugar as you do so.

Fold the edges of the pastry over the fruit to form a tart. Brush the edge of the tart with beaten egg white and sprinkle with a little more caster sugar.

Bake for 35–40 minutes or until the pastry is crisp and golden.
Tried This Recipe?
I would love to know how you got on – Tag me on Instagram or Twitter @RecipeCrumbs or leave me a comment and rate the recipe below
Hints, Tips and Variations
It's summer and has been hot for the last few days, so I served mine with ice-cream. I love the contrast of cold soft ice-cream and crisp hot pastry. Of course it is also delicious served with custard or cream and can be served hot or cold.
I have use a mixture of red and green gooseberries – I like the added colour but you could use all green or all red gooseberries.
I added ground almonds to the pastry to make a richer pastry but your could use regular sweet shortcrust.
Try with other fruit fillings – See below.
3 fruit tarts to try
Apple and blackberry tart – Use a mixture of apple and black berries for the filling. Replace the ground almonds with ground hazelnuts.
Red cherry tarts – Use pitted red cherries in place of the gooseberries.
Rhubarb and ginger tart – Use sliced rhubarb mixed with some chopped stemmed ginger.
More Tarts Made Easy