It is really quite easy, albeit a bit fiddly, to crystallise flowers. They look so pretty used to decorate a cake or a dessert and are a great way to preserve edible flowers. Well worth the time and effort.
One of the best things about writing my blog as opposed to writing for books, magazines, or clients is that I can write about whatever I want, whenever I want. Writing in real time means that when I see that perfect in season ingredient I can use it and write a recipe straight away. No struggling to find a perfect specimen of a vegetable that is not quite in season yet because I am writing several weeks or months in advance.
Crystallised Flowers
So, when I was in Suffolk a few days ago, I couldn't resist picking edible flowers from my garden to crystallise when I got back to London and share with you.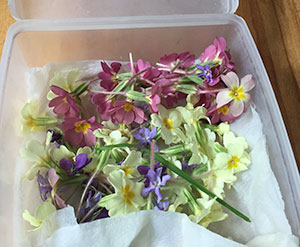 There were still masses of primroses in flower and a few violets. I also found the odd primula in flower. When picking flowers to crystallise it is important to pick them on a dry sunny day when they are fully open. By using my own flowers I can be assured that they are not sprayed with anything chemical to keep pests and diseases a bay. If you buy the flowers please make sure that they have been grown organically and are safe to eat.
Some Edible Flowers
Not all flowers are edible, so make sure you use only those that you know are safe to eat. You could, for example, try:
Apple blossom;
Borage;
Calendula;
Carnation;
Corn flower;
Jasmine;
Pansy;
Primroses;
Rose petals;
Violets; or
Violas
How to Crystallise Flowers
To crystallise flowers you only need edible flowers, 1 egg white (lightly beaten) and caster sugar.
Step by Step
Remove the flowers from the stems. Lightly beat the egg white with a fork. Place the caster sugar in a bowl and line a baking sheet or tray with parchment.
Brush beaten egg onto both sides of the flowers with a small artists paint brush. (I have a few that I keep only for food work. If you don't already have one for using only with food, then you would have to buy a new one.)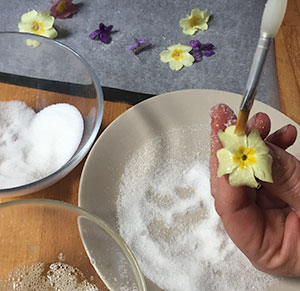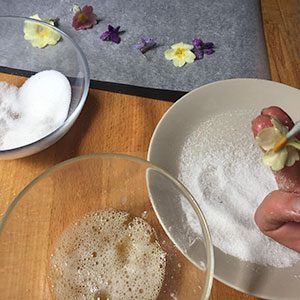 Some people recommend holding the flowers with tweezers. Personally, I find that you need to support the flowers with your fingers especially when brushing the second side. It does mean, however, that you will need to stop and wash the sugar off your hands once or twice, which I guess would be un necessary if you used tweezers. If you do it my way, make sure you dry your hands well before continuing.
3. Gently sprinkle both sides with caster sugar and shake off the excess.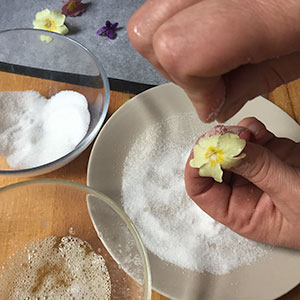 4. Place on the baking sheet and repeat for each flower.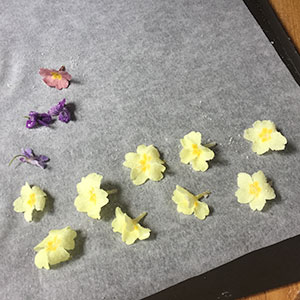 5. Once you have done all the flowers you wish to do, place them in a warm, dry place such as an airing cupboard for 24-48 hours to dry out completely. I placed mine on top of a fridge.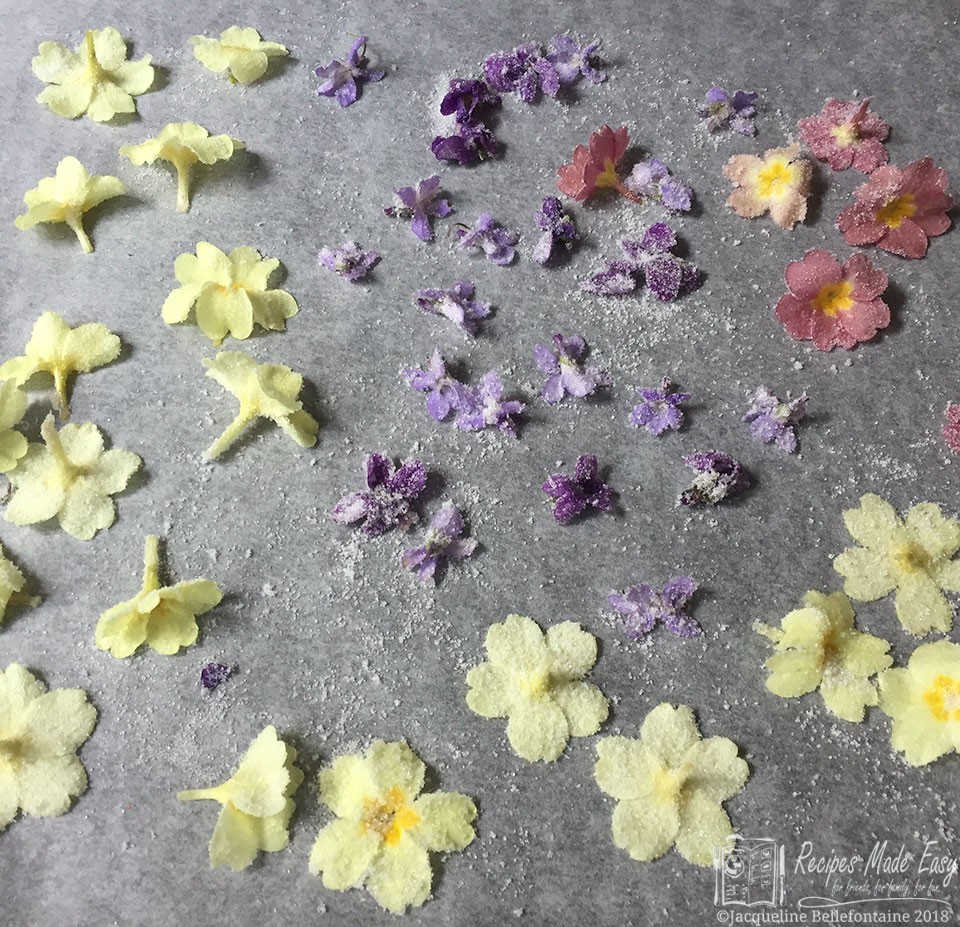 When completely dry the flowers will keep for several months stored in an airtight container layered between sheets of parchment or kitchen paper.
Uses
Crystallised flowers are usually used to decorate cakes or desserts.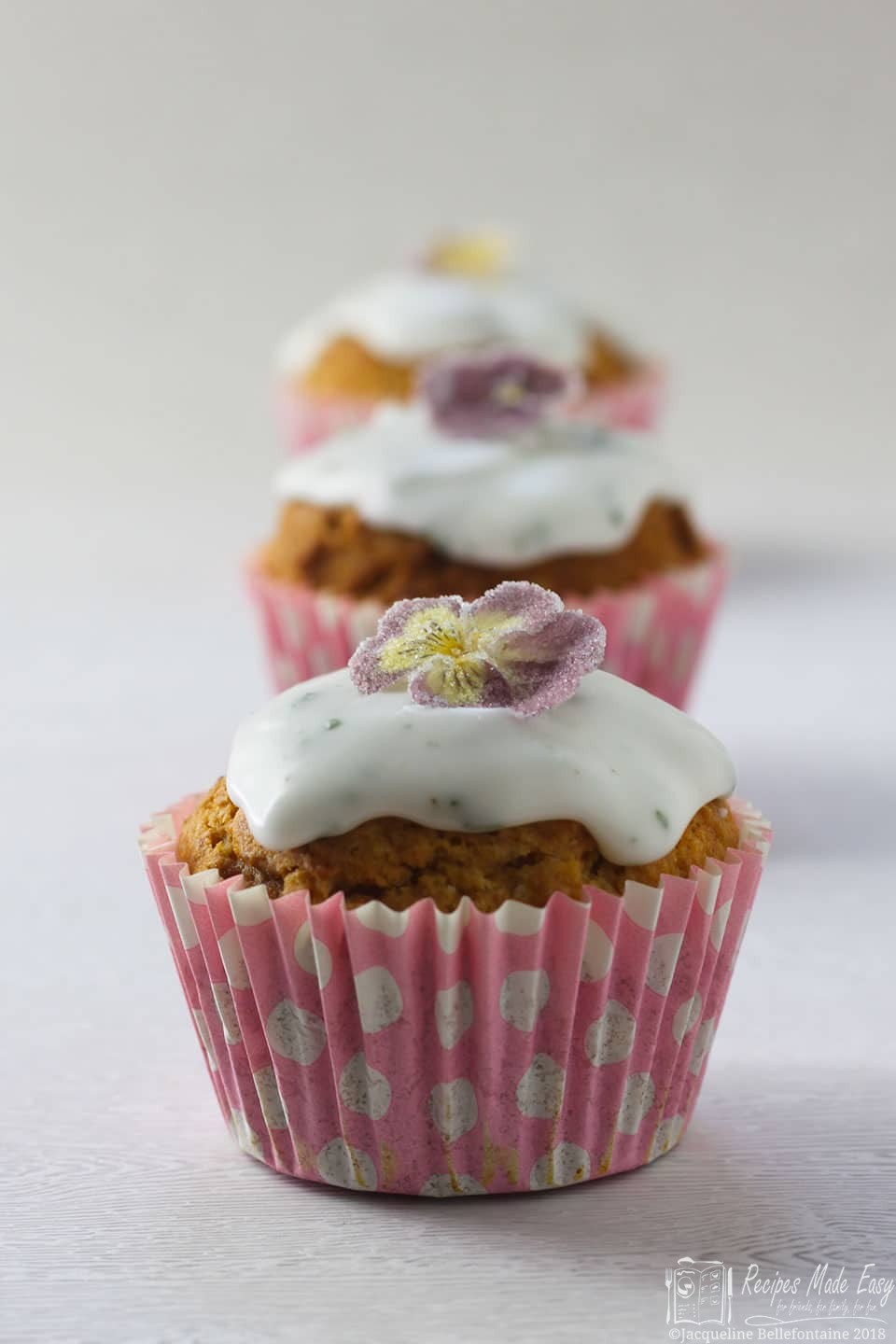 These are some cupcakes that I decorated with some violas I preserved previously. I also used them on my rhubarb and elderflower cake. If all goes to plan I shall be using the flowers on the step pictures above on a cake for Easter.