GREAT BLOGGERS BAKE OFF 2016 – WEEK 4 – BATTER
This week's theme, batter,was a first in the bake off tent and two of the bakes were not actually bakes in the true sense of the word (are they running out of ideas, I wonder). Churros was the third challenge in the bake off, after Yorkshire puds and pancakes. I had churros for breakfast a couple of times on a recent trip to Spain and I thought at the time I'd like to make them again. I haven't for years and they would be a good recipe to share here. So it was a no brainer when it came to deciding what to make this week. Churros with apple sauce and salted caramel sauce - I'm thinking toffee apple flavours here!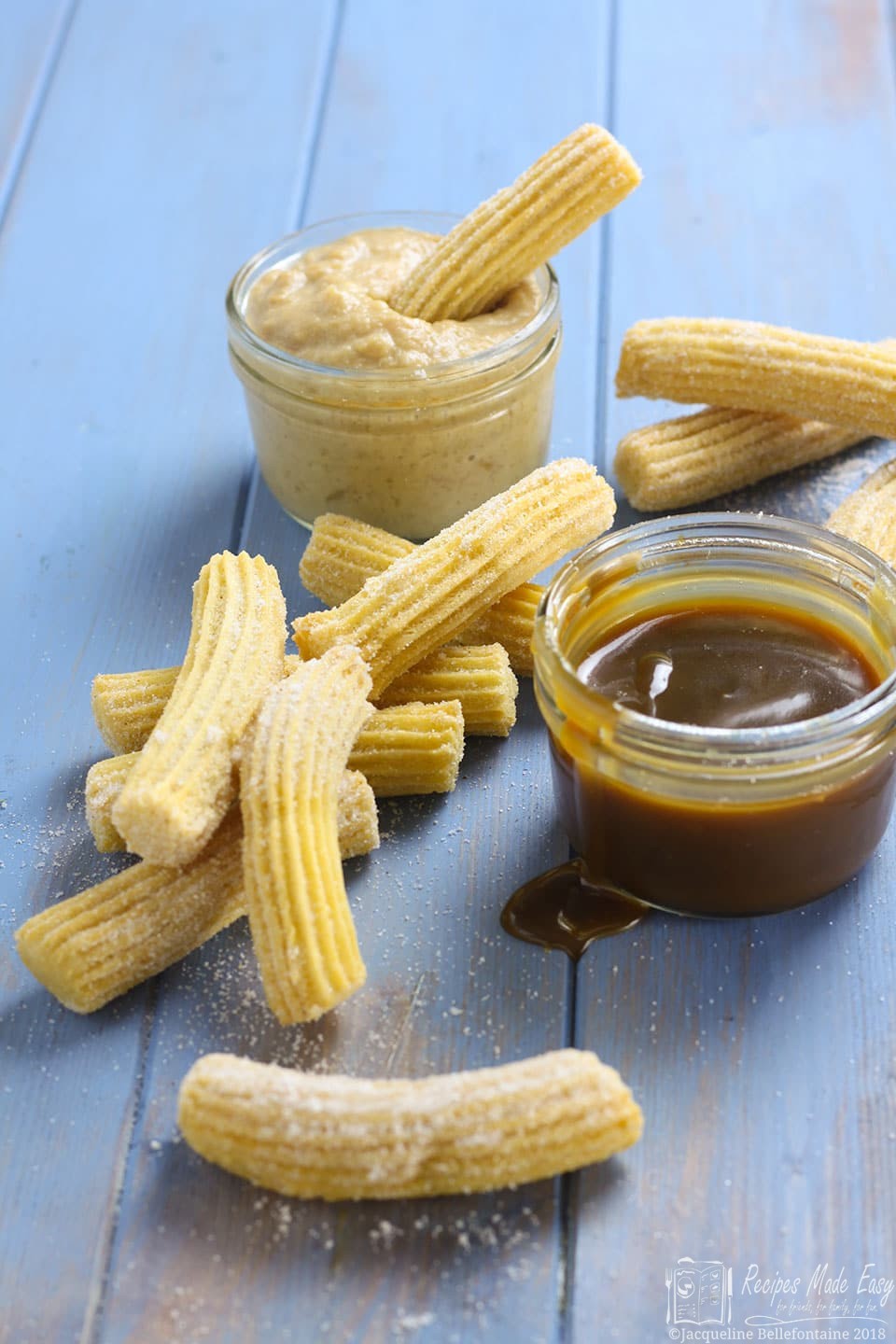 With or without egg
Churros are deep fried pastries which are popular in Spain, Portugal, France, the Philippines, Latin America and the Southwestern United States and are made from a paste similar to choux pastry. Sometimes the dough contains egg and sometimes not. I tried a couple of recipes, one using egg, and one without as I wanted to share the best one with you. To be honest, there was very little between the two, so I decided that I would opt for the Spanish style without egg, based on this recipe from the BBC Good food. If you would like to try the one with egg then you will find a recipe here (I left out the sugar).
The piping nozzle
Where I did find a difference was with the piping nozzle I used. In both cases I used a large star nozzle but they were slightly different. The larger one gave a thicker churros which I cut shorter. With the slightly thinner one I made longer, and slightly squiggly churros, as I liked the effect, althoughPaul and Mary might not have liked the lack of uniformity of these ones.
Both worked fine but, as you will see, you might get a slightly different looking churros depending on your nozzle.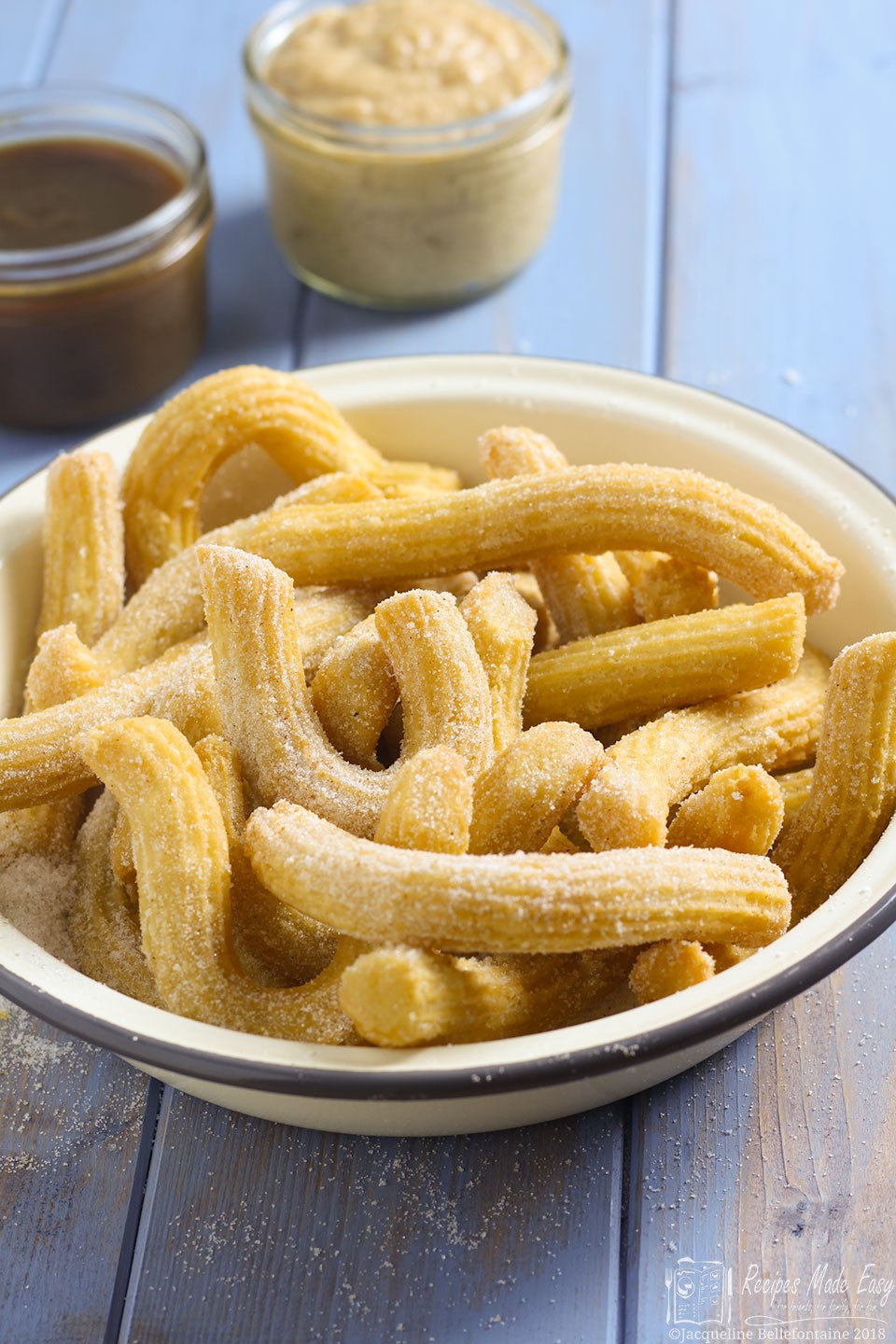 Sugar or Sauce
My son William suggested I coated them salted caramel sugar. I liked the idea as it was a bit different from just serving with sauce.
I made a caramel with salt, allowed it to set and then blitzed it in the food processor in the same way you would make a praline. It tasted fab and I was really excited but within a short time it all clumped together again. Probably because of the humidity that day.
On another day it might well have worked fine but since it obviously wasn't easy or reliable, I had to go back to the drawing board and my original idea of two dipping sauces.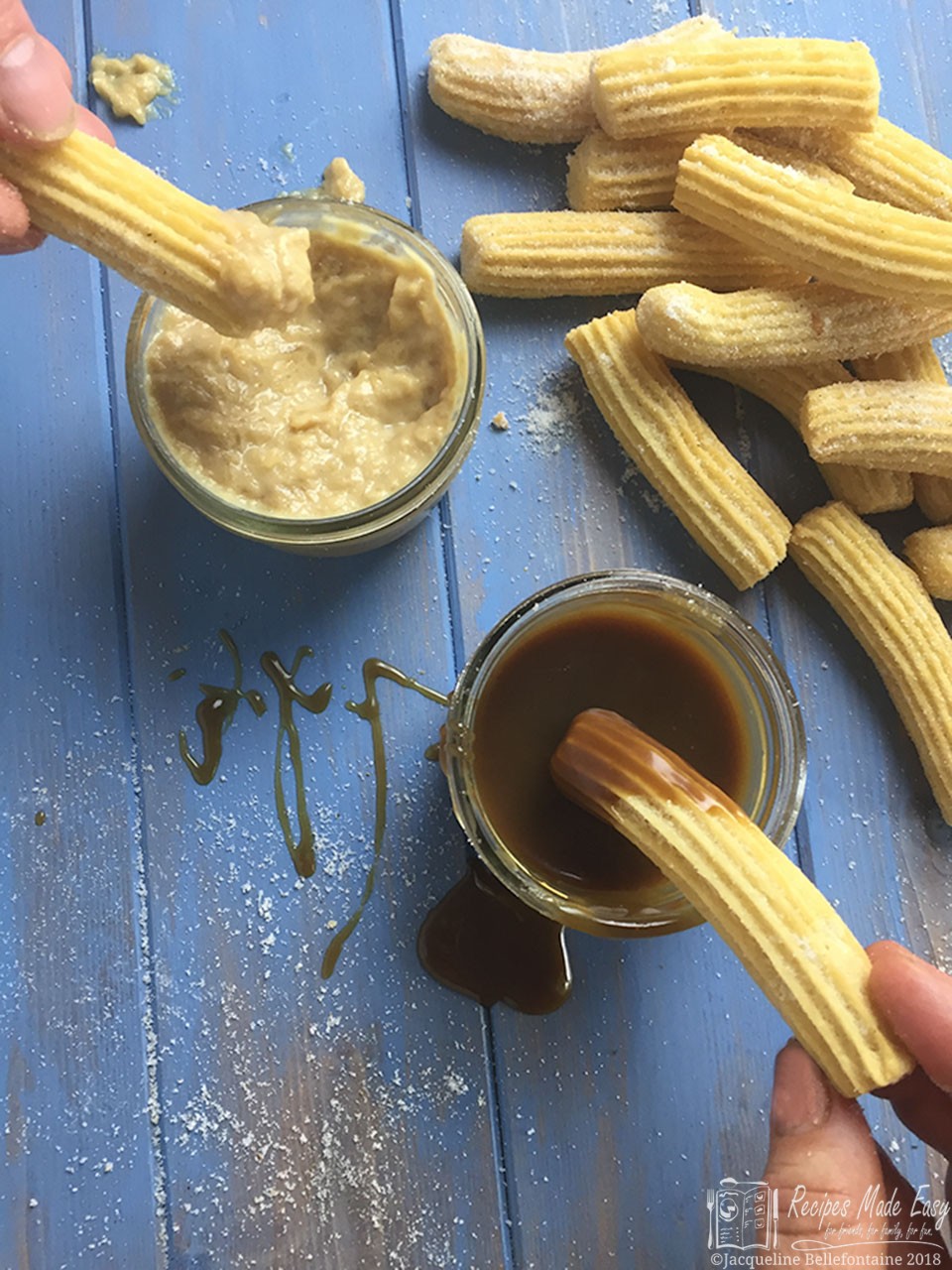 Step by step Churros with apple sauce and salted caramel sauce

Churros with apple sauce and salted caramel sauce
Print Recipe
Pin Recipe
Save Recipe
Saved!
Delicious, crispy fried churros served with apple sauce and salted caramel sauce.
Ingredients
for the churros
250

g

plain flour

1

teaspoon

baking powder

350

ml

water

50

g

butter

melted

½

teaspoon

vanilla extract

oil for deep frying

50

g

caster sugar

½

teaspoon

ground mixed spice
for the apple sauce
225

g

Bramley cooking apples

peeled cored and thinly sliced

25

g

soft dark brown sugar

1

tablespoon

water

small knob of butter

60

ml

double cream
for the salted caramel sauce
50

g

butter

50

g

soft dark brown sugar

½

teaspoon

malden salt

½

teaspoon

vanilla extract

100

ml

double cream
Instructions
Make the churros
Sift the flour and baking powder together.

Place the water and butter in a large saucepan. Heat, stirring until the butter has melted. Increase the heat and bring to the boil.

Remove from the heat, add the vanilla extract, then immediately add the flour in one go and beat to form a smooth thick dough. Set aside while making the sauces.
to make the apple sauce
Place all the ingredients except the cream in saucepan. Cover and cook over a low heat for about 10 minutes until the apples are very tender. Beat with a wooden spoon to form a thick puree.

Remove from the heat and stir in the cream. Transfer to a serving bowl and set aside.
to make the salted caramel sauce
Melt the butter in a small pan with the sugar, and stir until the butter and sugar have combined. Add the salt and vanilla extract and then stir in the cream. Transfer to a serving bowl or jug and set aside.
to cook the churros
Mix the caster sugar and ground spice together on a shallow plate.

Spoon the churros dough into a large piping bag fitted with a large star nozzle about 1-2cm wide.

Heat the oil to 180℃ then pipe the dough directly into the oil and use a pair of scissors to snip to the desired length. Fry in batches until golden brown and crisp. Remove from the oil and drain on kitchen paper.

Toss the churros in the spiced sugar and serve with the sauces.
Notes
CAUTION: Take extreme care when deep frying. Use a deep fat fryer if you have one. If cooking in a pan, never fill more than one-third full with oil and never leave unattended, even for just a moment.
Take care to gently lower the batter and not drop from a height into the the hot oil
Recipe Tips
If your dough has large air bubbles, is too cold, too wet or if your oil is too hot, or if you drop a churro from too high into hot oil you might get splashes, popping oil, or churros that burst. Keep children away while they cook and protect yourself by wearing long sleeves and keeping your face away from the pan.
To Serve
In Spain they are popular served for breakfast with a cup of thick drinking chocolate for dipping. In other countries they are sold as street food for snacking. For an amazing indulgent dessert, serve with an ice cream, the apple sauce on the side and the salted caramel sauce drizzled over. Seriously yum!!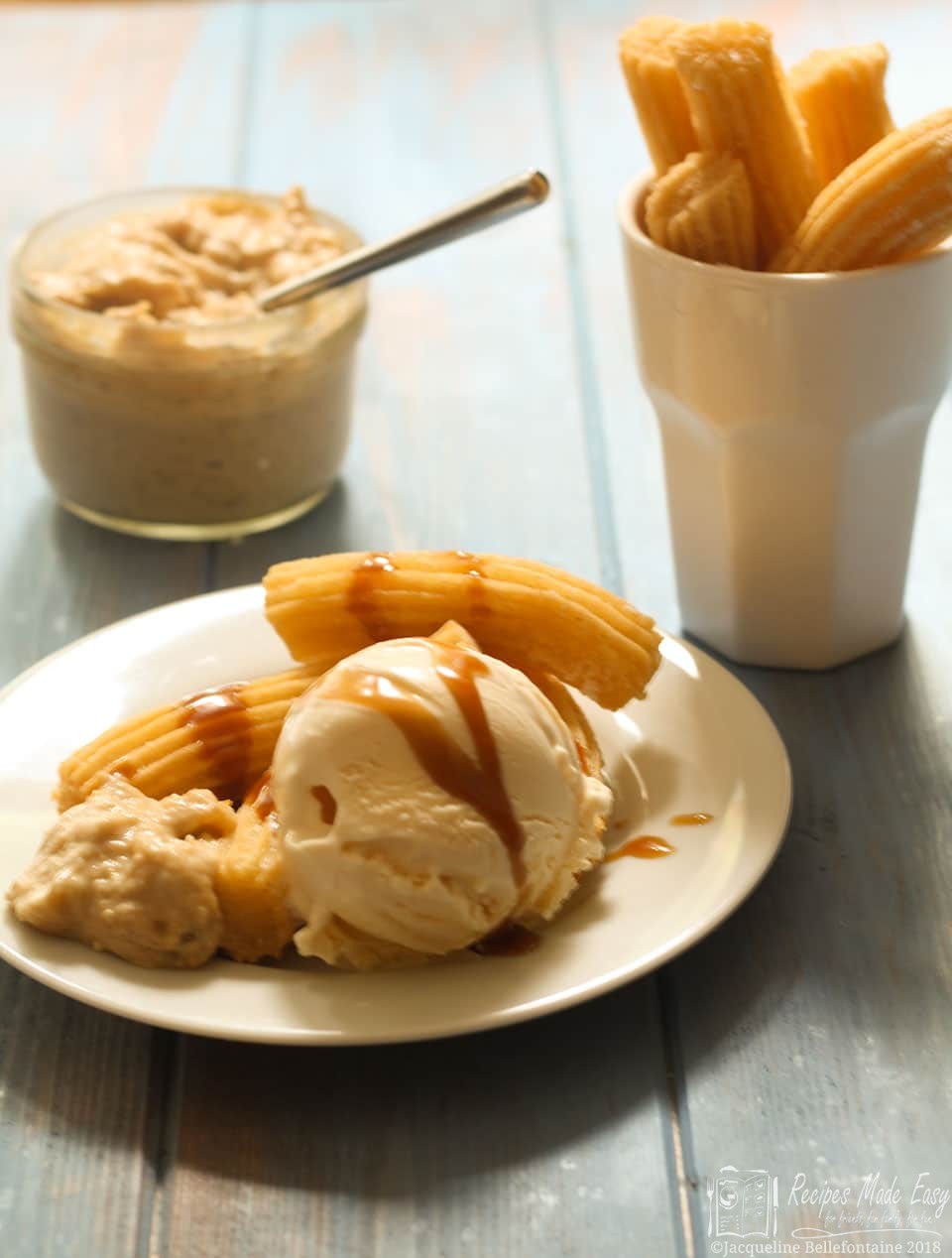 I'm linking this post to the Great Bloggers Bake Off hosted byJenny at Mummys Mishaps . Do pop over and see what other bloggers have been baking for the Great Bloggers Bake Off.
Thank you to Tesco for help in supplying the ingredients (except my windfall apples) for testing and shooting this post, check out their baking recipes here.