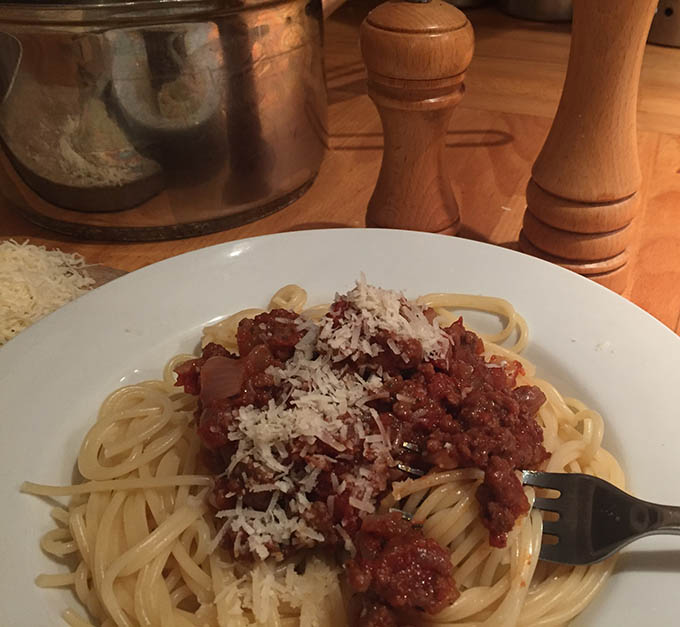 I couldn't leave it too long before adding a recipe for bolognese sauce on to the blog as this has to be the dish I have cooked the most times in my life. It might not be the most fashionable dish at the moment but it's a family favourite that is easy to make and universally popular. It's also such a useful staple. As long as you have the basics - onion, mince, and tomatoes - it can be tweaked according with any other ingredients you have at the time. It a great vessel for using up odd vegetables left at the bottom of the fridge. It freezes well so you can cook in big batches and it can be quickly defrosted in the microwave making it perfect for a quick mid week meal.
Although hard to beat with spaghetti, there are many other ways to serve the sauce, and I also like it with other pastas such as rigatoni or penne. You can use it as a filling for lasagne or cannolini, but it is also fabulous served with rice or on baked potatoes. I have even been know to add some red kidney beans and chilli sauce to turn it into a cheats chilli con carne.
In Italy a Bolognese sauce would often simmer all day. Whilst this long cooking time is no longer necessary, I do think the texture and flavours develop more if it is allowed to cook covered for an hour or two. If the mixture becomes too dry, simply stir in a little more water. That said, it still tastes pretty darn good even with a shorter cooking time.
As with any dish that you cook over and over again I rarely follow a recipe, except when trying to document it as a recipe for others. If you're new to cooking, stick to the basic recipe to begin with and start to adapt it as you become more confident.

I like to add peppers, courgettes and aubergine to my sauce. I like the flavour and the sauce seems a little less heavy. It also has the bonus of making the meat go further, which is good for the purse. When you add extra vegetables you may find you want to add some extra tomatoes too. Of course once you start adding more the number of servings increase and I often double up the recipe as well as its such a useful sauce to have in the freezer.
Cook the onion in a little oil until softened, then add the mince beef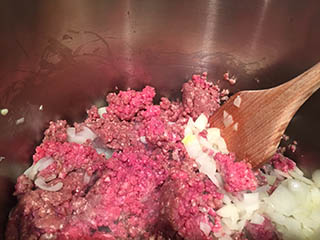 Cook the beef until it changes colour, breaking up with the side of a spoon as you do so.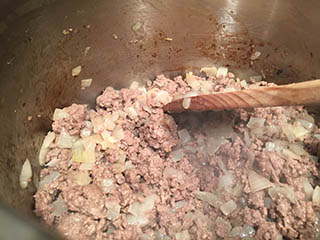 If you are adding extra vegetables, cut them into small dice and add to the pan after browning the mince. Cook for about 10 minutes before adding the tomatoes, stirring frequently.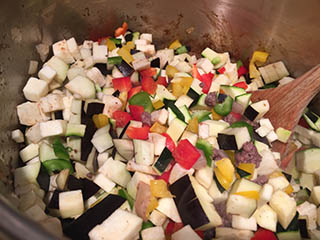 Cook the sauce until reduced slightly and the flavours have had some time to blend.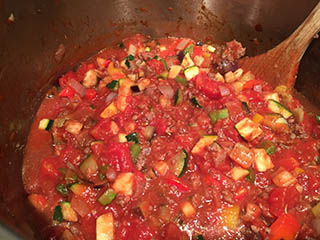 Serve on spaghetti or a pasta of your choice. Allow 100g pasta per person and cook in a large pan of lightly salted boiling water. Return to the boil and stir then cook for 10 minutes or as directed on the packet. A little bit of oil added to the pan will help prevent the spaghetti from sticking to itself.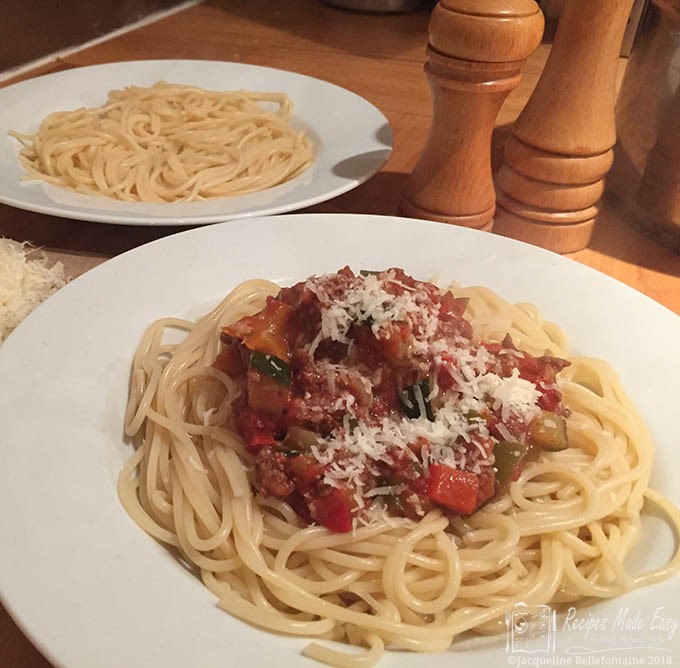 and don't for get the Parmesan cheese!
Freezer notes:
Freeze for up to 6 months. Defrost in the microwave on high, breaking up with a fork and stirring every minute or so. Alternatively defrost overnight in the refrigerator and reheat gently in a covered pan.

Bolognese Sauce
Print Recipe
Pin Recipe
Save Recipe
Saved!
Why not double up the quantities of the spaghetti Bolognese sauce and freeze some for later?
Ingredients
1

tablespoon

rapeseed or olive oil

1

onion

chopped

1

clove

garlic

chopped

500

g

lean minced beef

150

ml

red wine or beef stock

400

g

can chopped tomatoes

1

tablespoon

tomato purée

1

teaspoon

dried oregano or mixed herbs

salt and freshly ground black pepper
Instructions
Heat the oil in a saucepan sauté the onion for 5 minutes until soft ,then add the garlic.

Stir in the mince and cook until browned, breaking up with the side of a spoon as it cooks.

Add the red wine or stock and cook for a minute or two.

Stir in the tomatoes, tomato puree and oregano. Bring to the boil, then reduce the heat and simmer gently for at least 25 minutes, stirring occasionally.

Season to taste with salt and pepper.