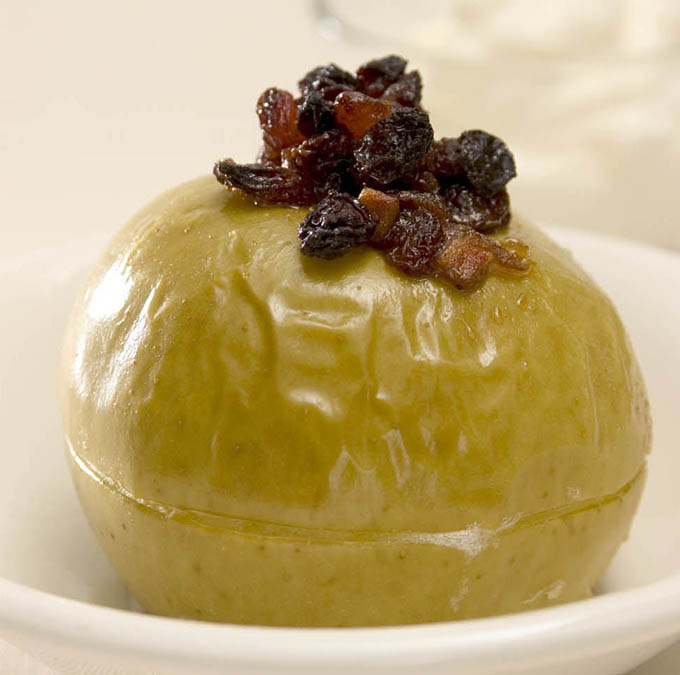 At this time of the year we have an abundance of apples from our trees in Suffolk. Richard has been busy juicing, making fresh juice as well as leaving some to bubble away in demijohns as it begins its transformation into cider. Even so there are still plenty to eat, store or cook with.
Baked apples must be one of the quickest and simplest apple recipes to prepare making a very tasty desert. I like to use smallish Bramley cooking apples for this recipe because of the contrast between the slightly tart flavour of the apple and the sweetness of the mincemeat. If you can use homemade mincemeat so much the better (Recipe to follow soon). Instead of Bramleys you can use any other eating apple but these tend to be smaller so the cooking time will vary.
I like them served with custard but you could serve with whipped cream or ice cream instead.
To core the apples, you can use a apple corer or use the tip of a pointed potato peeler, to cut around the core of the apple.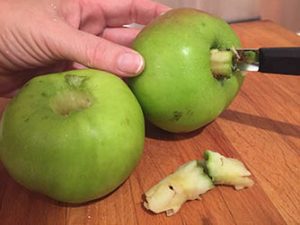 Scoring the skin around the centre of the apple will stop it exploding in the oven, so dont forget this step if you want to avoid the possibility of a (very) messy oven.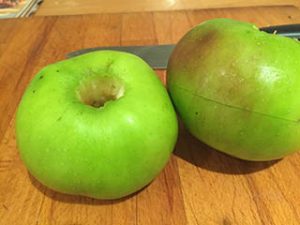 Beware that the amount of mincemeat in the recipe is a guideline only, since the actual quantity you need varies a little depending on the type and size of the apple and how much of the centre you remove with the core. I like to pack as much as possible, so if you can get a bit more in then do, and finish with a good spoonful mounded on top.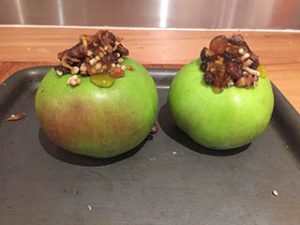 Whichever apple you use, keep an eye on them as they cook to avoid my disastrous result in the picture below. They still tasted pretty good (we did avoid the bit of burned fruit on top) so all was not wasted. Being an experienced cook obviously does not count for anything if you forget to set the timer and loose track of the time!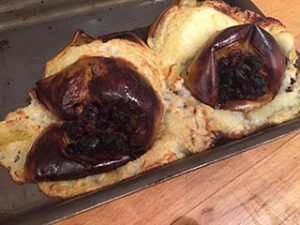 Baked apples
Print Recipe
Pin Recipe
Save Recipe
Saved!
Tender baked apples make a delicious and simple desert. Serve with custard, cream or ice cream.
Ingredients
2

small Bramley apples

about 2 tablespoon mincemeat

a little golden syrup
Instructions
Preheat the oven to 180°C/170°C fan/gas mark 4.

Using an apple corer or potato peeler, remove the cores from the apples and discard. Cut a slit in the skin around the middle of the apple.

Spoon the mincemeat into the centre of the apples pressing it down well so that the core is filled completely. Place on a baking sheet and spoon a little more mincemeat on top.

Drizzle a little golden syrup on top and bake in the centre of the oven for 30–40 minutes or until tender. Allow to stand for 10 minutes before serving.