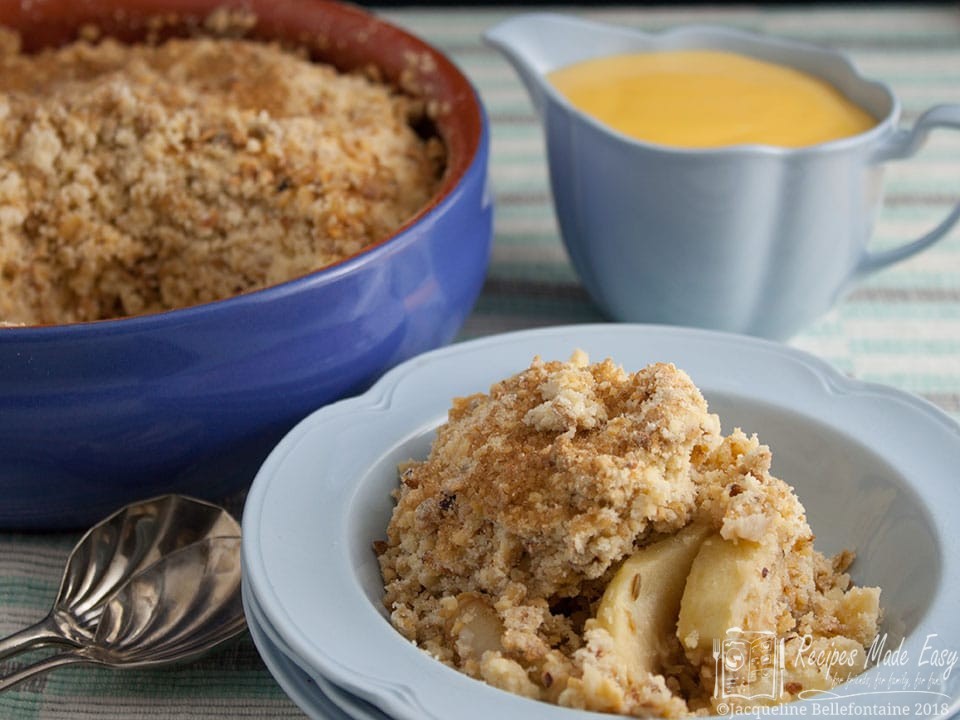 Apple crumble with a twist – my first recipe request since starting Recipes Made Easy. It was a challenge I was really happy to accept. I like making crumbles and they are always a big hit with my family. I also have three apple trees at my holiday cottage in Suffolk so I have a lot of apples at certain times of the year, which is another reason to make crumble frequently in my household. Apple and rhubarb are our favourite fillings.
Because the request was for an apple crumble with a twist, I did spend some time considering which way I would go. First I considered the crumble. The basic crumble recipe is a mixture of 2 to1 flour to butter sweetened with a little sugar. I often add oats or nuts to the mixture so that's my twist on the crumble. This time however I gently fried the oats in a little butter until just golden before adding to the mix. The result was really good as it seemed to make the crumble extra crumbly!
Then I turned my mind to the apple filling. Should I give this a twist too? I remembered an apple pie at a local neighbourhood restaurant I had a few years ago where they added some fennel to the filling. Although I'm not a particular fan of fennel and it is not an obvious flavour combination, it tasted really good. Trust me it works – So there's my twist.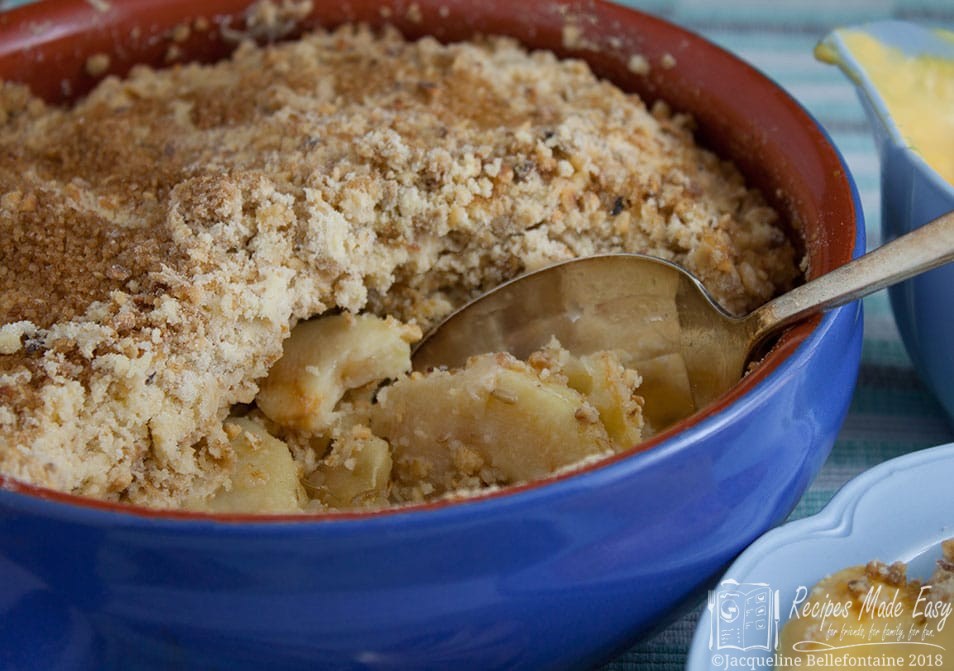 Apple varieties
I have used two varieties of apple in my crumble. Bramley apples (an English cooking variety) break down to a puree when cooked. I like this but it's nice to have a few whole slices of apple in the filling too, so I added a couple of crisp eating apples which do not break down in the same way when cooked. The result a perfect apple filling. Because cooking apples can vary quite a bit in size, I have given the weight rather than the number. As a rule of thumb, however, 500g is approximately 2 medium cooking apples.
Apple Crumble step by step
Usually I would recommend preparing all the ingredients as instructed in the ingredient list before you start the method, but that is not always the most efficient way to work.
A word of warning when cooking the oats: don't turn your back on the pan, they can burn very quickly. Even when they are removed from the heat they may go on cooking in the pan so, if they look like they are getting too browned tip into a dish to stop the cooking.
When making this dish I prepare the crumble first. You could even do this several days in advance if you wanted. When I am ready to assemble the crumble ,I prepare the apples, this way they do not start to oxidise and go brown.

Apple crumble with fennel
Print Recipe
Pin Recipe
Save Recipe
Saved!
The classic apple crumble has been given a modern twist. Serve with custard, cream or ice-cream for a perfect family dessert.
Ingredients
for the crumble:

150

g

butter

50

g

rolled oats

225

g

plain flour

50

g

golden caster sugar

75

g

hazelnuts or pecans

chopped

2

tablespoon

demerara sugar

for the filling:

500

g

cooking apples

peeled cored and thickly sliced

2

granny smith or other tart dessert apples - peeled

cored, and thickly sliced

2

teaspoon

fennel seeds

25

g

golden caster sugar
Instructions
Preheat the oven to 190℃/180℃ fan/gas mark 5.To make the crumble melt 50g of the butter in a frying pan and stir in the oats. Cook gently over a low heat stirring until pale golden. Remove from the heat and allow to cool slightly.

Rub the remaining butter into the flour until the mixture resembles coarse breadcrumbs. Add the caster sugar, chopped nuts, and the oats and stir until well combined. Set aside.

Place both types of apple slices in an ovenproof dish.

Lightly crush the fennel seeds in a pestle and mortar, or between two large spoons and sprinkle over the apple slices. Sprinkle over the caster sugar. Toss in the dish to combine and level as best as you.

Spread the crumble mixture over the fruit and sprinkle with the demerara sugar. Bake for 40–50 minutes until the crumble is golden.
Notes
The crumble mixture can be made in advance and stored in the refrigerator for up to 1 week or in the freezer for up to 3 months.
Freeze:
Make individual portions and freeze after baking.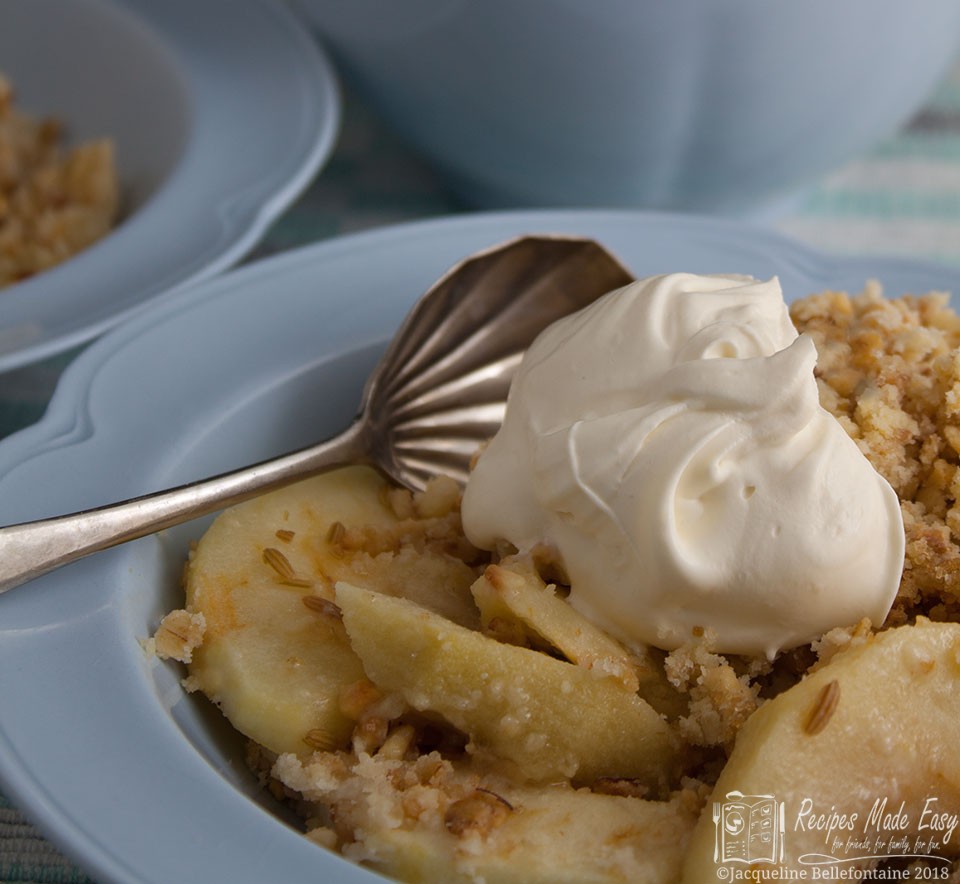 Apple and rhubarb are my favourite crumble fillings which are ones are yours?
If you would like too see a particular recipe on Recipes Made Easy do get in touch with your request and I shall do my best to include it.
Beth, this one is for you. I hope you like it.