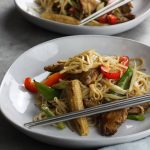 Print
Easy Chicken Noodle Stir Fry
Quick and tasty, this easy chicken noodle stir fry is perfect when you don't have much time to spend in the kitchen. Use it as a starting point and vary the vegetables according to what you have available.
Place the chicken in a shallow dish and stir in the garlic, ginger, sherry, soy and chilli sauce if using. Allow to marinate for a few minutes while preparing the other ingredients.

Place the noodles in a large bowl and cover with boiling water allow to stand.

Remove the chicken from it's marinade and toss in the cornflour.

Heat the oil in a large wok or frying pan and add the chicken, toss over the heat until browned on all sides.

Add all the sugar snap, peppers and baby corn, and stir fry for about 5 minutes until they just tender. Next add the beansprouts and spring onions and toss over together over high heat for a minute or two.

Stir in any remaining marinade, stock and honey. Drain the noodles and add to the pan. Cook stirring until the sauce is thickened slightly. Serve garnished with coriander leaves.