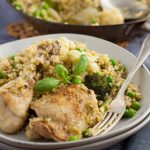 Print
One-pot chicken pesto rice
A simple one pot dish for two.
Heat the oil in a large frying pan and gently sauté the onion until softened. Increase the heat slightly and add the chicken. Cook for a few minutes to colour the skin turning them once or twice.

Add the rice, then pour in the stock. Bring to a boil, then reduce the heat. Cover and simmer for 30 minutes.

Stir in the pesto and add the broccoli and cauliflower. Cover and simmer for 10 minutes.

Add the peas, cover, and simmer for 5 to 10 minutes until the rice is tender and the stock has been absorbed.

Season to taste and serve.