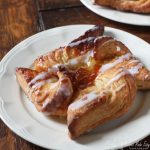 Print
Marmalade Danish Pastries Made Easy
English Marmalade meets Danish pastry in these Marmalade Danish Pastries. Flavoured with orange and cardamon they taste delicious and are easy to make, just allow enough time for the rolling, folding and chilling.
Total Time
1
hour
10
minutes
to complete
beaten egg

about 100g marmalade

75

g

icing sugar

1-2

tbsp

orange juice
Place the flour in a large mixing bowl, stir in the yeast , cardamon and orange zest. Rub in the butter so that it is evenly distributed but still with fairly large pieces of butter throughout.

Stir in the salt and sugar. Whisk the eggs and milk together with a fork, then pour into the flour and mix together to form a dough. Cover the bowl and refrigerate for 2–3 hours or overnight.

Roll it out to a rectangle about 25cm x 50cm. With the short side towards you fold up one-third of the pastry, then fold the top third down so that you have 3 layers. Chill for 15 minutes.

Repeat the rolling and folding twice more, chilling for 15 minutes each time.

Then roll and fold one more time, wrap and chill for at least 30 minutes before proceeding further.

Divide the pastry in half and rollout each piece to a 26cm square, then cut each into 4 equal squares. Brush with beaten egg. Cut each square diagonally from the corners halfway to the centre. Bring each of the four corners into the centre like a windmill and press into the centre.

Transfer to lightly greased baking sheets. Spoon a teaspoon of marmalade into the centre of each and leave in a warm place for 30 minutes.

Preheat the oven to 200℃/180℃ fan/gas mark 6. Brush the top of the pastry with beaten egg and bake for 20-25 minutes until risen and golden. Cool on the baking sheets for a few minutes, then transfer to a wire rack to cool.

To decorate, sift the icing sugar into a bowl and beat in just enough orange juice to form a smooth, thick coating consistency. Drizzle the icing over the pastries and allow to set before serving.