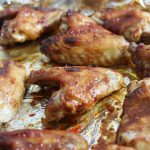 Print
Hot and Spicy Chicken Wings
Quick and easy to make, this is a simple mid week that all the family will enjoy. It's finger licking good.
Preheat the oven to 200C/400F/gas mark 6.

If the chicken wings still have the tips on them, trim with a sharp knife so that the wings are a V shape.

Combine the chilli sauce, ketchup, fruity sauce, vinegar and honey in a small dish until well blended. Brush all over the chicken wings.

Line a large baking sheets with foil (this avoids messy washing up). Arrange the chicken wings in a single layer on the baking sheet.

Bake for

25 to 30 minutes

until cooked through.