It's almost British Summertime although as I write this the wind is howling around the house and outside its feeling very much like mid winter. Yet The time seems to be whizzing by and it's time for #CookBlogShare wk 12 on Recipes Made Easy. Last time I hosted #CookBlogShare I told you how I was beginning to revisit some of my older posts to update my early photography. I've re-shot a couple more but have yet to update the posts.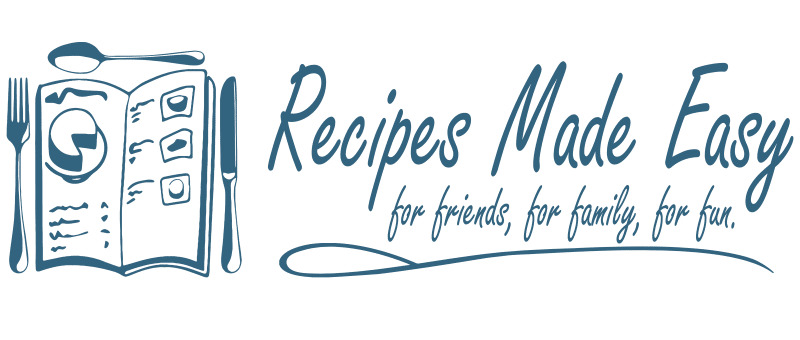 But I haven't been completely slacking, I've given the blog a few tweaks to how it looks, a change of colour and an updated logo. It's is still based on the original logo I had when I first became a freelance cookery writer and food stylist back in 1992. I had been working as Deputy Cookery Editor at Woman's Realm, then a fairly major weekly magazine with a circulation of around 600,000. Recession struck and almost overnight out went the practicals department, including the cookery, knitting/crafts and home departments in ours and several of the other major magazines, including Woman, and Woman's Own. I was made redundant, and in response to this devastating news the ever thoughtful MR.B sat down and designed a business card which included the logo of cookbook and cutlery within a day. Clearly he had no intentions of me ever becoming a lady of leisure!
The world of cookery writing has moved on since then, and so have woman's magazines, Woman's Realm among many others no longer exist. Perhaps my new logo should be a computer with cutlery either side now, but I have fond memories of that original card and logo. My son offered to update the basic design and change the colours to be a bit more contemporary, so how could I say no. He also chose the font. I like it What do you think?
Four International Recipes
As usual, there were some fabulous recipes linked up last week and picking just a few to feature here was no easy task. There are a lot of Easter themed bakes, but I have already written an Easter Bake recipes round-up for BritMums so I decided to pick four savoury dishes, all with an international flavour. My Easter bake round-up will go live on Britmums on 24th March. If you cant wait until then for some Easter baking inspiration why not check out Only Crumbs Remain's 38 Easter Bakes - The Ultimate Collection this round-up features bakes from quite a few of the #CookBlogShare regulars.
I just want to let you know that I am taking a few days off to visit Barcelona at the end of the week, so can I apologise now to those of you who link up later in the week, as I will not be able to visit, comment and pin your posts until after my return, however, my co-hosts will still be helping out so at least one of them will try to comment during the week.
Crispy Chicken with Moroccan Spices

I love Moroccan flavours and this Crispy Chicken with Moroccan Spices from Co-host Monika at Everyday Healthy Recipes looks delicious. It's easy too, so right up my street.
Roast Chicken Leftovers and Black Bean Enchiladas

Another chicken recipe this time with a Mexican Feel. I am not very adventurous with my leftover chicken usually opting for a risotto or fricassee of some kind but I think I shall be trying these Roast Chicken Leftovers and Black Bean Enchiladas from Jo's Kitchen Larder, soon as I know my boys would love them (So long as I add some chilli).
Daal Masoor / Red Lentils

While I am a chilli wimp I do like Daal. I often order it when we go to our local Indian restaurant but I don't make it at home. This recipe for Daal Masoor / Red Lentils from Simple Gluten Free Kitchen, looks easy and very tempting so I shall give it a go. It would appear I am not the only one updating old photographs lol!
Dry Curried Okra

Another Indian dish this time from Searching for Spice, Dry Curried Okra. While I am not a fan of Okra, possibly because I have never managed to cook it properly, I know a lot of people do like it. This dish certainly looks good. I wouldn't mind doing the Indian Cookery course that Corina talks about; all the dishes she learnt look fabulous.