Yippee its #CookBlogShare time on Recipes Made Easy again. Boy the weeks are flying by and it doesn't seem like 4 weeks ago it was last here. I love hosting as I (and you my readers) get to see lots of lovely recipes linked up by a bunch of talented food bloggers. As usual there were plenty of fabulous recipes for me to choose from last weeks linky and share here with you.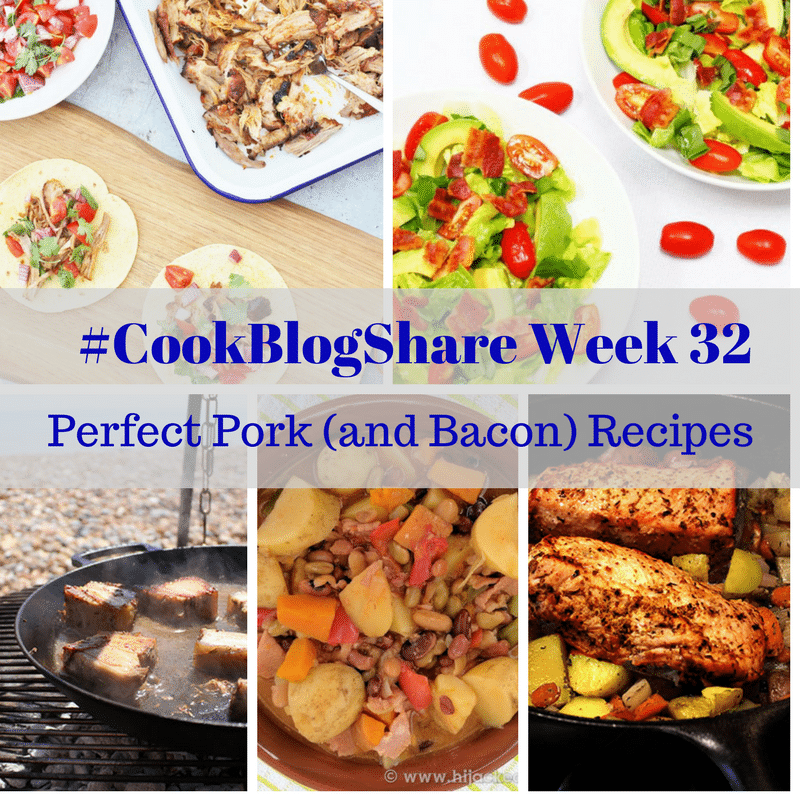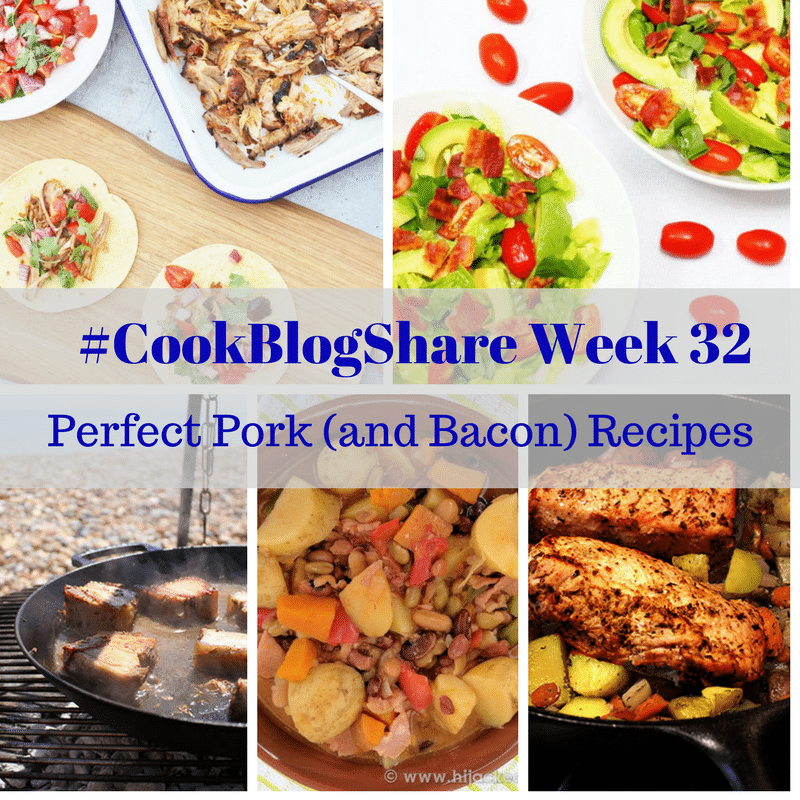 If you are not sure what I am talking about #CookBlogShare is something we bloggers call a linky, where other bloggers can leave a link to their own favourite recipe posts. If you are not a blogger you get a glimpse at what some food bloggers other than myself are sharing on their blogs with a clickable picture link to their recipe added below.
Five Perfect Pork and Bacon Recipes
You may already know that we have a cottage in Suffolk in an area known for its outdoor raised pigs and the quality of the pork they produce; so we tend to eat a fair bit of it. This week I am choosing to share not four but five recipes that were linked up, all of which use pork or bacon. Now I just have to decide which one I am going to make first!
Barbecued Beer Drenched Pork Belly Slices

Beech Hut Cook linked her recipe for barbecued beer drenched belly pork slices. Now if this isn't the perfect dish for me to cook when I am in Suffolk I don't know what is. Not only can I get some excellent pork from my local butcher, we are also close to where Adnams brew their famous ales. No food miles here and the weekend barbecue sorted! All I need now is some sunshine.
BLT Salad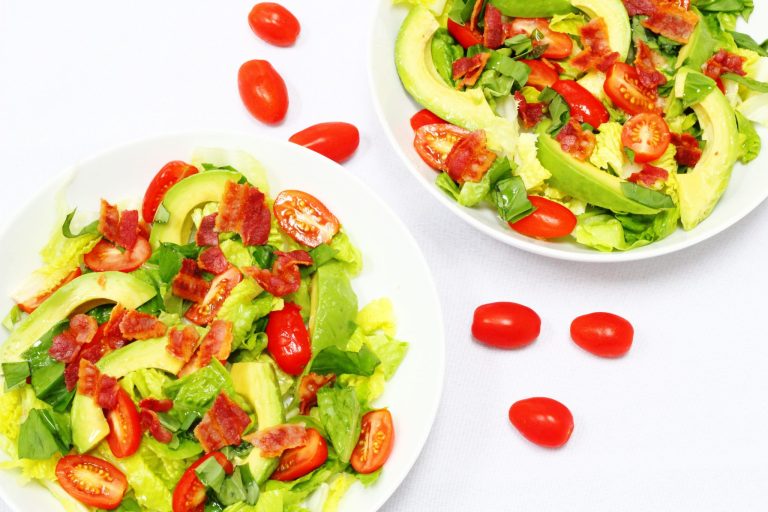 Searching for Spice linked this great BLT Salad so if like me you are a big fan of BLT sandwiches for lunch but sometimes want something a little less carb heavy, here's your answer. So simple, so delicious!
One-Skillet Mustard Herb Crusted Roast Pork Tenderloin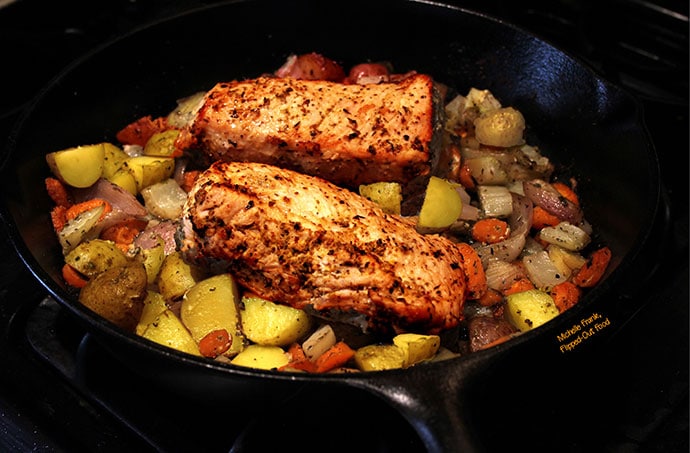 This one skillet Mustard and Herb Crusted Roast Pork Tenderloin by Flipped-Out Food is another great one pot meal. Pork tenderloin (also known as Pork fillet) is a really lean low fat cut. I am often amazed at how cheap it is too for such a prime cut. It can be easily be over cooked and dry but Michelle offers plenty of advice on how to avoid this happening when making tis dish.
The final two pork/bacon recipes are by fellow Hosts Kirsty and Eb
Bacon and Bean Stew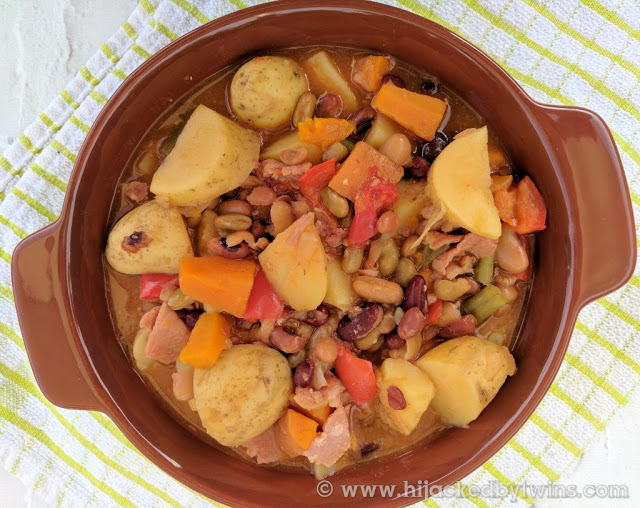 Kirsty's Bean And Bacon Stew is the kind of delicious one pot dish we love at Recipes Made Easy. Packed with healthy beans and just enough bacon to add a deep rich flavour Kirsty tell us how to cook it both in a pressure cooker and on the hob. Either way it is going to taste fab.
Mexican Pulled Pork Tacos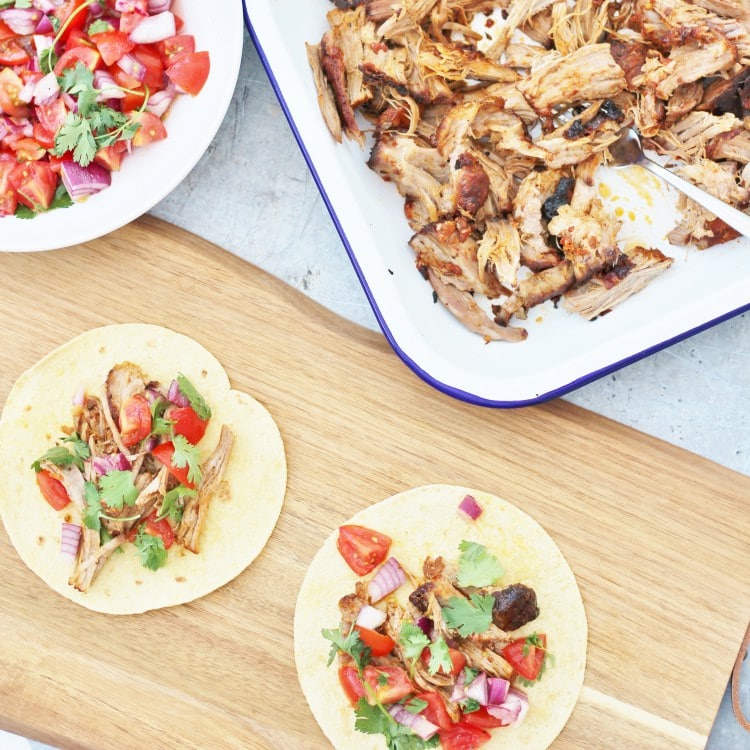 Finally Eb says that her Mexican Pulled Pork Tacos are set to become a new family favourite in her house and I think they could easily become the same here. All of us love pulled pork, my boys in particular love spicy food and tacos are already a firm favourite. Its the kind of hands on casual dining that as a family we love.
As usual there were plenty of other great dishes linked up it I would love to share them all again here. I've already sneaked an extra one in as there were 5 recipes that fitted my theme this week and I couldn't decide which one to drop. But also worth a mention anyone who is interested producing and using their own natural food colouring may want to check out Sewhistrocially.com who linked up a number of post including this one for a rainbow layer cake using only natural food colourings.
The Baking Explorers Jammie Dodgers Blondie looks amazing, as do The Gluten Free Alchemist's Best ever Gluten Free Scones and when the sun shows it's face again it is going to be hard to resist trying A Strong Cup Of Coffee's Pimms Skinny Tiramisu