Strouhaný Čokoládový Koláč is a classic Czech cake which translates as the rather uninspiringly named Grated Chocolate Cake. It is what I would call Chocolate Cheesecake Slice and its delicious!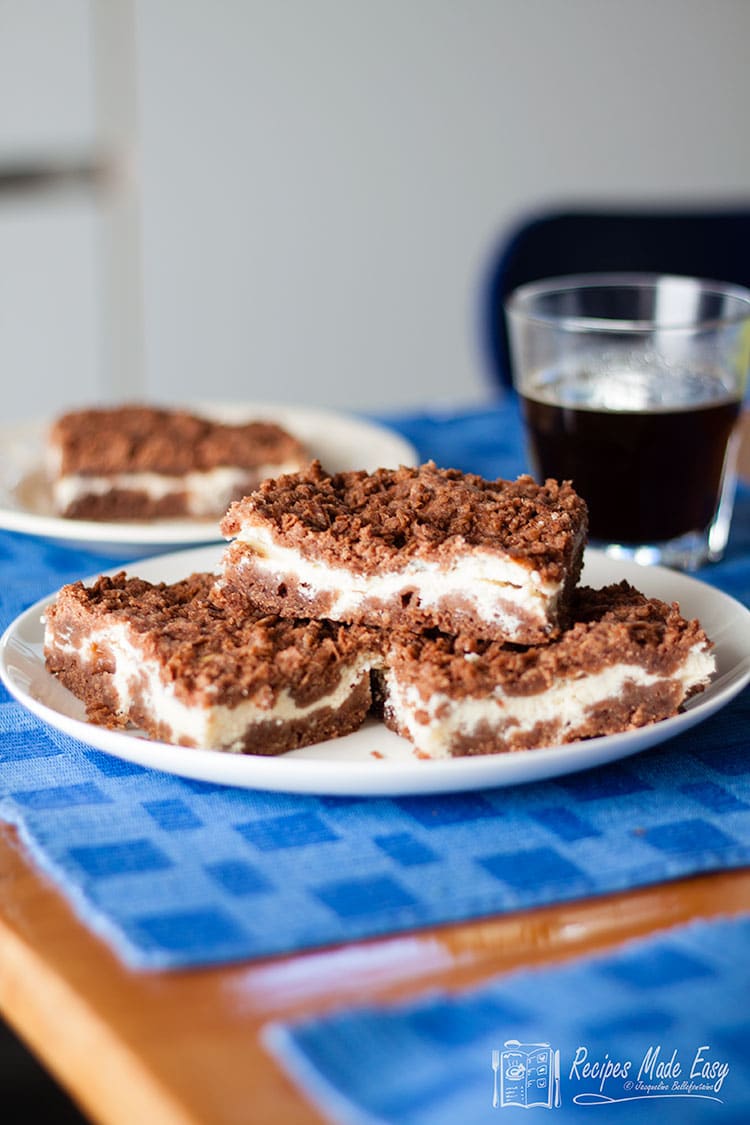 Friends in the kitchen have become one of my favourite posts to write for Recipes Made Easy. Invariably I find myself drawn to people who enjoy cooking and eating and most of my friends fall into this category. If you love food it's hard not to be sociable and enjoy sharing, after all, that is what good food is all about. So what started off as a one off post when visiting friends in France who had just set up a bed and breakfast business, has turned into a semi-regular feature as I slowly persuade more of my friends to share some of their favourite recipes.
Ivana and Mr B are both architects who worked together 20 or so years ago at a small firm of architects in Marylebone. Ivana had moved to London and looking for a job, found herself designing Shopping Centres back in her own country while Mr B, commuting to Prague on a regular basis grew to love his time working in another country and learning all things Czech, though could it be that he was just happy to escape our London house at a time when we had two young children?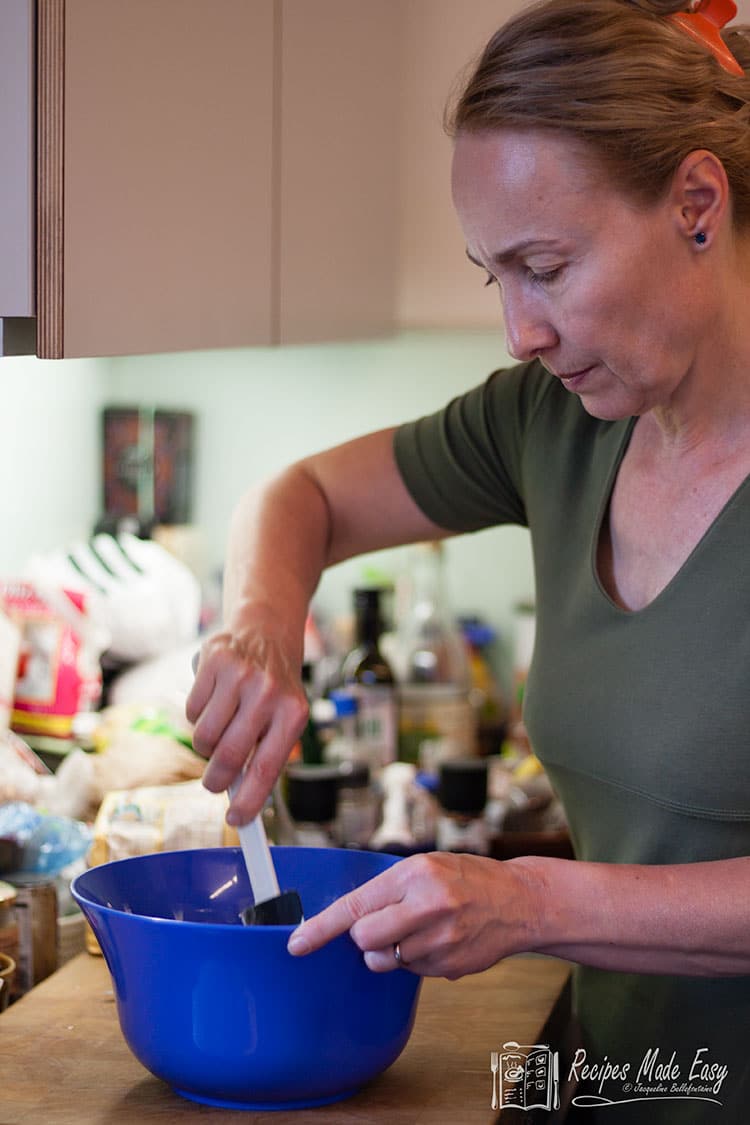 Ivana lived in the UK for several years before returning to Prague with her English husband Jon, ( another architect ) and despite Mr B's uselessness with keeping in touch, we are still friends. I think we can thank Ivana for that. A couple of weeks ago Ivana and Jon invited us to stay with them for a few days in their beautifully converted barn next door to their house in Slivenec a village on the edge of Prague. We had a lovely few days sightseeing and the evenings were spent together catching up over several long dinners.
While I was there I could not resist getting Ivana to share one of her recipes with me, so she choose to make Strouhaný Čokoládový Koláč a cake she remembers her mother making for her when she was a child.
Ivana's Chocolate Cheesecake Slice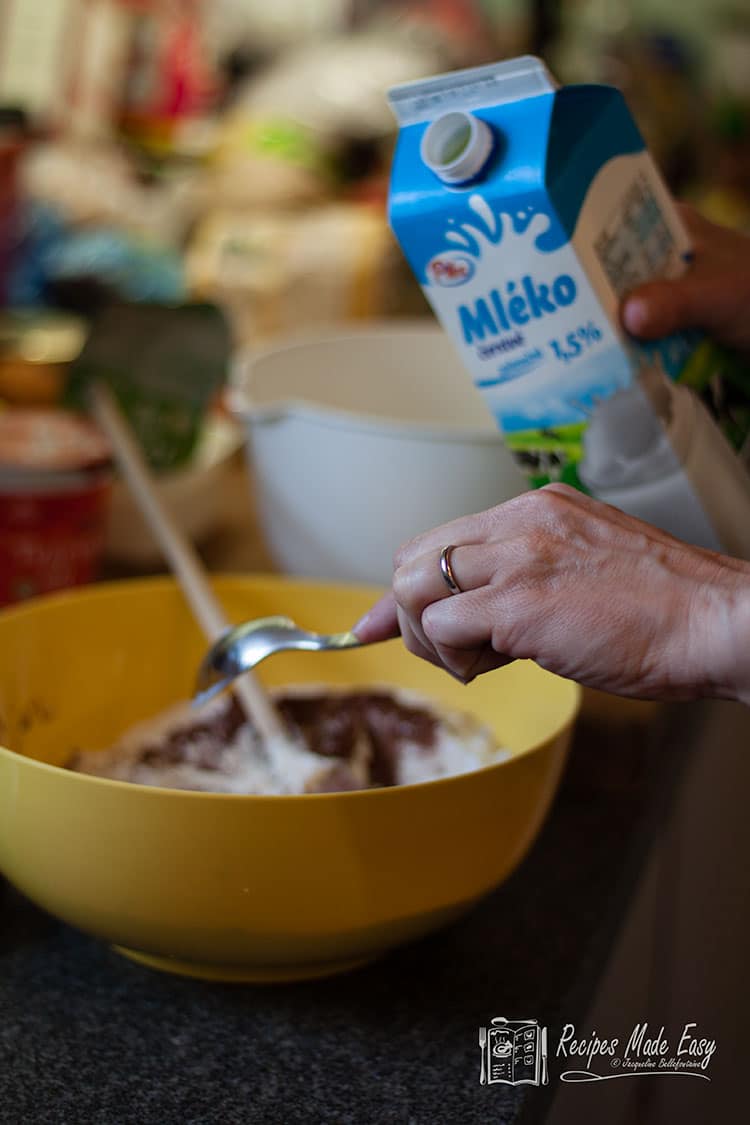 To make the cake first you have to make a dough which needs to be chilled for about 1 hour.
This is done by combining all the ingredients together to form the dough.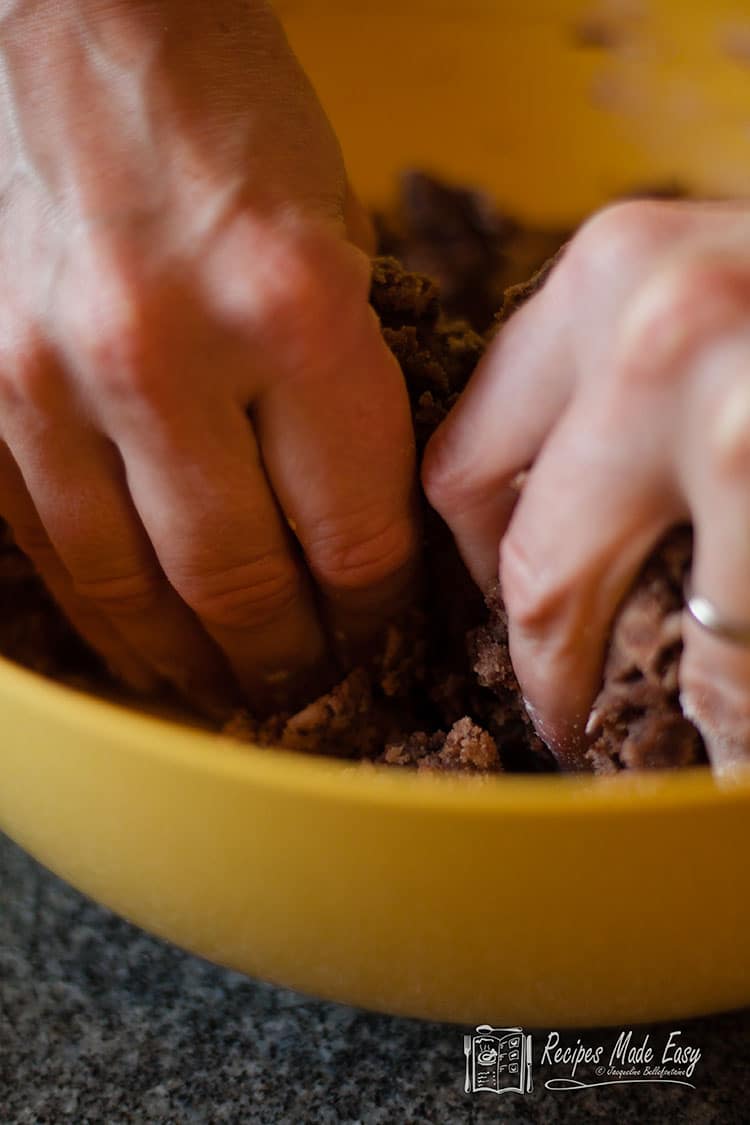 Ivana takes about one third of the dough and that along with the remaining two thirds are wrapped separately and chilled.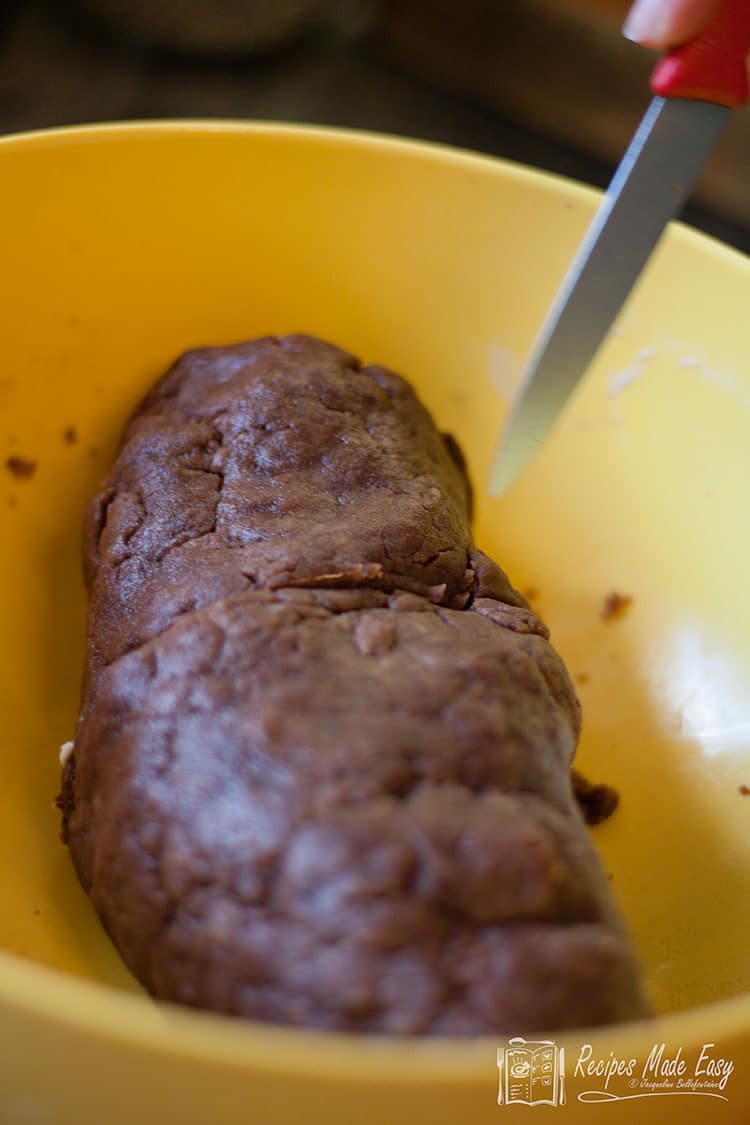 When the dough has been chilled the larger portion is then grated into a greased oblong baking dish and spread in an even layer.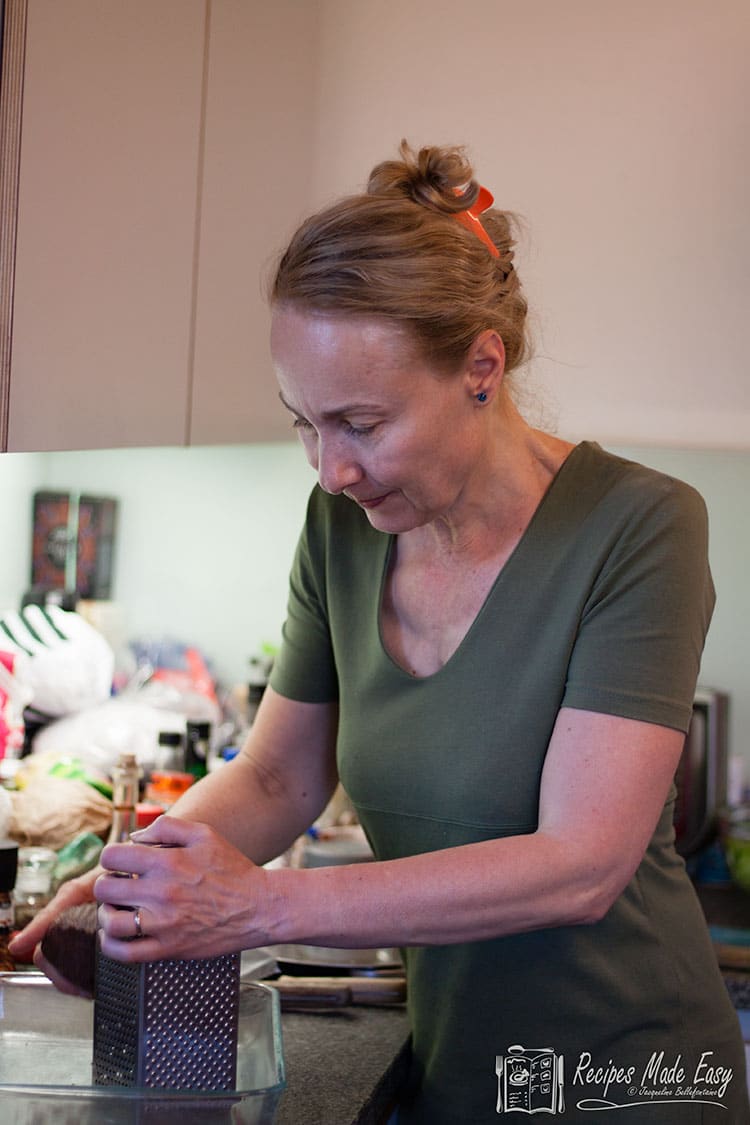 Word of warning try not to get carried away chatting too much and chilling the dough for too long or it becomes rather hard to grate. If it does then allow to warm again slightly.
Next, the filling is made. This involves combining the quark, milk, sugar and egg yolks and then folding in whisked egg whites. Ivana doesn't bake that often so her mixer tends to stay in the cupboard and she whisks the egg whites by hand. This is a job she often hands over to her son Tomáš but as he wasn't there she got Mr B to do it instead. The mixture is then spread over the chocolate base.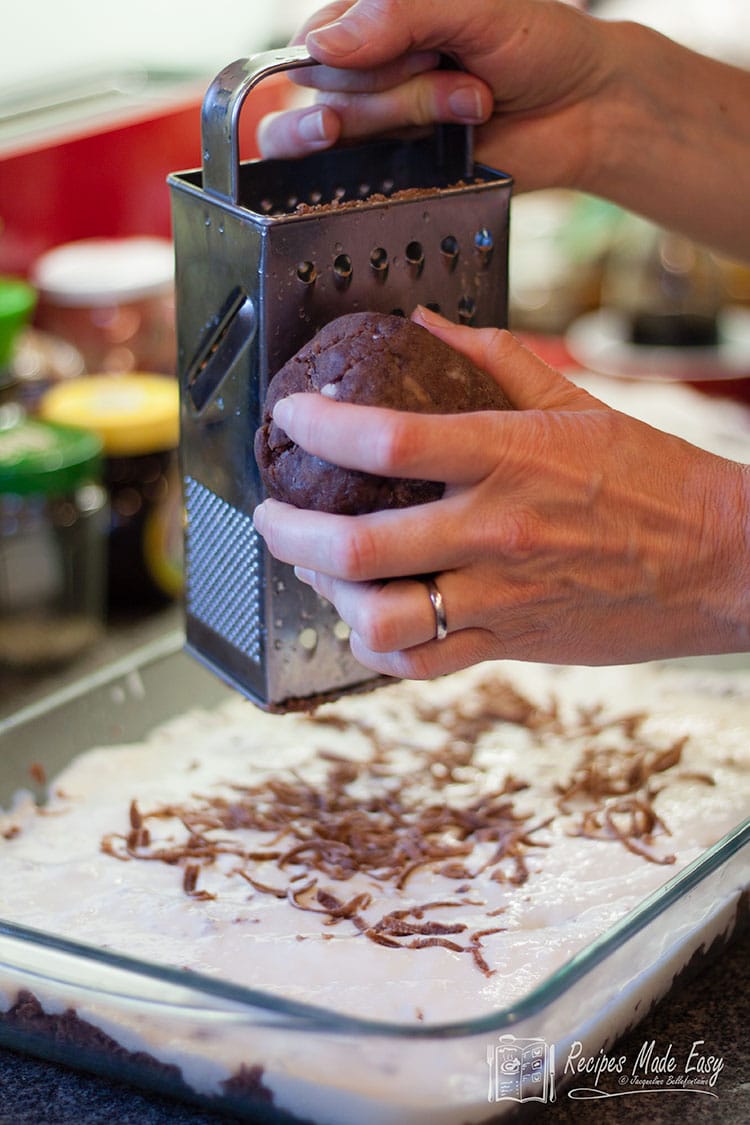 Finally, the remaining chocolate dough is grated on top and it goes into the oven to bake.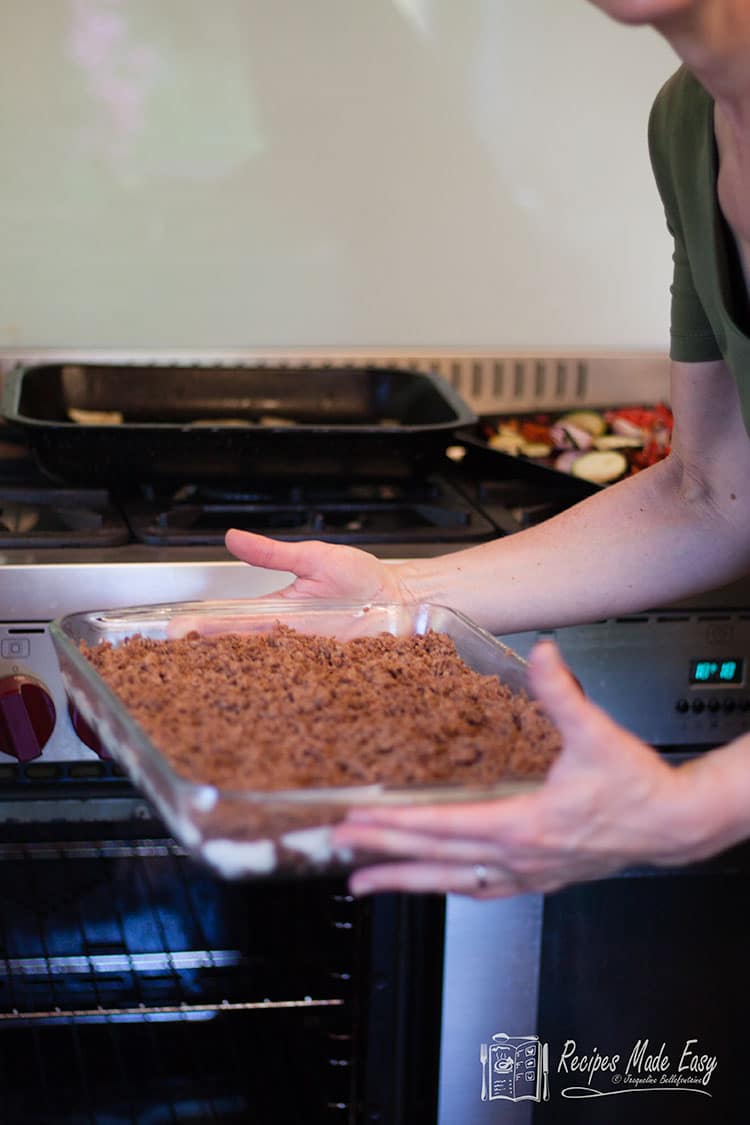 Once baked the cake is allowed to cool before being cut into slices and served. As a testament to how good the cake was, both Tomáš and Klara, Ivana's daughter, delighted that mum had baked and not realising that we were going to photograph it later both tucked in while it was cooling in the kitchen. Luckily they didn't eat it all and we all got to enjoy it the next day with our morning coffee.

Print Recipe
Chocolate Cheesecake slice (Strouhaný Čokoládový Koláč)
A classic cake from the Czech republic consisting of two layers of grated chocolate dough with a light cheesecake style filling.
Ingredients
Chocolate dough
250

g

butter

400

g

plain flour

150

g

icing sugar

(powdered sugar)

2

tbsp

cocoa powder

1

egg yolk

2

tbsp

milk
Filling
500

g

Quark

3

tbsp

milk

125

g

icing sugar

1

tsp

vanilla extract

2

egg yolks

3

egg whites
Instructions
To make the chocolate dough
First, gently melt the butter in a saucepan over a very low heat. Once melted remove from the heat and set aside.

Place the flour and icing sugar in a large mixing bowl and add the cocoa powder. Make a well in the centre and add the egg yolk and milk. Remember to keep the white you are going to need this later for the filling.

Add the melted butter and mix to form a dough. Remove about one-third of the dough and wrap well. Then wrap the remaining dough and chill for about 1 hour or until firm.

Preheat the oven to 180℃ (160℃ fan)/350°F/gas mark 4.Lightly grease a 33 x 23 cm (13 x 9in) shallow baking dish. Coarsely grate the larger portion of the dough and spread in even layer over the base of the dish. Return to the refrigerator while you make the filling.
To make the filling
Place the quark in a mixing bowl. Sift in the icing sugar. Add the milk, vanilla extract and egg yolks and beat until well combined.

In a separate bowl whisk the egg whites until standing in stiff peaks. Gently fold the egg whites into the quark mixture.
To complete
Pour the cheesecake mixture over the chocolate dough in the dish and spread level.

Grate the remaining chocolate and sprinkle in an even layer over the filling. Bake for 45 minutes. Allow to cool before cutting into slices to serve.
Notes
Nutrition information is calculated using
an online nutrition database - is approximate and is meant as a guideline only.
Store
Covered in the refrigerator for up to 3 days.  
Freeze for up to 2 months. Defrost at room temperature.
Nutrition
Calories:
416
kcal
|
Carbohydrates:
51
g
|
Protein:
11
g
|
Fat:
19
g
|
Saturated Fat:
11
g
|
Cholesterol:
94
mg
|
Sodium:
184
mg
|
Potassium:
78
mg
|
Fiber:
1
g
|
Sugar:
25
g
|
Vitamin A:
590
IU
|
Calcium:
24
mg
|
Iron:
1.8
mg
Tried This Recipe?
I would love to know how you got on – Tag me on Instagram or Twitter @RecipeCrumbs or leave me a comment and rate the recipe below
More Friends in The Kitchen
I'm Linking this post to #CookBlogShare