Jerusalem, a cookbook review with a difference
I am very fortunate to live near the foodie heaven of the world famous Borough Market. One of my highlights of 2016 was to join the newly formed Borough Market Cookbook Club (along with joining a choir but that is another story). Meeting up with other enthusiastic cooks to taste and discuss dishes from the chosen book, washed down with wine generously supplied by one of the market traders Borough Wines is, to my mind, a near perfect way to spend an evening.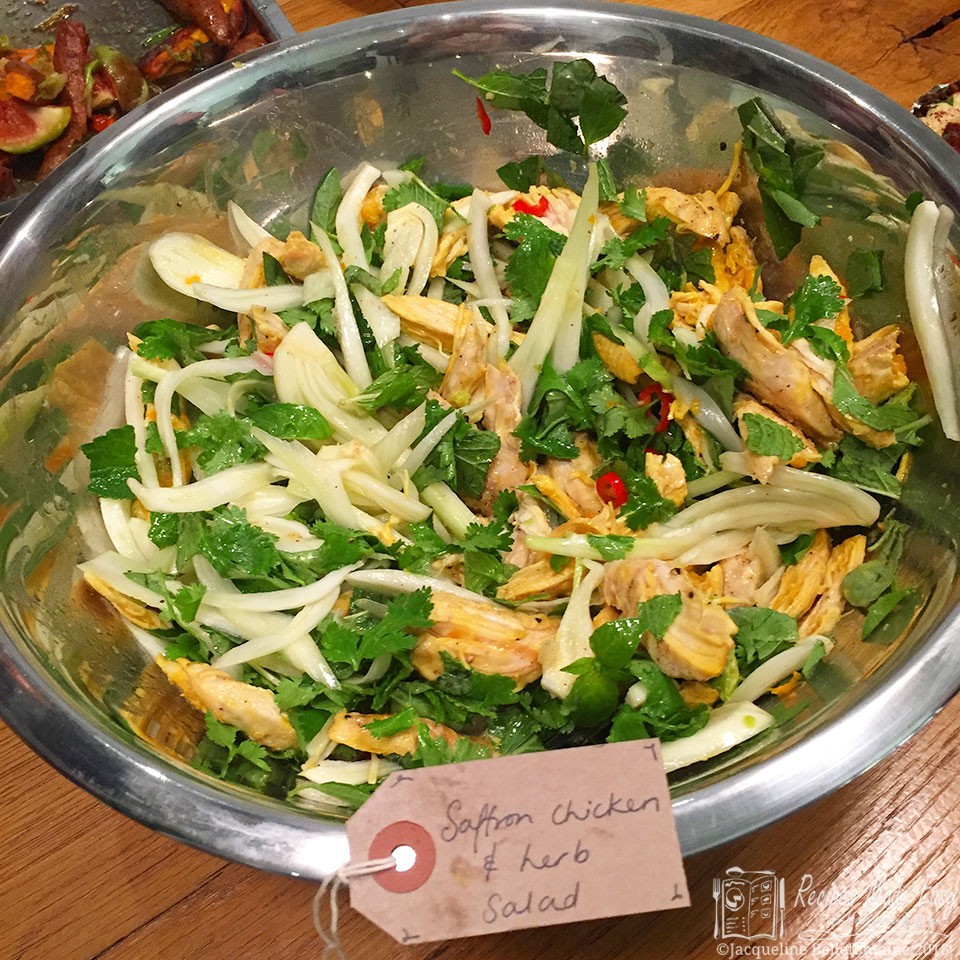 Borough Market Cookbook Club
Each month a different cookbook is discussed and reviewed. The book for November was Jerusalem, a cookbook by Yotam Ottolenghi and Sami Tamimi. Having bought the book earlier in the year but still not gotten around to making any of the recipes from it, it was too good an opportunity to pass up. It was the second cookbook club night I have attended. The first was the excellent Anna Del Conte's Amaretto, Apple cake and Artichokes. I had thoroughly enjoyed the first one and had high expectations of this book which many of my friends rave about. I wasn't dissapointed.
Each member attending the event brings along a dish made from the book. The evenings are then expertly guided along by cookery writer Angela Clutton, who serves up the dishes in succession. As she does so, each member has a chance to say why they choose that particular recipe and their thoughts on it. After a few are plated we pause to taste and discuss amongst ourselves> as the evening goes on I find myself making new friends, all with a love of cookbooks in common. The process is repeated a couple of times with a few more dishes, finishing with some sweet dishes.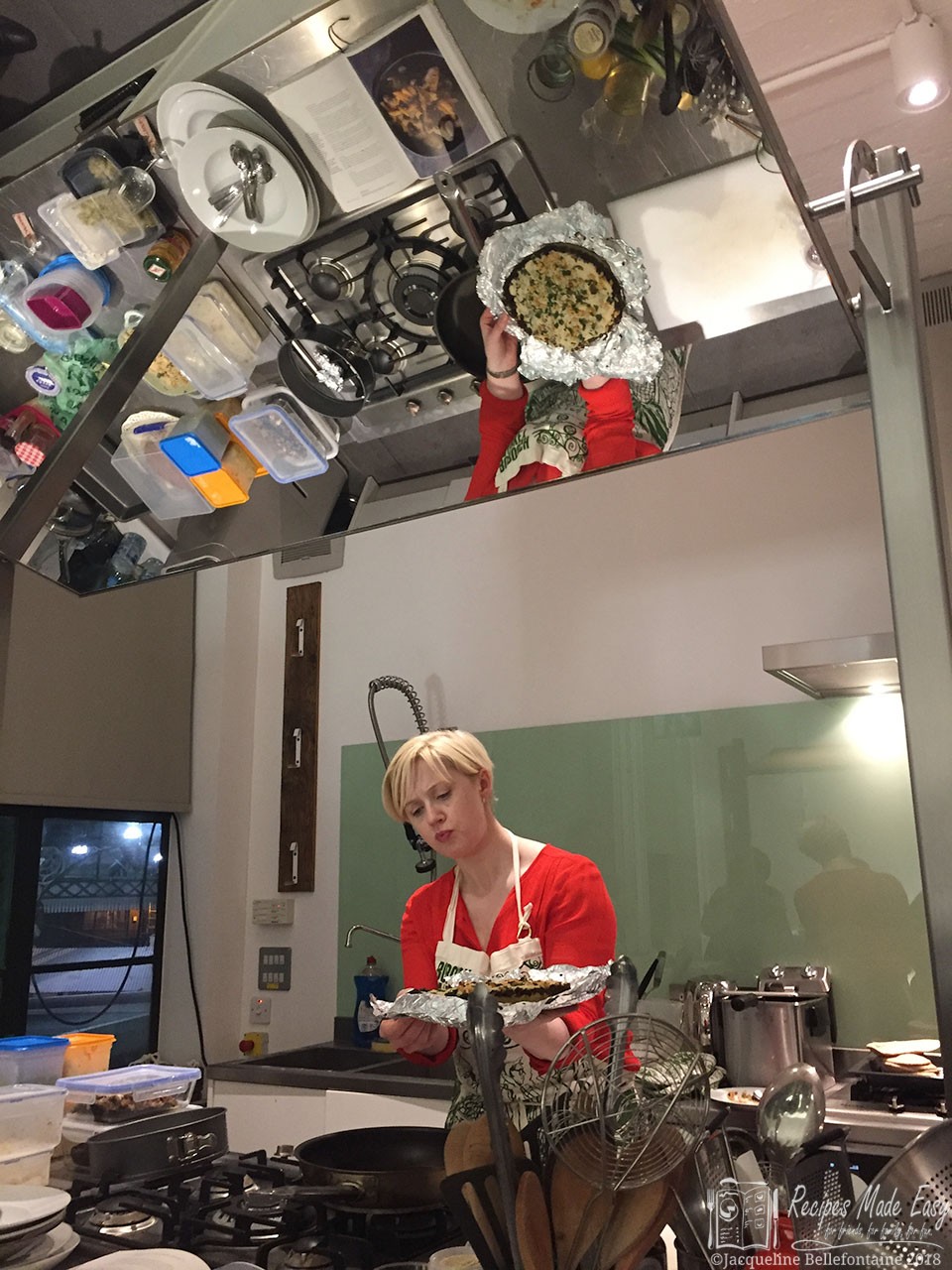 Angela very wisely warns anyone who hasn't been before to pace themselves as there will be a lot of food to taste and she is not wrong. We tasted our way through many amazing dishes including open kibbeh, Maqluba (a layered dish of rice chicken and vegetables), lemon leek meatballs, and roasted sweet potatoes and figs to name but a few.

Jerusalem, a cookbook
This book was a hit and very popular with all of the 15 or so of us there. A good number had been initially been put off making any of the recipe before by the famously long list of ingredients and the equally lengthy method.Only a small handful had cooked from it before. But we all agreed that once you actually get down to making them, the recipes were relatively easy. The conclusion was unanimous - now we had tried some recipes we would all be returning to the book again and again. Without exception every dish was bursting with freshness and flavour.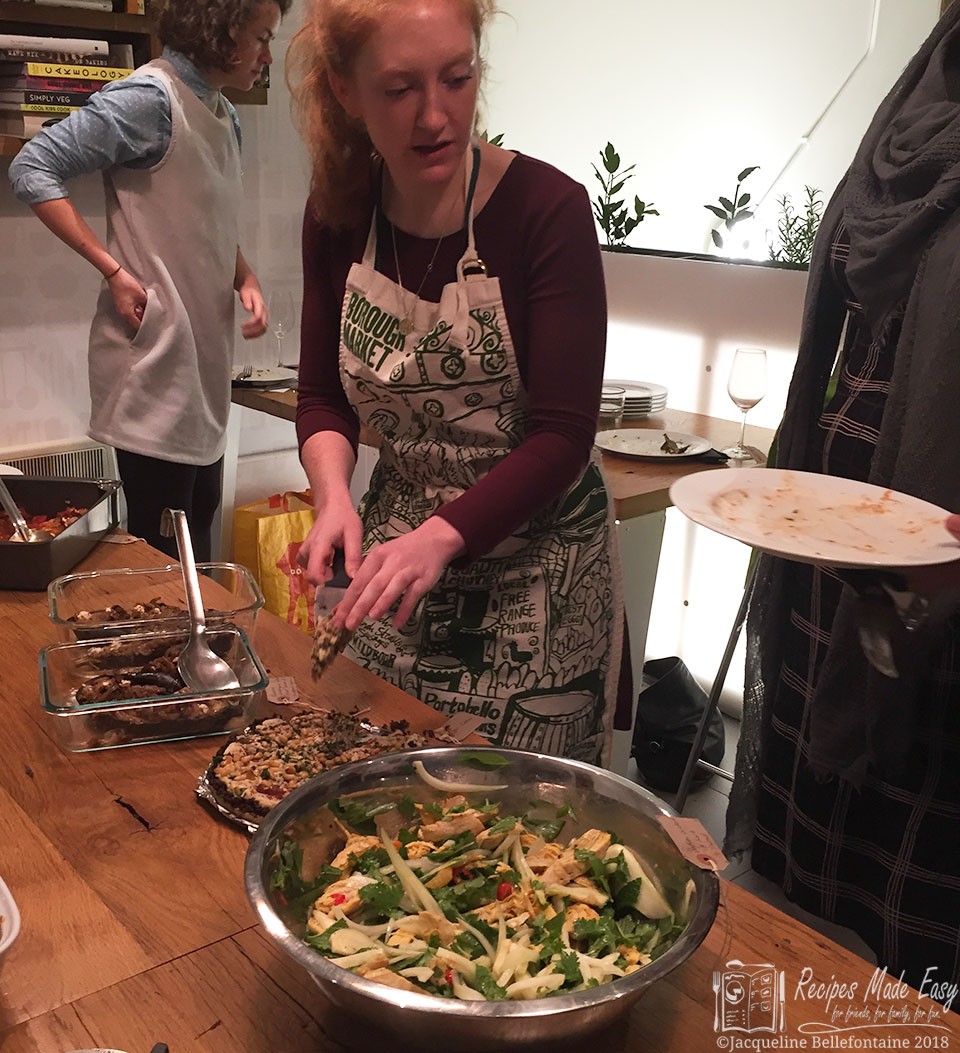 Unless you already do a lot of middle eastern cooking, there are a lot of store cupboard ingredients that you might not have. Luckily for us, we have the Market on our doorstep where even some of the more unusual ingredients can be found. Spice Mountain must have done a roaring trade from us that week. Check out their on line store, they have a wide array of spices and their quality is amazing.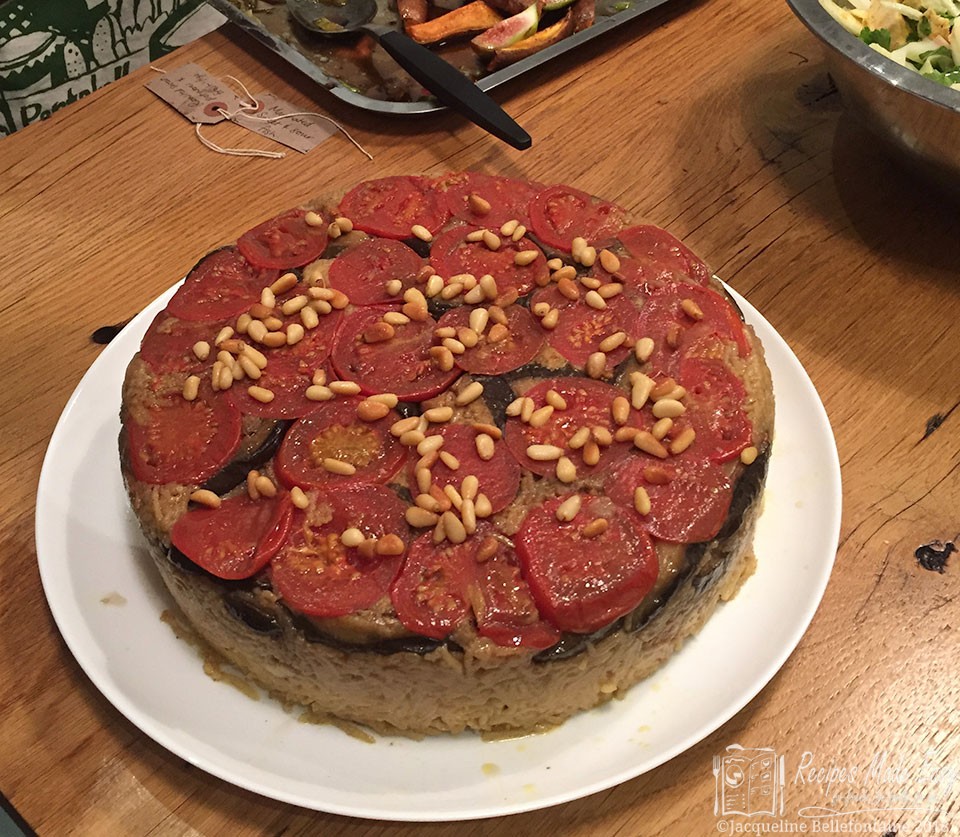 If you take to the book like we did, you might have to buy a lot of ingredients to begin with but these are used repeatedly throughout the book. It won't be long before you use them again, and with each successive recipe the store cupboard shopping list will get shorter.
Portion sizes in the book seem to be generous (as some people commented this is unlike some of the portion sizes in his restaurant).
Perhaps one of the greatest delights of cooking from this book is the life stories that run along side the recipes,
My recipe for the night
Looking through the book trying to decide what to cook was no easy task. Page after page I found myself thinking I want to make this one, no I want to make this, but this one sounds better soon! Finally, I decided I wanted to make Lamb-stuffed quince with pomegranate but I was too slow deciding so, because Angela makes sure we don't all make the same dish I had to pick something else. In the end I settled for Saffron Chicken and Herb Salad. I was taken by this recipe as the dressing is made with a whole orange, something I certainly had not tried before. It proved a very popular choice. The dressing was tangy with a slightly bitter flavour (from the pith ) and worked well with the chicken and fennel. A little chilli gives it an interesting kick.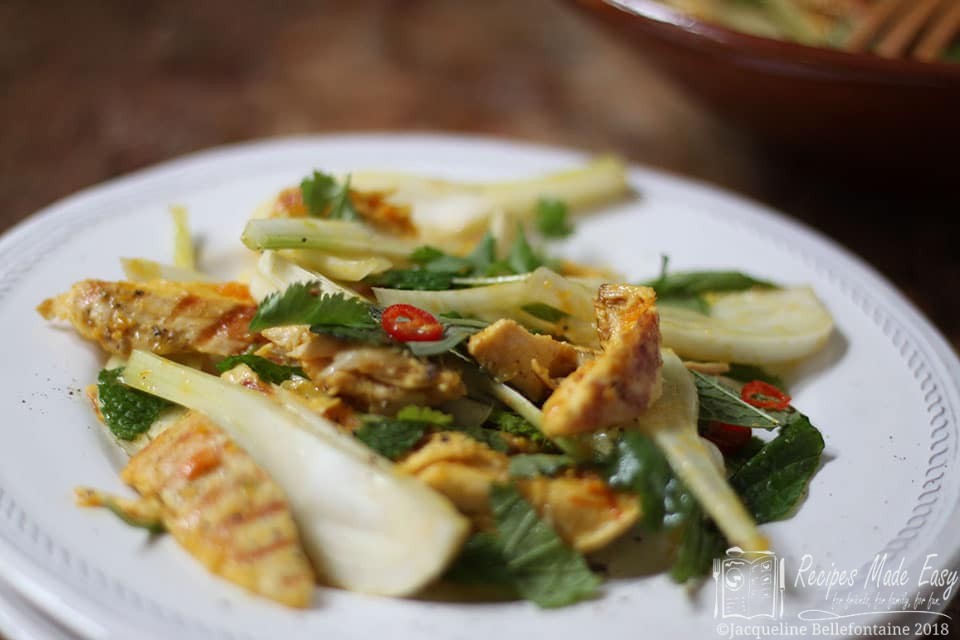 As mentioned earlier portion size are generous and 1kg/2¼lbs of chicken breasts for 6 people was a bit excessive. There was also appeared to be typo in the recipe. The ingredient list included 15g coriander leaves, 15g basil leaves by just 15 mint leaves! So I assumed it was a typo and that it should have read 15g mint leaves which is the quantity I used. It tasted right to me that way. Typos happen to the best of us, and admittedly I feel a little better for finding this one. I'm pretty sure there is will be a typo or 2 in this post - they have this ability to hide until after I hit publish and sometimes longer! With the over all flavour and success of this recipe, I am happy to over look these minor niggles.
I shared my adapted version of the recipe here.
One member of the club suggested it would be a good salad to make with left over roast chicken or even turkey. I am sure she is right and only apologise for not getting this recipe out earlier, so you could try it with left over turkey from Christmas. I'm sure this zingy dish would have been a great antidote to all that rich festive food.
Dessert
Although not the main focus of the book, there are a few sweet recipes. We finished with a rice pudding flavoured with cardamom, pistachios and rice water - a little too sweet side for my taste but oh so delicious with the cardamom. Finally we were served, Helbeh a fenugreek flavoured cake, which comes with a caveat that it might not be to everyone's taste. A poll amongst some of the chefs at Ottolenghi restaurant resulted in only 5/7 approving. I think it was almost 100% approval at book club though!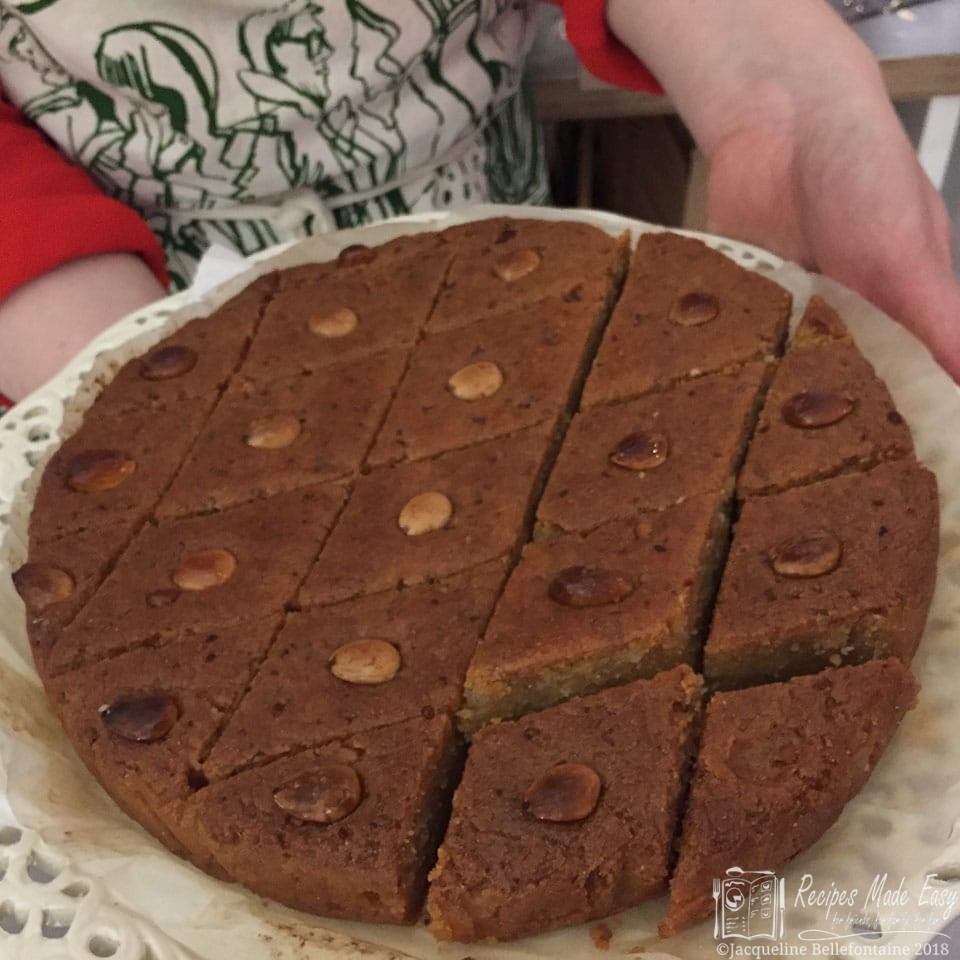 Discovering Borough Market Cookbook Club has been amazing not least for the fabulous food and recipes, but also for the many interesting and friendly people I have met so far. The book club is all about sharing the love of food and cooking and I couldn't be in better company. I can't wait till the next one.